The 30-Year Love Story of Alex Trebek and His Wife Jean Currivan Trebek
After a year and a half of battling pancreatic cancer, beloved Jeopardy host Alex Trebek died on Sunday. He was 80 years old. Throughout most of his tenure on the show and his entire illness, his wife Jean Currivan Trebek was by his side.
According to People, Canada-born Trebek met Currivan in 1988 through a friend. Trebek had been hosting Jeopardy! for four years at that point, and was recently divorced from his first wife, Elaine Callei. Currivan, meanwhile, was working for one of Trebek's friends as a part-time bookkeeper.
"With Jean it just happened," Trebek wrote in his memoir The Answer Is...Reflections On My Life. "Sometimes you look at something, you look at someone, and you know. I mean, you've heard stories of people who meet and decide within half an hour; I knew this was going to be the person I'd end up with. With Jeanie that's how it was. I wasn't looking for love. But I recognized at a gut level that here was someone who was going to complete me as a human being."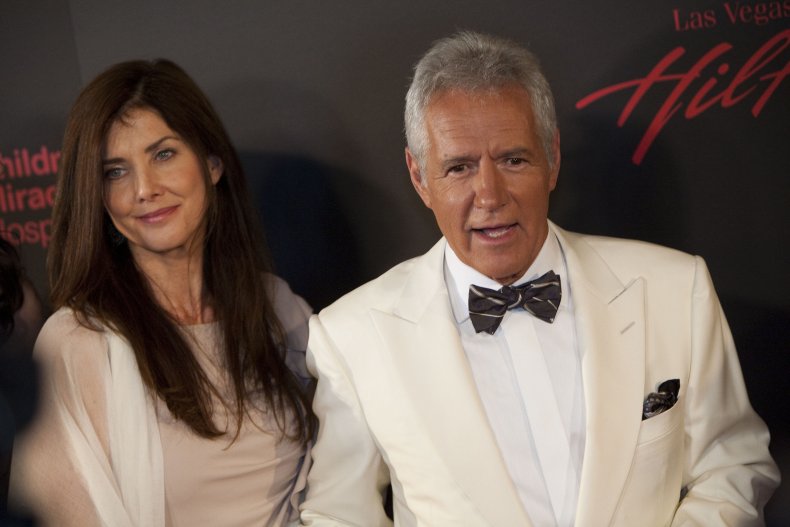 Despite the 24-year age gap, they were drawn to each other and hit it off immediately. "There was just this deep sensitivity about him with a gruffy [sic] exterior," Currivan told People in January 2019. "I kept thinking, he's 24 years older than me...but there was something that just kept drawing me to him."
"At first it worried me," Trebek had told People as well, in 1990. "But then I thought, 'To hell with it. We'll make it work.'"
In 1990, years later, they wed in Los Angeles. They share two children, Matthew and Emily. "They're both very compassionate, sensitive people. They're really the best of Alex and I. You can talk to them. They're our good friends," Currivan gushed to People in January 2019.
Currivan is a native New Yorker, a professional sound healer, Reiki master, and Religious Science practitioner, working at the North Hollywood Church of Religious Science. She spoke about her religious beliefs in November 2019 to SurvivorNet.
"It's really about self-love. And that love is the love of the Creator, but there are so many names for that," she explained. "We might say 'Universal Mind,' 'Infinite Intelligence,' 'God,' 'Jesus,' 'Abraham,' ... or if you don't have a religious background, you might even call it, 'gardening.'" Currivan said. "It really does boil down to being kind to life and your fellow human beings and having compassion for each other's journey."
She also opened up about her husband's diagnosis, and how they navigated the news. "It comes from a place of love, because I want to uplift him...and when I keep my own self buoyed and enjoying my life, I can actually share that with him," she told the publication. "He can look at me and have a sense of 'life is beautiful, my wife is doing something good.'"
Trebek was eternally grateful for Currivan's support throughout his battle with pancreatic cancer. "She's kept me alive," Trebek told People in 2019, when he spoke about his cancer diagnosis. "If it weren't for Jean, I'd have put myself out of this a long time ago."
He also said he wished he had more time with Currivan. "My wife Jean and I have been together almost 29 years, and I was thinking about President [George H. W.] Bush when he died, and all the comments about his life about what a nice guy he is, and how he and his wife had been together 73 years. I thought, 'Oh my gosh, if I'd just met Jean in my 20s we could have had a longer life together.'"
Trebek added: "I guess if I'd met her when I was in my 20s she wouldn't have been born yet. But hey, 29 years is pretty good!"