30-Year-Old With COVID Gives Birth, Holds Baby Girl Just Once, Dies Days Later
A 30-year-old Florida woman with COVID-19 ended up in the intensive care unit after holding her newborn baby just once, and died days later.
Kristen McMullen gave birth to her daughter via emergency C-section on July 27. She was able to cradle her newborn, named Summer Reign, for a few minutes before she was rushed off to the ICU, McMullen's aunt Melissa Syverson said.
McMullen, of West Melbourne, developed COVID-19 symptoms about three weeks before her due date and was later hospitalized with with coronavirus-related pneumonia, Syverson wrote on a GoFundMe page.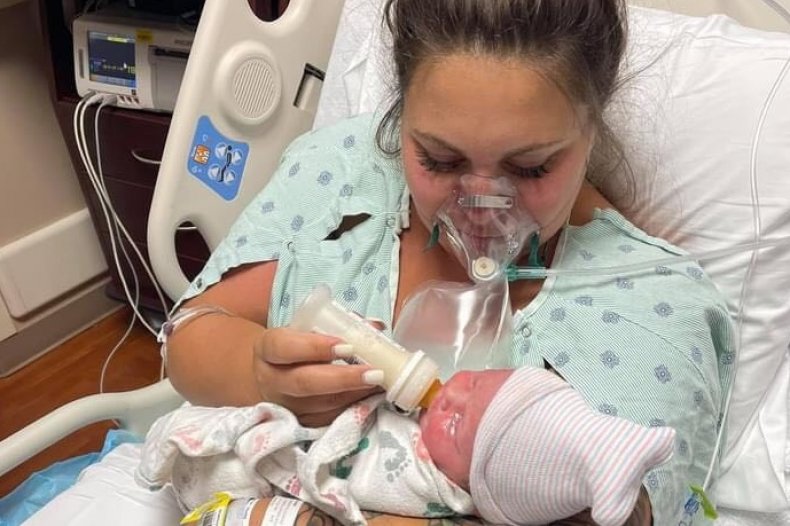 She was sent home after four days but returned within 48 hours struggling to breathe and concerned for her unborn baby, Syverson wrote.
From the ICU, McMullen was able to speak with her husband Keith and see her baby over FaceTime, Syverson said, but communication was cut off when her condition worsened and she was put on a CPAP machine.
She died on Friday. "A 30-year-old bright, beautiful, vivacious girl with the world ahead of her," Syverson wrote in an update on GoFundMe.
McMullen had long dreamed of becoming a mother, she said.
"After several years of fighting an uphill battle, her and her husband Keith, received the good news that they were expecting," she wrote. "This bundle of joy is the first great grandchild in the family and we couldn't have been happier for her and her little growing family."
She added: "The loss of Kristen; wife, mother, granddaughter, niece, aunt, friend, and so much more... is devastating to our family and we can't imagine life without her. She lit up the room wherever she was, her laughter was contagious and she will be truly missed every day until we all take our last breath.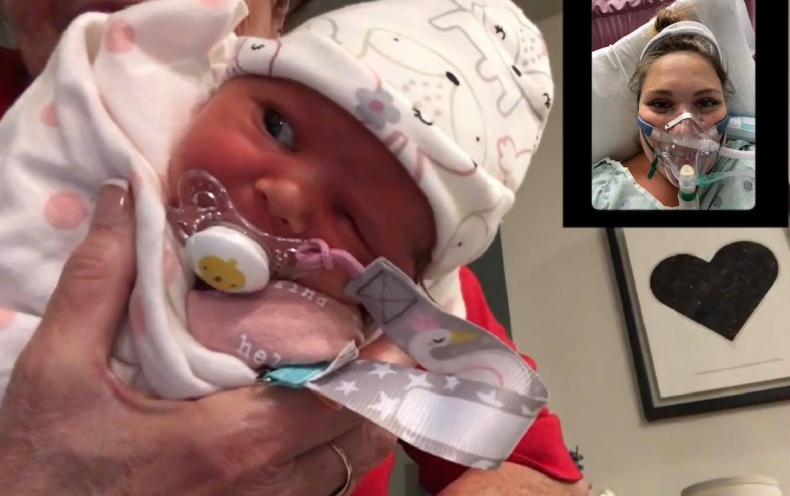 "We're so thankful for the time we had with her and thank God for the blessing of her little girl that she left behind."
Syverson wrote that it was not clear how much is needed to "cover the insane hospital bills and to help keep Keith and baby Summer figure out how they're going to move forward through this tragedy." The page has so far amassed more than $38,000 in donations towards a goal of $100,000.
Syverson declined to disclose whether her niece was vaccinated, but said her family want everyone to take extra precautions around pregnant women, regardless of whether they are vaccinated and masked or not.
"We are hoping that by sharing Kristen's story it will be a warning to others about the dangers of COVID with pregnant woman," Syverson told Newsweek.
"We have been contacted by so many people saying that they have relatives or friends that are in the same situation Kristen was in. Some have lost their babies and are still on ventilators fighting for their life."
She added: "We want pregnant woman to take extra precautions and when others see a pregnant woman, we want them to know they're potentially putting her in danger (whether they have a mask on or not) when they run up to them to congratulate or rub her belly."
McMullen's death comes as hospitals across the U.S. have seen a rise in unvaccinated expectant mothers becoming seriously ill with COVID-19.
On Wednesday, the U.S. Centers for Disease Control and Prevention (CDC) urged all pregnant and breastfeeding women to get the COVID-19 vaccine, citing new safety data that showed no increased risks of miscarriage for those who received at least one dose of the Pfizer or Moderna vaccine before 20 weeks of pregnancy.
Pregnant women run a higher risk of severe illness and pregnancy complications from the coronavirus, but vaccination rates remain low.
The new guidance comes amid a surge in COVID-19 cases, hospitalisations and deaths in Florida and the rest of of the U.S., driven by the more contagious Delta variant.
"The vaccines are safe and effective, and it has never been more urgent to increase vaccinations as we face the highly transmissible delta variant and see severe outcomes from COVID-19 among unvaccinated pregnant people," CDC Director Dr. Rochelle Walensky said in a statement.
Update 8/12, 10.45 a.m. ET: This article has been updated with pictures and comment from Melissa Syverson.