30 Years On, the World's Worst Industrial Disaster Continues to Blight Bhopal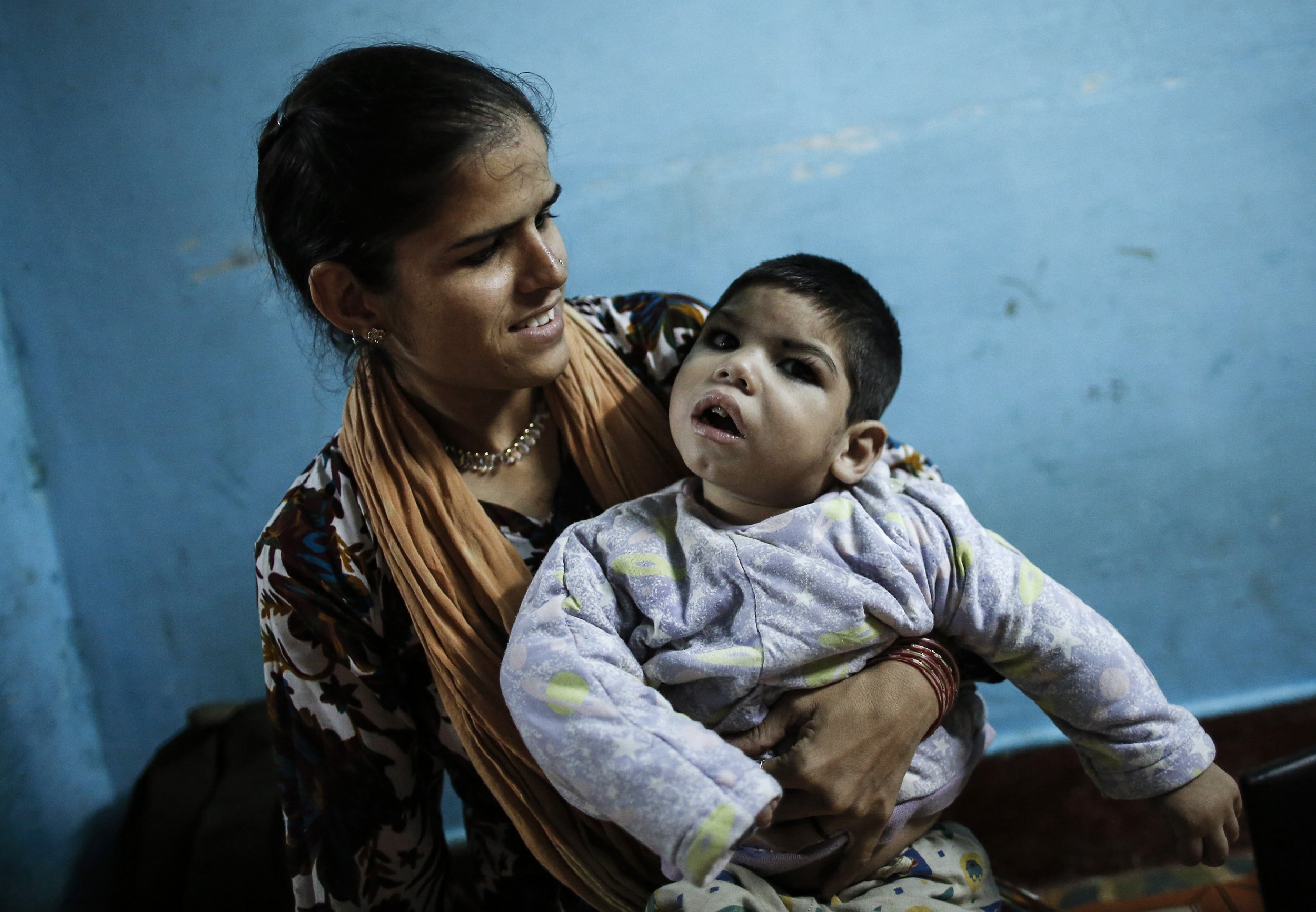 A man stands by the water's edge, proffering a small, sad looking fish. A mud-stained canvas bag full of them hangs from his left shoulder. He tells me he has caught the fish fresh from the pond behind him and it costs just 10 Indian rupees.
We're standing in stifling heat on the site of one of the world's worst industrial disasters. On the night of 2nd December, 1984, 80,000 pounds (36,300kg) of toxic gas leaked from Union Carbide's pesticide factory in Bhopal, poisoning more than half a million people. It's estimated that up to 10,000 died in the first three days as chemicals tore through their internal organs. Many choked to death on their own fluids, while thousands more have been suffering a slow and painful death since.
The man is fishing from one of Union Carbide's abandoned evaporation ponds, used between 1970 and 1984 to remove water from hazardous waste. After the disaster, the plant was abandoned and never cleaned up. The hazardous chemical waste remains. The fish this man will take home to feed his family have been swimming, eating and breeding in it.
Little wonder then, that on the thirtieth anniversary of the gas leak, people from the slums surrounding the ruined plant are still queuing round the corner for the local health clinic, complaining of illnesses their doctors often attribute to chemical poisoning. Those who survived the gas visit too, still struggling with the damage done to their lungs, eyes or wombs, thirty years later.
The Sambhavna clinic, a charitable trust founded by Sathyu Sarangi in 1984 to deal with the fall-out of the leak, treats around 150 people living next door to the factory daily. A sweet-smelling, green-leafed oasis in the desert of noxious rubbish and sewage that pollute the JP Nagar slum, the doctors at Sambhavna distil much of their medicine from the plants they grow using purified water in their well-tended, well-organised garden.
Here they treat anaemia, jaundice, kidney damage, cerebral palsy, birth defects, gynaecological problems and immune system disorders - many of which they link to heavy metals found in the mud and water around the plant. The clinic estimates that between 120,000 and 150,000 survivors of the disaster are still chronically ill.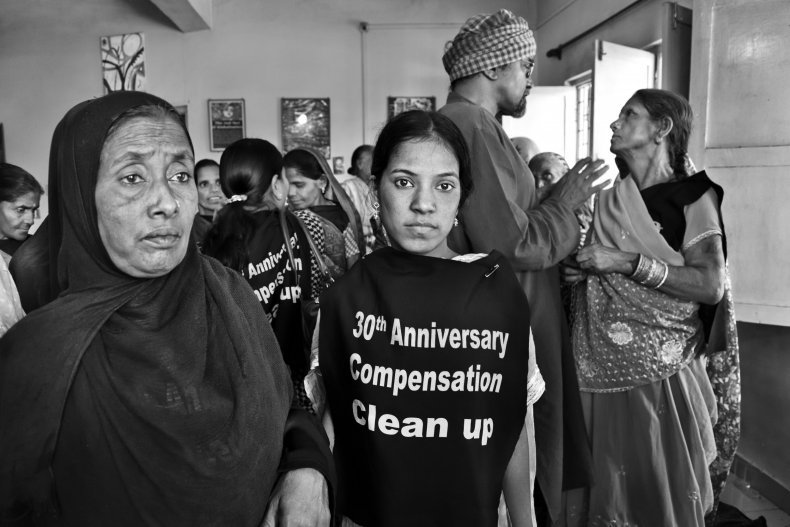 Shahzadi Bi and her husband, both in their sixties, were both affected by the gas. Her husband's lungs and heart were permanently damaged by the gas. They live with their six children in a slum known as the Blue Moon Colony, an area where the water is heavily contaminated. Two of their children were born after the gas leak, and she says that both have suffered from the chemical fall-out.
"My daughter couldn't conceive for four years after her marriage," she says. "The doctors told her that 'since you have been drinking this toxic water, you will not be able to give birth.'"
After treatment at Sambhavna, including taking steps to drink clean water, her daughter was finally able to give birth.
The philanthropists, doctors, scientists and social workers who contribute to Sambhavna care for a community effectively abandoned by successive Indian governments and the companies responsible. Each in turn failed to provide adequate healthcare or even clean up the site. In 1989 the government agreed a woefully inadequate $470 million compensation agreement – averaging less than a thousand dollars per person affected - from Union Carbide and that was that.
Union Carbide and its new owners Dow Chemicals point to that agreement, arguing it settled any claims over the disaster. For many, the death this September of former Union Carbide CEO Warren Anderson, who fled India while on bail, closed the final chapter of the Bhopal saga and consigned it to the history books.
But for the Sambhavna clinic and others like it, 1984 was the start of a health crisis that has lasted three decades. A health crisis that inevitably continues as long as Union Carbide and the Indian government refuse to clear the chemicals that continue to seep into the groundwater today.
Over the past decade, Amnesty International has supported the Sambhavna clinic, Bhopal Medical Appeal and other organisations in their demand for a government clean-up, proper healthcare and a fair pay-out from Union Carbide. We also want Union Carbide to finally see the inside of a criminal court, something their owners at Dow have conspicuously failed to compel them to do.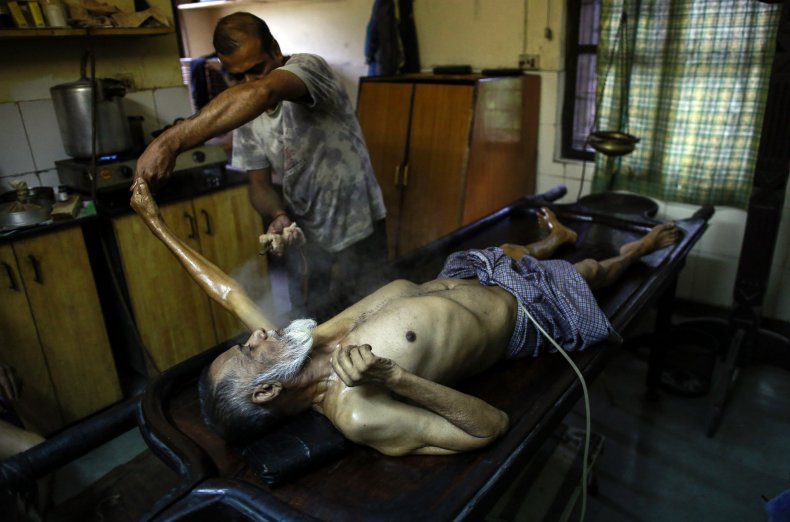 This year our demands were echoed by Hollywood giant Martin Sheen, who stars with Mischa Barton and Kal Penn in A Prayer for Rain, a dramatized account of the 1984 catastrophe.
Yet Union Carbide and Dow continue to resist the pressure. Union Carbide have dodged charges of culpable homicide for almost 30 years - without the US government batting an eyelid. Dow displayed contempt for India's justice system when it refused to attend a November court summons to explain why it was allowing its subsidiary to evade serious charges.
In stark contrast to how it deals with foreign companies polluting its own territory, the US government has done little to help India over Bhopal, Earlier this year US courts ruled BP could face up to $18 billion dollars in fines for polluting the Gulf of Mexico. Yet successive administrations find themselves in a shameful stupor when it comes to pushing for Union Carbide to face justice and pay the survivors the compensation they deserve. In effect, the US is providing Union Carbide a safe haven from justice.
Dow and Union Carbide have worked hard to create an illusion that time has healed Bhopal's wounds. Walking through the factory site, it's easy to succumb to that illusion.
Today the rusting pipelines and burst gas tanks are tangled with lush green shoots and the clanking of metal machinery has been replaced with bird song. Families graze their goats on long grass and children play in the shadow of the chemical plant. But look a little closer at the pipes and you can see a coating of fine chemical powder. It's a reminder that the poison is still here, and as long as it is, it will continue to blight Bhopal and tarnish the reputations of those responsible for it.
Maxim Tucker leads Amnesty International's media work on global campaigns and thematic issues.