300 Students Quarantining After COVID Found in Sewage at NJ College Dorm
The New Jersey Institute of Technology (NJIT) in Newark, New Jersey, placed 300 of its students into quarantine this week after sewage water testing found trace amounts of COVID-19 in a campus dormitory.
Every student living in Cypress Hall went into quarantine Wednesday evening after the sewage test results were released earlier that day, NJIT Chief Strategy Officer Matthew Golden told NJ Advance Media.
The school directed students to remain quarantined in the residence hall until they receive a negative coronavirus test result, Golden told Newsweek. Because the school can't "force" them to remain on campus, the quarantined students' card access to campus facilities was suspended until they present a negative test result, Golden added. Every student in the dorm was tested Thursday morning, and results are expected by Monday at the latest, he said.
NJIT students are allowed to live on campus during the fall semester. Academic courses are currently being conducted in a "converged mode," meaning that some students are physically in the classroom while others are joining remotely, according to the school's website.
The Cypress Hall students will be attending all of their courses virtually while under quarantine, Golden told NJ Advance Media. None of them had reported any COVID-19 symptoms, he added.
Civil and environmental engineering professor Lucia Rodriguez-Freire, an expert in water testing, recommended that the NJIT test its sewage for COVID-19, she told NJ Spotlight News.
"The good thing about it is, we don't have to test individuals," Rodriguez-Freire said. "We can test the whole community, and see if something is going on."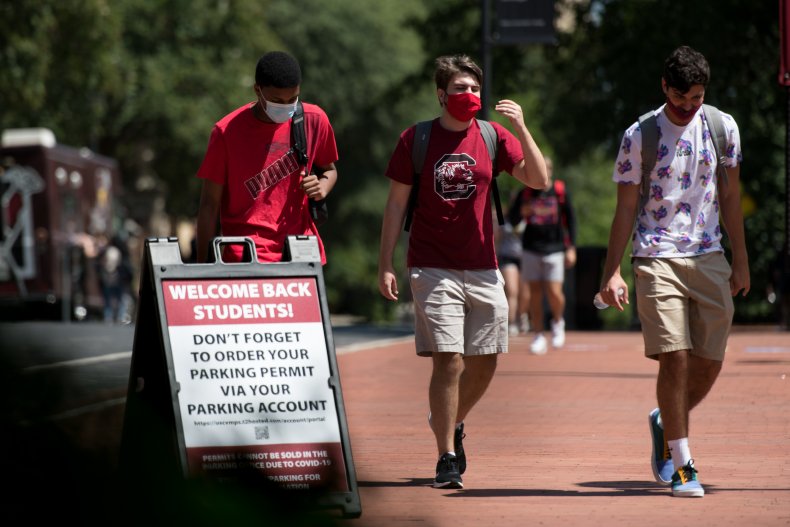 NJIT is not the only American university to use sewage water testing as a means to potentially detect coronavirus outbreaks before they spread widely on campus. The method can serve as an early warning system, particularly for asymptomatic people, as the virus often presents in feces or urine days before a regular test would detect it.
The University of California at San Diego (UCSD) has conducted daily sewage testing on several of its buildings for more than a month.
"What wastewater lets us do is test hundreds of people at one time with each sample. We can then go to people who might have produced a stool in that wastewater stream and test them individually, quickly and identify an infected person," Robert Schooley, an infectious disease specialist and distinguished professor of medicine at UCSD, told KNSD.
UCSD officials found traces of COVID-19 in sewage water in early September, allowing them to conduct 647 coronavirus tests the following weekend. Two people tested positive and were isolated, possibly preventing further outbreak, KNSD reported.
In August, the U.S. Centers for Disease Control and Prevention (CDC) announced it was developing a portal for local health departments to submit wastewater testing data into a national database in hopes that the collected information could help inform public health action.
Waste water testing will be one of NJIT's "best tools" for being able to detect coronavirus before it spreads, Golden told NJ Advance Media.
For the week of September 14, NJIT reported zero new coronavirus cases. The school has has a total of nine cases since data collection began in March, with four of those cases marked as "recovered." NJIT's total student body in the fall of 2019 was 11,518, nearly 9,000 of whom are undergraduates.
As of Friday, Newark had a total of 8,762 positive COVID-19 cases and 664 deaths, according to the city's website. The entire state has reported 198,848 total cases and 14,270 deaths.
Correction (09/19/20, 4:12 p.m.): A previous version of this article stated that large amounts of COVID-19 were found in the sewage testing. Trace amounts of the virus were detected in the waste water. This article has also been updated to provide more clarification on the school's quarantine policy.