3,000 'Essential' Construction Workers for Los Angeles NFL Stadium Continue Despite Positive Coronavirus Case
A brand new NFL stadium in Los Angeles is scheduled to open in late July, and approximately 3,000 construction workers have continued their daily chores to build SoFi Stadium, despite one of their fellow workers testing positive for COVID-19, better known as coronavirus. Others are suspected to test positive.
And even though the California governor has ordered his state's residents to work from home, the workers building SoFi Stadium are considered "essential" as the stadium is deemed as a critical infrastructure, according to a report in the Los Angeles Times.
The $5 billion stadium will be the future home of the Chargers and Rams, who have both spent the last couple of years playing at other venues.
The Times reported that about 3,000 workers—from crane operators to electricians and carpenters to painters—have continued working on the stadium, even after an unidentified worker tested positive coronavirus last weekend. It's presumed that another worker tested positive on Monday.
Still, work goes on as the laborers need the money, and team ownership needs the facility. That is, if the NFL will actually play this fall.
"If our safety was the most important thing, they wouldn't have us out here," a tile layer told the The Times before news of the COVID-19 positives were reported. "Everybody is talking about it. Your focus isn't 100 percent on your work. You have that in the back of your head. ... We feel like we're invisible."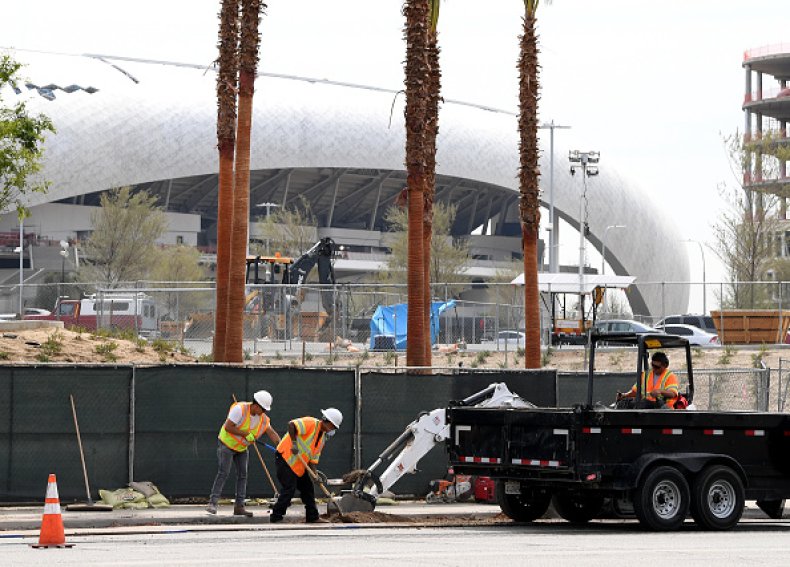 The city and state might not see it as an invisible venture, though, as the stadium's construction is deemed "critical infrastructure," meaning workers are considered "essential." This means that California Gov. Gavin Newsom's stay-at-home order on March 19 to prevent the spread of coronavirus would make them exempt.
Several workers at the stadium spoke with the The Times on the condition of anonymity, with a fear of retribution if their names were revealed. They spoke of their fears of not working, which would mean missing out on the pay.
"If they want to get the stadium done, they need to provide something to minimize the risk of exposing anyone," one electrician told The Times. "It doesn't take much to realize how big this [problem] could be."
A second electrician followed, saying, "Everyone is a little nervous ... but we need the money."
SoFi Stadium was designed to be a centerpiece in the Inglewood area where the old Hollywood Racetrack used to be. SoFi and its immediate surroundings was approved for mixed-use development, meaning there can be a wide array of businesses and dwellings to create an invigorated commercial district. And that also means tax dollars.
But at what expense to the health of construction workers?
SoFi sent an email Monday to its workers to warn them of the positive results, and to see if they had been in contact with workers during any potential "casual contact."
"We are reaching out to you because we suspect others on the Project were in 'casual contact' with the individuals in the last 14 days," the email said. "We are also investigating and implementing supplementary sanitation measures specific to these incidents as necessary."
The City of Los Angeles said Sunday that it would send inspectors to job sites around the city to make sure safety measures were in place.
3,000 'Essential' Construction Workers for Los Angeles NFL Stadium Continue Despite Positive Coronavirus Case | Sports