3,000 Migrants Continue Toward U.S. After Guatemalan Military Breaks Up Larger Caravan
After Guatemalan security forces dissipated a large caravan of Honduran migrants on Tuesday, a third of the group continued their journey toward the U.S. border.
Three thousand migrants managed to press forward to the Mexican border as the rest of the crowd returned home, according to Honduran newspaper La Prensa.
Many of the migrants are driven by an increasingly desperate situation in Honduras, where residents face grave poverty and gang violence. Living conditions only worsened last November after two major hurricanes, Eta and Iota, caused severe destruction.
The first caravan of the year consisted of more than 9,000 people who had left for the Guatemala-Honduras border crossing of El Florido in different phases late last week. They came from San Pedro Sula in northern Honduras, a city once referred to as the "murder capital of the world."
The Biden administration has renewed hope that a new president may be more welcoming to Hondurans hoping to escape their dire surroundings and find a new life in the U.S.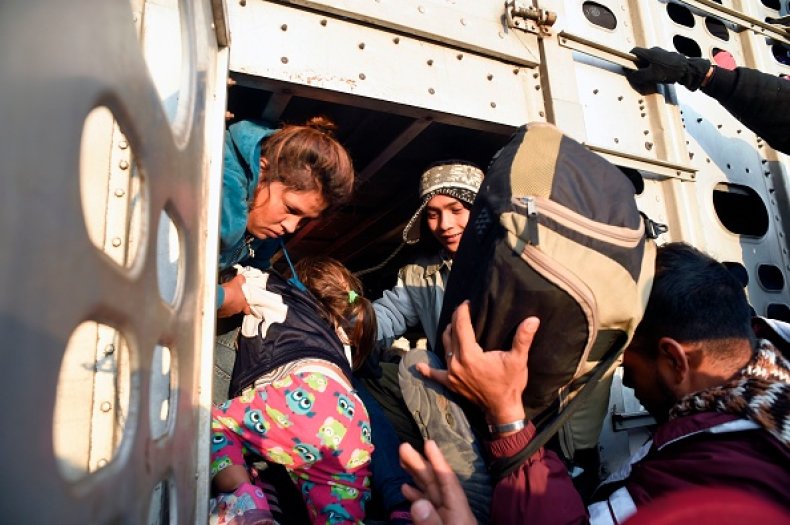 In 2018, caravans became a popular and low-cost alternative for Central American migrants who otherwise would have to hire a smuggler. But several migrant groups that tried to complete the journey have been unsuccessful.
After being stalled some 25 miles into Guatemala for several days, hundreds of migrants were forced to retreat to the borderline on Tuesday. Guatemala's immigration authorities reported that up until Tuesday, more than 3,000 migrants had been returned to Honduras, although estimates could be higher because of voluntary returns.
As of last week, the Guatemalan government warned that Hondurans would be unable to advance without complying with immigration and health requirements, which now include a negative coronavirus test.
Although 2,000 police and soldiers faced the caravan at the border, they did not stop them. Instead, a series of strategically placed roadblocks, where tear gas and batons were used, dissipated the crowd.
The U.S. has enlisted Mexico to apprehend migrants before they reach the U.S.
Michael Kozak, acting assistant secretary for the U.S. State Department's Bureau of Western Hemisphere Affairs, commended Guatemala on Twitter for "carrying out its responsibilities by responding appropriately & lawfully to the recent migrant caravan."
President Joe Biden has promised to implement immigration reform but has planned to keep Trump border policies in place for the time being, out of concern that migrants would flock to the U.S. after he took office.
Under current U.S. and international law, asylum seekers from Central America are allowed to apply for asylum in either Mexico or the U.S.
U.S. Customs and Border Protection told Newsweek in a statement that the agency has been actively monitoring migrants from Central America and Mexico, "but at this time, it is impossible to predict the size of any groups, when, or where they may arrive at the U.S./Mexico border."
Update 01/24/21 2:18 p.m. ET: This story was updated with comment from U.S. Customs and Border Protection.