3,000 People Gather for Florida Block Party Without Masks Despite Restrictions, Get Into Fight With Police
Law enforcement officials were struck with glass bottles, jars and bar stools at a Saturday block party in DeLand, Florida, that drew an estimated 3,000 people, according to the Volusia County Sheriff's Office.
The party began as a "relatively uneventful" event during the day but quickly escalated as the crowd turned dangerous. Police became involved after a rifle was seen pointed out of the open window of a passing vehicle at crowds gathered at a gas station. Deputies began ordering vehicles to move as crowds grew in multiple areas, including a gathering of about 1,500 pedestrians.
Florida's Department of Health has advised against gatherings of more than 250 people to lower the risk of coronavirus transmission during the pandemic. Attendees were seen standing close together with no face masks.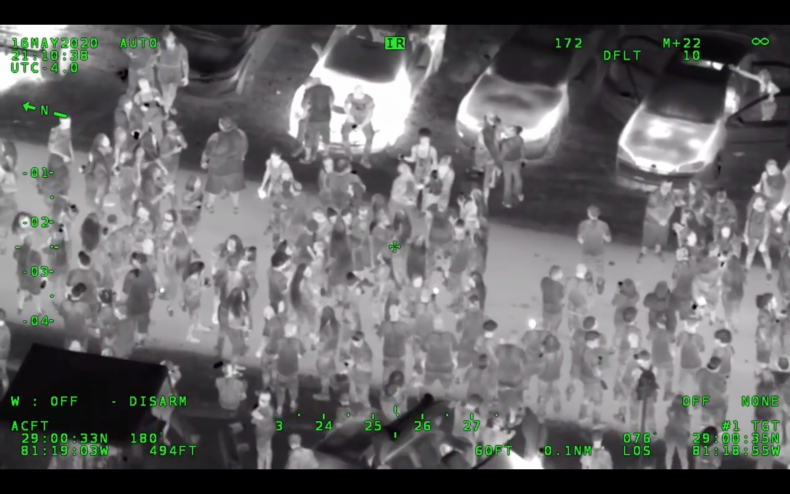 Later, two men, Alphonso Parker and Charles Turner, were seen exchanging a firearm and were taken into custody after resisting officers. Turner, who had been out on bond on other charges, was charged with two counts of possession of a weapon by a convicted felon, tampering with evidence, inciting a riot and resisting an officer without violence.
Parker was arrested on the same charges, with the exception of tampering with evidence. He was also charged with possession of a concealed firearm.
Shortly afterward, deputies began being pelted with a number of objects, including cups of alcohol, a bar stool and glass bottles. Another officer was punched by a member of the crowd. Seven arrests were made, and two officers suffered minor injuries.
One man who attended the block party was later admitted to hospital with a gunshot wound to the foot but did not press charges.
The gathering was reported to be a memorial for Kenya Alexander, a DeLand man who was murdered in 2008. Several partygoers who spoke with The West Volusia Beacon said black attendees had been unfairly targeted by law enforcement officials.
In a statement released alongside body camera footage from May 16, Sheriff Mike Chitwood said the police action taken that night was not in response to race but instead was for public safety.
"Because the majority of the crowd were black & the deputies/police were white, we have to face the issues. I don't accept the accusations that we're racists, or that our actions Saturday were racially motivated. It's not true, and it's not a fair conclusion from the video," Chitwood said on Twitter.
"But given everything we know about our nation's history, I also know those feelings aren't just about Saturday night. That's why I'm asking everyone to hit pause and take a second to cool off, myself included," the sheriff said.