30,000 Catalan Independence Flags to Be Handed Out for Barcelona-BATE Match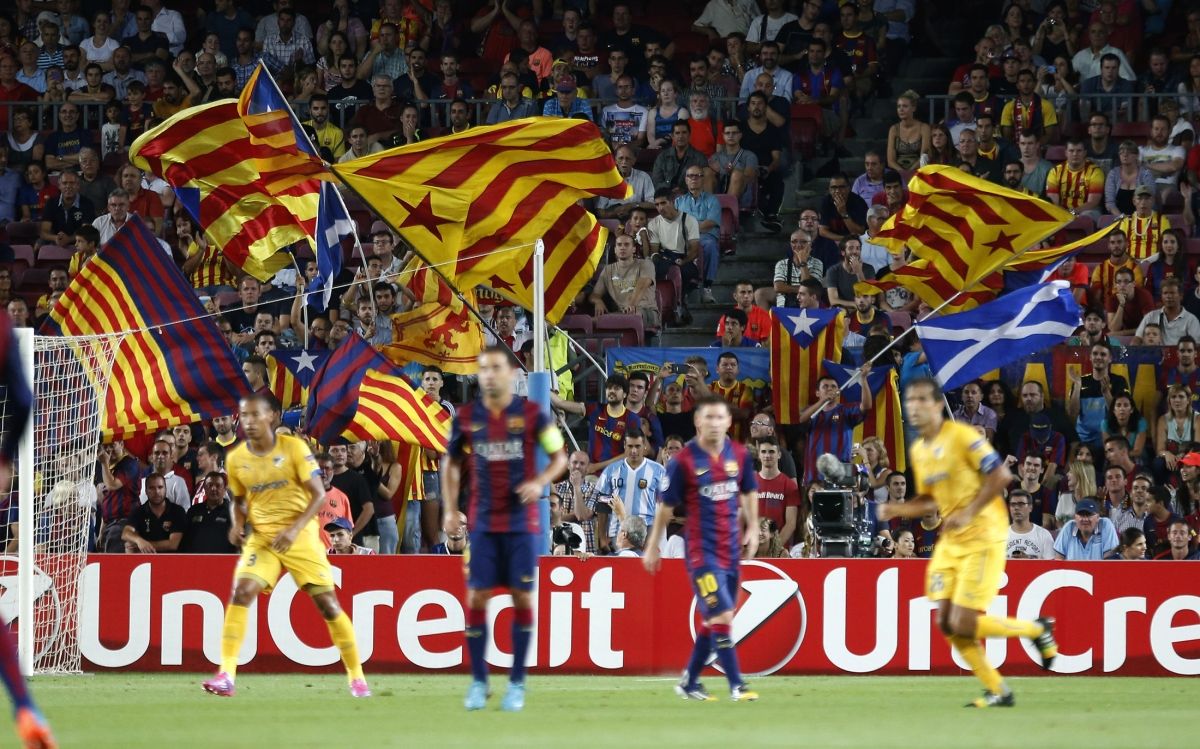 Catalan independence groups have said they are planning on handing out 30,000 pro-independence flags to the crowd during FC Barcelona's Champions League soccer match on Wednesday night to protest against Union of European Football Associations, which have twice fined the club for letting fans fly the flags at matches, Agence France-Presse reports.
Four Catalan nationalist groups have criticized the actions of the European football's governing body ahead of the match, which is being played at the Camp Nou stadium in Barcelona against Belarusian side BATE Borisov.
A joint statement was released by the groups who are organizing the action the Platform for National Catalan Sports Teams, the Omnium Cultural association, the Catalan National Assembly and Drets.cat.
"We wish to express our total disagreement with [UEFA's] sanction, which constitutes a grave attack on freedom of expression and opinion," the statement reads. "We wish to make it clear to UEFA that the Catalan supporters expressed themselves in an entirely peaceful manner. They were protesting in defense of civil rights and the right of Catalans to decide their future democratically. As such, we wish to declare our solidarity with FC Barcelona and its supporters."
Catalan nationalists want the northeastern region, which includes the city of Barcelona, to succeed from the rest of Spain. Despite the pro-independence parties claiming victory in regional elections at the end of September, the Spanish government maintains that the parties do not have a legal mandate to declare independence.
According to AFP, UEFA say that the use of the pro-independence flags are against its regulations, which prohibit "the use of gestures, words, objects or any other means to transmit any message that is not fit for a sports event, particularly messages that are of a political, ideological, religious, offensive or provocative nature."
UEFA fined Barcelona 40,000 euros ($44,000) last month, after some of their fans displayed the flags during their 2-1 win over the German team Bayer Leverkusen. In May, the club was fined 30,000 euros ($32,500) for the same violation that occurred during their Champions League meeting with Italian side Juventus in Berlin.
According to football magazine FourFourTwo, FC Barcelona President Josep Maria Bartomeu vowed that the club would appeal the sanction and take it to the European Court of Human Rights if necessary. "We are proud of defending freedom of expression, that's what makes us stronger," Bartomeu said.
In October, French Prime Minister Manuel Valls said Barcelona could play in the French league if Catalonia was to become independent from Spain.