Las Vegas is planning on going through with its fireworks celebration for New Year's Eve this year after being canceled last year because of the pandemic, and expects as many as 300,000 visitors for the fireworks show and other events, elected officials and public safety leaders said Wednesday.
Health officials from the area also reported 2,201 new coronavirus cases Wednesday, the largest single-day increase since January, before vaccines were widely available, and hospitalizations and deaths have also increased in recent weeks.
Las Vegas Mayor Carolyn Goodman, Clark County commissioner Michael Naft and other police and fire officials emphasized the best ways for visitors to the events to stay safe and healthy, including wearing masks around others and not driving while intoxicated.
"We encourage everyone to look out for one another, take personal responsibility and proactively take actions to limit the spread of COVID-19," Naft said.
The officials also reminded the events will be conducted outdoors, where COVID spreads less frequently, and that the fireworks can be seen from far beyond the Las Vegas Strip so it is easy for people to spread out to watch them.
New York City Mayor Bill de Blasio last week announced the famous Times Square ball drop ceremony on New Year's Eve will be scaled back, with about 15,000 people instead of the usual 58,000, who will all be required to provide proof of vaccination.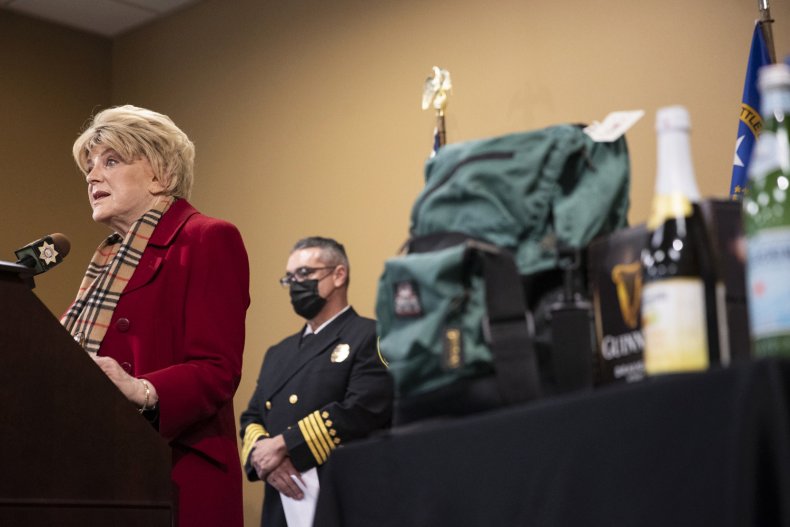 Thousands of ticketholders also are expected at a multi-stage outdoor music event beneath a canopy light show at a downtown casino pedestrian mall called the Fremont Street Experience.
"If you're sick, stay at home. If you're indoors, wear a mask," said Naft, who stood with Goodman and police, fire and communications center officials to outline restrictions including bans on glass and metal containers, coolers, strollers, backpacks, purses and luggage.
The safety talk came on a day that a coronavirus surge driven largely by the highly contagious Omicron variant pushed new cases of COVID-19 in the U.S. to the highest level on record, at more than 265,000 per day on average. The previous mark was 250,000 cases per day last January, according to data kept by Johns Hopkins University.
Paris, London, Berlin and New York are among cities that have scaled back or called off New Year's festivities, and airlines have canceled thousands of flights amid staffing shortages blamed on the virus.
Chicago officials said this week their fireworks show was still on, despite Illinois Gov. J.B. Pritzker's warning during a news conference that, "Omicron and Delta are coming to your party."
The county's 14-day test positivity rate, representing a percentage of people tested for COVID-19 and found to be positive, reached 10.1 percent, the Las Vegas Review-Journal reported. The World Health Organization goal is 5 percent or less to relax mitigation measures.
The Southern Nevada Health District reported 55.8 percent of Las Vegas-area residents are fully vaccinated.
Goodman, a vocal critic of Nevada mask mandates and restrictions on crowd sizes in the first months after business closures were enacted in March 2020, wore a mask Wednesday but removed it to remind the media that the biggest Las Vegas events will be outside.
"We are saying people (can) feel comfortable to be mask-free," the mayor said. "But individually, if you have an issue or you're concerned, wear your mask. It's a question of respect."
The Associated Press contributed to this report.