300,000 Still Stranded at Sea Because of Coronavirus Beg for Exemption From Travel Restrictions
After months spent at sea, ship crews unable to disembark during the coronavirus pandemic are pleading with government officials to permit them to return home.
News journal Lloyd's List recently released a series of videos recorded by crew members currently aboard ships, many of whom should have returned to shore months ago. Despite expired work contracts, travel and border regulations enacted in response to the coronavirus outbreak prevent them from doing so.
"We also have family back home," said Captain Mridul, identified only by his last name, in a video recorded while on board the cargo ship Maersk Ensenada.
In an additional video, Captain Radhika Menon, who oversees the crew on board the oil tanker Iris Victoria, emphasized the cost to seafarers' mental health.
"This crisis of seafarers not being able to go home and meet their loved ones due to this pandemic is creating a lot of mental disturbance in the minds of seafarers," he said. He appealed to government authorities to exempt ship crews from policies that prevent their repatriation.
Travel and border restrictions enacted across the world to manage transmission of the virus have unduly affected ship crews, as vessels navigate international trade routes to deliver food and supplies during the pandemic. Widespread border regulations, which either prevent or limit the number of individuals permitted to enter certain countries, have forced thousands of crew members to remain at sea past the expiration of their employment contracts.
At least 300,000 are still stranded aboard ships, according to an estimate from the International Transport Workers' Federation (ITF), a global network of affiliated trade unions representing transportation employees.
In June, the ITF petitioned governments to loosen restrictions for seafarers, citing labor rights and noting that roughly 300,000 additional workers kept from boarding ships—a byproduct of the restrictions that prevent crews from disembarking—are facing economic consequences as well. The union federation refers to this as a global crew change crisis.
"Governments must wake up and realize that without a return to successful crew changes, it is simply not sustainable or acceptable to have a growing number of tired and fatigued seafarers trapped working aboard the world's ships, endangering themselves, their vessels and our maritime environment," said Stephen Cotton, the ITF's general secretary, in a July 15 statement.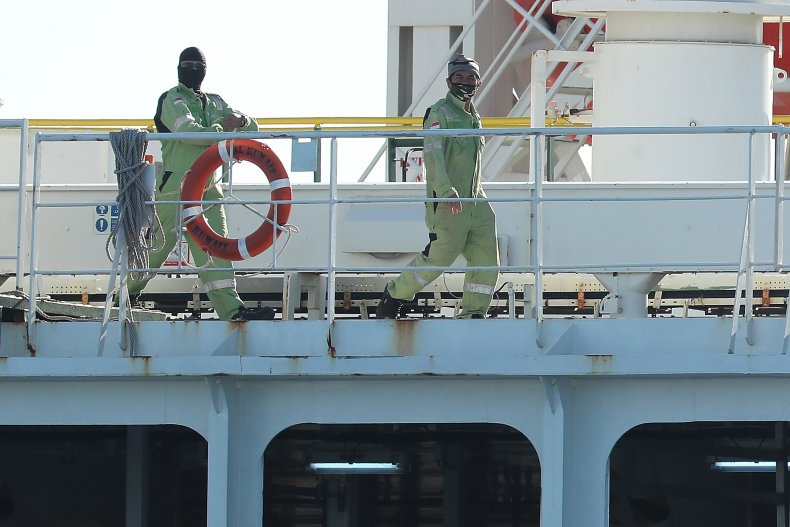 One month after the federation's initial plea for seafarer exemptions, Cotton said "too little progress" was made in terms of efforts to repatriate ships' active crew members.
"Seafarers and their unions are deeply concerned about the risk to life, property and environment as the chances of a major catastrophe or catastrophes rise daily," Cotton said in the ITF's statement. "Governments must act before we see more people die, or worse—a major maritime disaster. Urgent action is required."
Newsweek reached out to the ITF for comment but did not receive a reply in time for publication.