309 Nicaraguans Killed in 75 Days of Anti-Government Protests
More than 300 protesters have been killed in Nicaragua since demonstrators took to the streets to protest the ruling government in April.
After 75 days of protests, from April 19 to July 2, at least 309 demonstrators have been confirmed dead according to a report presented Tuesday by the Nicaraguan Association for Human Rights (ANPDH), Nicaraguan newspaper La Prensa reported. More than 1,500 have been injured, the report said. Previous reports by rights groups have also said that hundreds have been arrested in the government's brutal crackdown.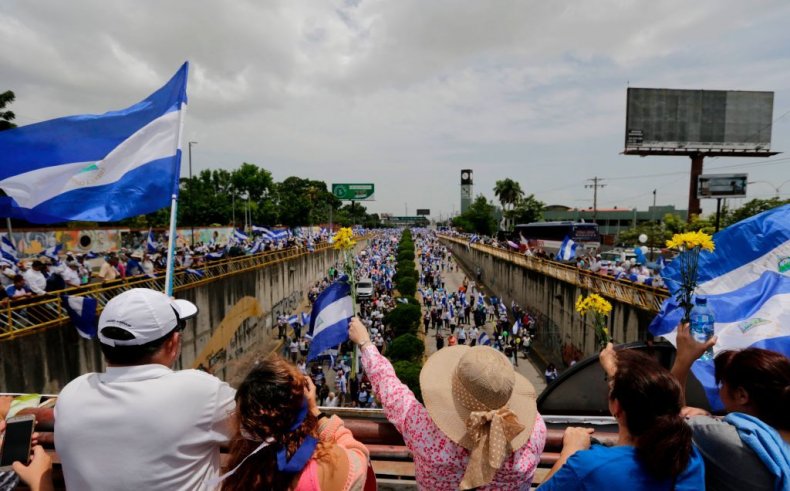 ANPDH and other rights groups have accused the government of targeting protestors with "lethal force." Reports have also circulated of paramilitary troops burning shops in the country and forcibly disappearing demonstrators. For its part, the government denies the claims and blames "common criminals," Al Jazeera reported.
The Embassy of Nicaragua to the United States did not immediately respond to a request for comment for this article.
Protests in the Central American country initially began in April after the government announced cuts in retirees' pensions and a related tax increase. The demonstrations came as a surprise to the government, which is led by President Daniel Ortega and his wife Vice President Rosario Murillo, as well as to outside observers.
"When these demonstrations began, the government – apparently believing that a show of force would quell the demonstrators – unleashed police anti-riot squads, and pro-government youth groups," Geoff Thale, vice president for programs at the Washington Office on Latin America, explained to Newsweek. "But on this occasion, demonstrators, especially the students, resisted fiercely."
Students, labor unions, business groups, academics and intellectuals have joined the movement, calling out what they see as oppressive government policies. Thale told Newsweek that the protests have grown beyond the initial anger over pension cuts and tax increases. They have "tapped into much deeper frustration at more than a decade of Daniel Ortega's rule, and his increasingly autocratic approach to governing," he said.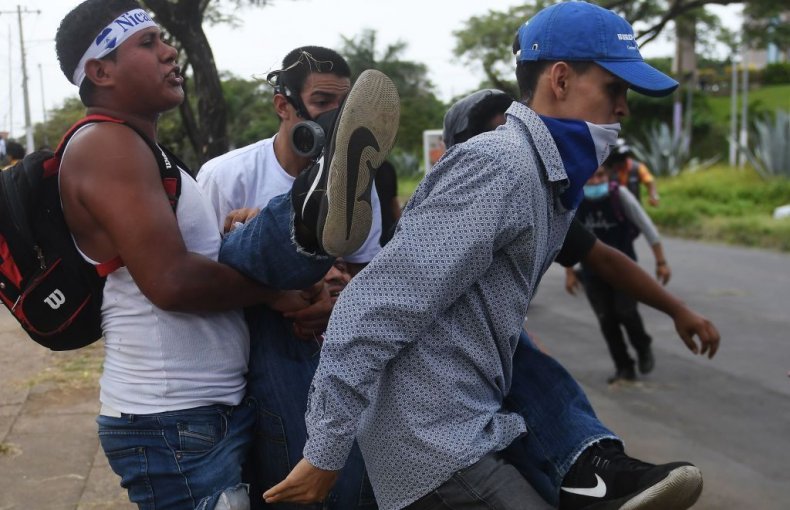 Even leading business organization, the Superior Council of Private Enterprises (COSEP), which has traditionally been seen as close to Ortega, has turned on the leader, demanding early elections. The president's own brother, Humberto Ortega, the founder of the Sandinista army and former Sandinista army chief, told The Miami Herald that he supports holding polls early.
Ortega was once considered as a leftist reformer in Nicaragua, but in recent years, his positions and alliances have shifted. The president's political party, the Sandinista National Liberation Front, has become increasingly viewed as a pro-business association and less of a party supporting the common people's interests.
With the government's brutal crackdown, Ortega has found himself more and more isolated.
"Despite the overwhelming opposition, Ortega seems to be intent on intimidating demonstrators with violence," Thale said.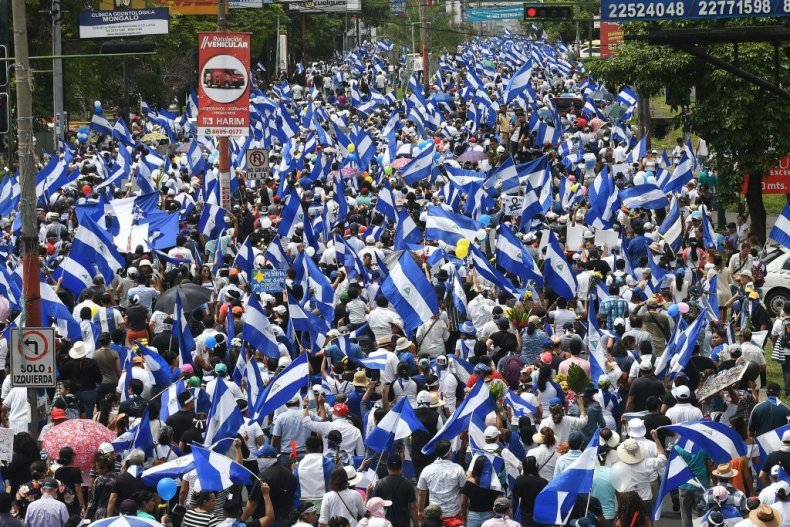 "There's no civil war here. There is no confrontation between two armed forces, but government forces who are carrying out a massacre against a civic insurrection," Carlos Fernando Chamorro, publisher of Nicaragua's political newsmagazine Confidencial, told The Miami Herald.
Thale added that the Nicaraguan government could end the violence quickly by reigning in security forces. Until now, Ortega has not taken the steps to de-escalate the situation.
"The government has to recognize that it has to engage in serious dialogue with the growing and diverse opposition if it wants to address the unrest in the country," Thale said, pointing out that the people have clearly called for the president's and vice president's resignation. "The debate is really about what should follow after Ortega leaves."
Although Ortega's government has publicly said it is open to discussing issues with demonstrators, rights groups say this is just a mask for continuing repression.
"Ortega's pretense at engaging in dialogue remains part of [the government's] policy of repression, as demonstrated by the episodes of violence over the weekend," Erika Guevara Rosas, Americas director at Amnesty International said in a statement on Monday. "Nicaraguan families should not have to keep counting the dead day after day."