For $30,000, Send Mom a Replica of Yourself for Mother's Day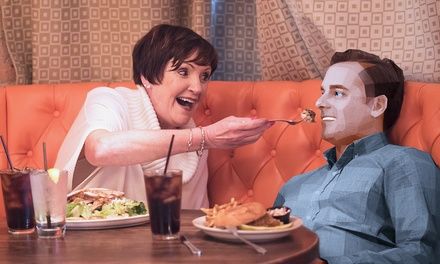 Are you a guilt-wracked son or daughter who can't make home in time for Mother's Day? For some, an apologetic phone call may suffice, but for the overachievers, this Groupon deal allows you to purchase and ship your mother a 3-D printed replica model of you for a cool $30,000.
In what either may be the Mother's Day gift to end all Mother's Day gifts or the latest pearl-clutching example of technology ruining human relationships, the 3-D-printed model will be able to join your mom in an array of activities, from yoga to skydiving, according to Groupon.
Expectedly, the deal has caveats, the biggest being it will not be delivered in time for Mother's Day. Groupon has to fly the person out to Auburn, Alabama, to be scanned by Swigro, the 3-D printing lab in charge of constructing the model. Once scanned, Swigro owner Renato Gross tells Newsweek that it takes a few more weeks to post-process, construct and ship the human-sized model to your mother's house.
Gross says that Groupon reached out to Swigro to make this deal happen, to which Gross responded, why not?
"We found the idea very interesting," Gross says. "I remember I had a professor from Emory University visit and tell me a year or a year-and-a-half ago about how it would be interesting to allow people to print other people, like their dead father or their child."
While the weeks-long process may test mom's patience, Gross assured that the Swigro—which normally makes 3-D printed machinery for automotive and aeronautical factories—will be more lifelike that replicas made from other materials. "For something like this, you would need to sculpt out of wood or rock, but nothing would be a truer replica than 3-D printing."
Gross says he's 100 percent serious about this deal, though Groupon has a history of outlandish Mother's Day deals. Last year, Groupon had a deal for $25,000 in which a Groupon employee served as a surrogate child and provide 16 hours of compliments, housework and cooking in the buyer's absence.
For those who have $30,000 to burn, the deal ends on Sunday at 9 p.m.