31 Electric Cars, Trucks, and SUVs You Can Buy or Reserve Right Now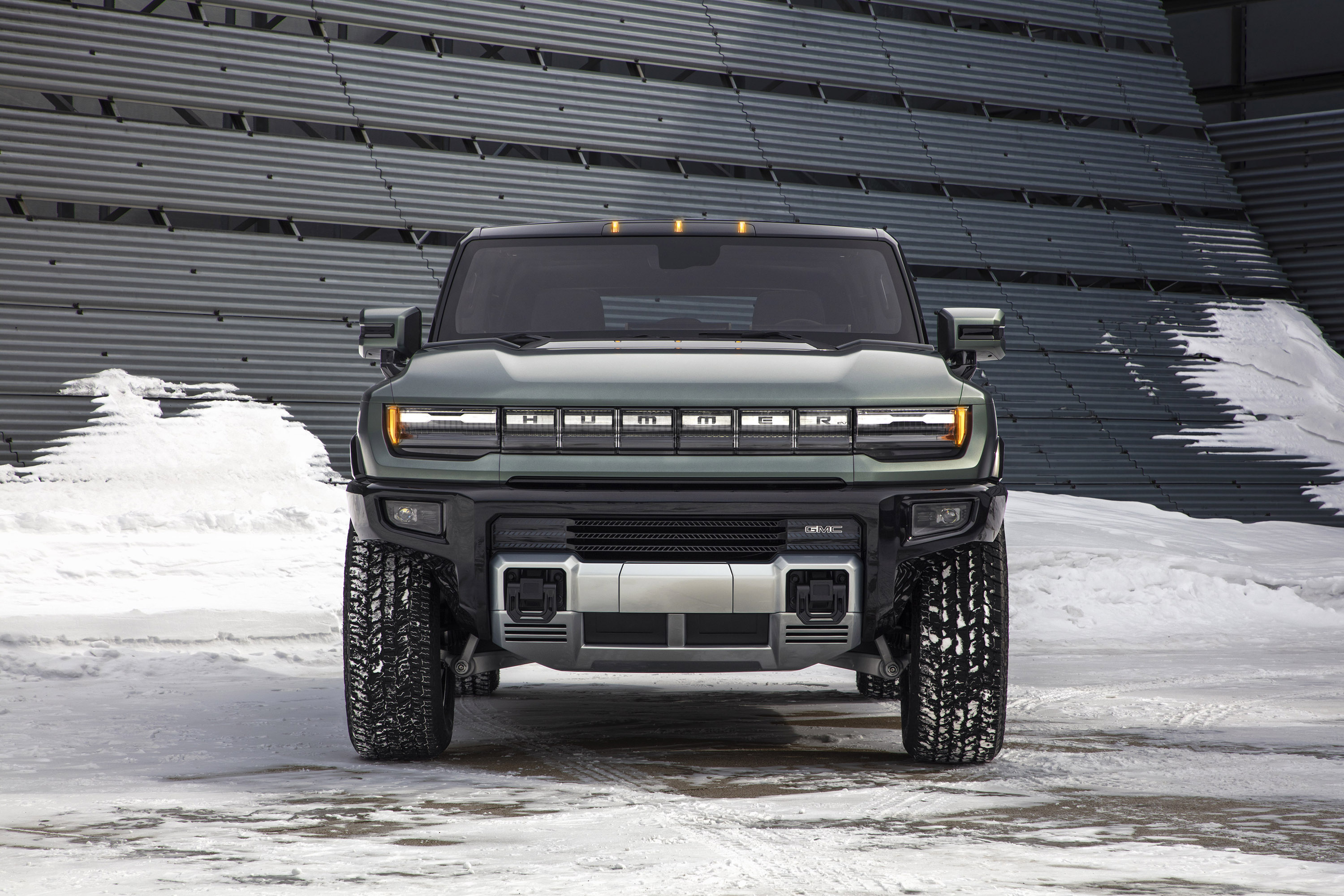 Almost every automaker is either currently selling an electric vehicle or has one in the late stages of development. Some are able to be ordered today while other carmakers are not quite ready to offer their car up for sale yet, instead accepting deposits for reservations.
The models on this list are either currently for sale or able to be reserved via a deposit in the U.S. Their model years vary and some manufacturers prefer to not advertise a certain model year.
Pricing information in this list does not include destination and delivery charges, which vary by automaker and model.
Scroll down to see the full list. Have you heard of them all?
Lucid Air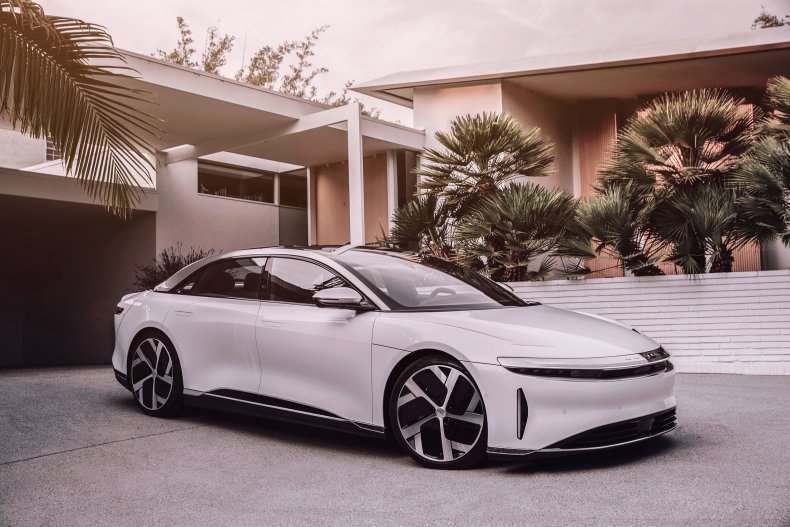 The forthcoming Lucid Air all-electric sedan has a low co-efficient of drag, the largest frunk of any electric car and an available glass canopy roof. The car's two electric motors max out at 1,080 horsepower total helping it get from zero to 60 mph in 2.5 seconds.
Lucid will offer the Air in three variants (Air Pure, Air Touring, Air Grand Touring), with either a 75 or 110 kilowatt-hour battery. Depending on which battery size is chosen, the projected maximum range of the vehicle is 400 to 500 miles. The four-door car can get about 300 miles of range added during a 20-minute charge when connected to a DC fast charger.
Buyers get a 34-inch 5K cockpit display, 21-speaker Surreal Sound system and Amazon Alexa-enabled voice commands, among other features.
Pricing for the Air starts at $69,900 ($300 deposit for reservation). The Air Touring costs $87,500 ($1,000 deposit) and the top-tier Air Grand Touring runs $131,500 ($1,000 deposit).
Ford Mustang Mach-E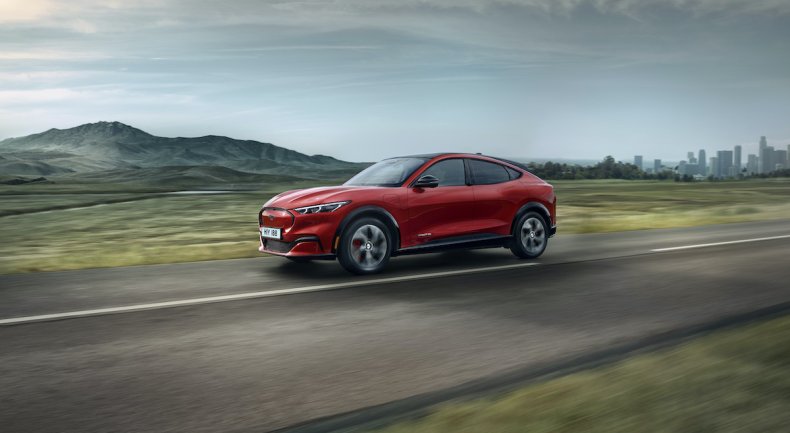 The Ford Mustang Mach-E is a fully electric crossover brought to you by the same company that makes the gasoline-powered Mustang muscle car. For the 2021 model year, the car is available in five trim levels (Select, Premium, First Edition, California Route 1, GT) with First Edition models being the only versions limited in production.
Standard and Extended Range Mustang Mach-Es are for sale with a range of power from 266 to 480 horsepower thanks to the car's 68 or 88-kilowatt-hour battery. Maximum range varies depending on battery as well, with the Ford crossover able to go 211 to 305 miles on a single charge.
Ford's five-seater can get from zero to 60 mph in as much as 6.1 seconds or as little as 3.5 seconds, depending on the model a buyer chooses. Rear-wheel drive is standard and all-wheel drive is available.
Buyers can order their new Mustang Mach-E online or at a Ford dealership. The time between order and arrival is transparently shown on the company's website using the vehicle build tool. Starting MSRP for the 2021 Ford Mustang Mach-E is $42,895 and pricing goes up to $59,900.
Ford F-150 Lightning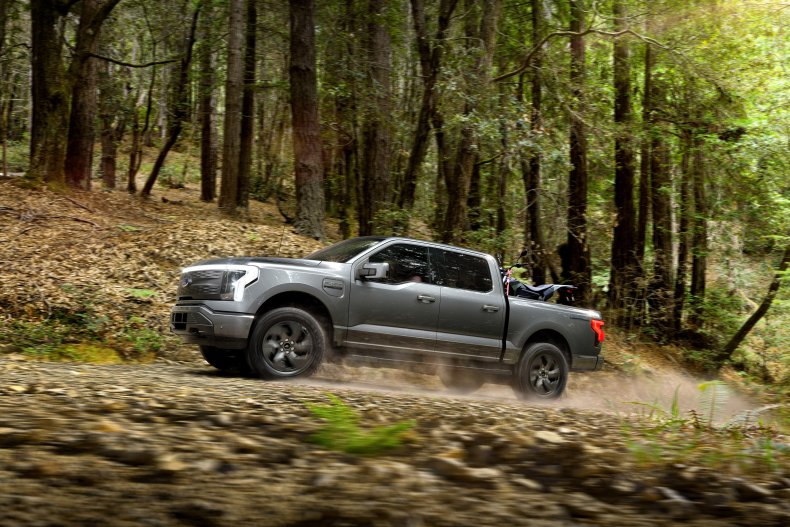 Ford has given its best-selling F-Series an electric model. The Ford F-150 Lightning combines the body of the typical F-150 truck with an electric powertrain. Its two motors, four wheels, and on-board Sync 4 hardware make the truck a potent entry into the electric truck category.
Ford is targeting a 300-mile range for the truck. Buyers who opt for the Extended Range version get a standard 80-amp Ford Charging Station Pro, which can charge the truck at a rate of 19.2 kilowatts via a home outlet.
A number of add-ons are available for the model, including a 15.5-inch portrait infotainment touch screen,
Pricing for the truck starts at $39,974 (commercial version) and tops out around $90,474. Reserving a F-150 Lightning requires a $100 fully refundable deposit.
GMC Hummer EV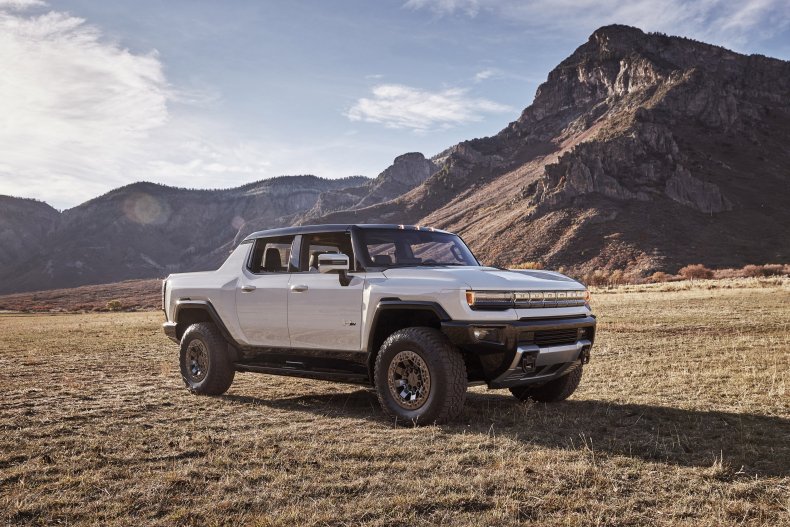 The large and in charge GMC Hummer EV truck is designed to get up to 1,000 horsepower and 11,500 pound-feet of torque from its electric motors. It's capable of charging at up to 350 kilowatts on a DC fast charger with 100 miles available in 10 minutes.
Range is estimated to max out at 350 miles. Using the Watts to Freedom (WTF) feature, the truck can move from zero to 60 mph in approximately three seconds. On-demand regenerative braking and one-pedal driving will be available when the model arrives at dealership lots.
A removable roof, Super Cruise driver assist technology, a 14-speaker Bose Audio system, Crab Walk and Extract modes and seating for five is also available.
Pricing for the GMC Hummer EV starts at $79,997 and goes up to $112,595. It comes in four grades: Hummer EV2, Hummer EV2X, Hummer EV3X, and Hummer EV Edition 1. Edition 1 models will be on the road first and have already sold out. A $100 deposit is required to reserve a vehicle.
GMC Hummer EV SUV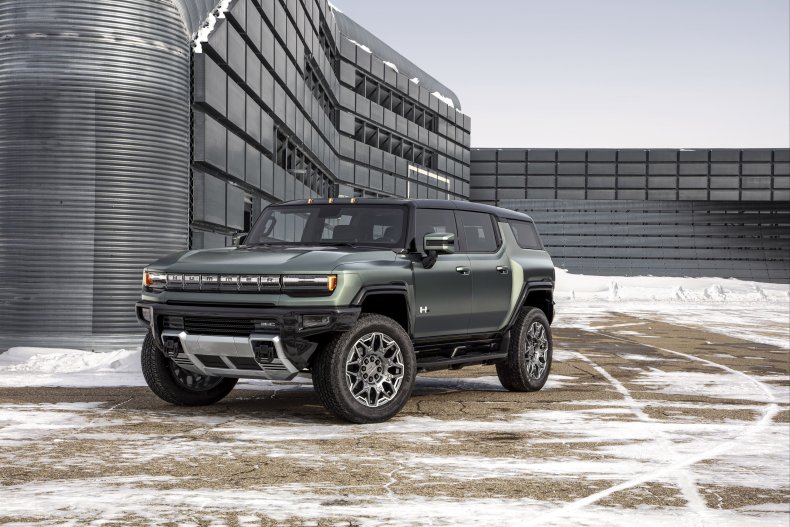 The SUV version of the GMC Hummer EV, the Hummer EV SUV, has many of the same features as the truck. It takes longer for it to get from zero to 60 mph – 3.5 seconds, and it is only capable of achieving 830 horsepower.
GM estimates that the vehicle's range is 300 miles and that it can charge at up to 300 kilowatts via a DC fast charger. Quick top-off estimates are not yet available for the SUV.
The Hummer EV SUV will come in four grades: Hummer EV2, Hummer EV2X, Hummer EV3X, and Hummer EV Edition 1. Pricing starts at $79,995 and tops out at $105,595 for the Edition 1 model, which is set to arrive in early 2023.
Chevrolet Bolt EV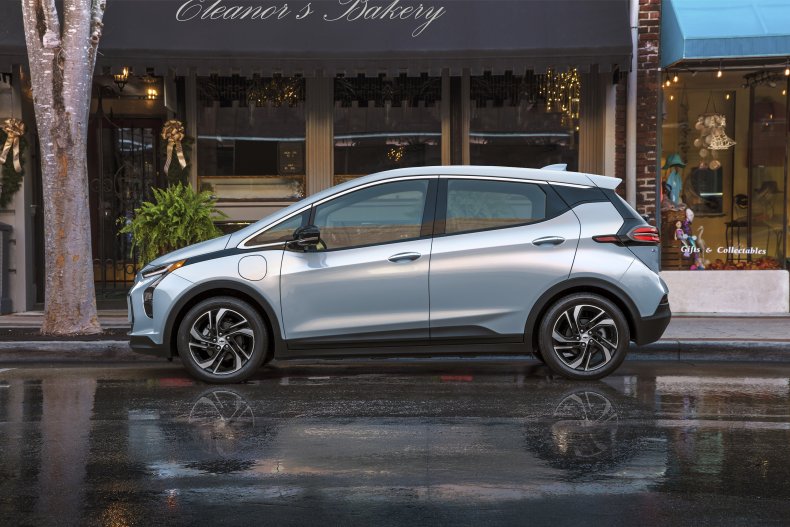 The Chevrolet Bolt EV recently underwent a mid-generation refresh getting some fresh fascia and features. It now has an EPA-estimated range of 259 miles and can move from zero to 60 mph in 6.5 seconds. It is only available with front-wheel drive.
One-pedal driving, Sport drive mode, leather seats, a surround view camera, and wireless Apple CarPlay are among the standard and available features of Chevy's only all-electric five-seater car.
Pricing for the Bolt EUV starts at $31,000 and tops out just over $35,195. It is available at Chevrolet dealerships.
Chevrolet Bolt EUV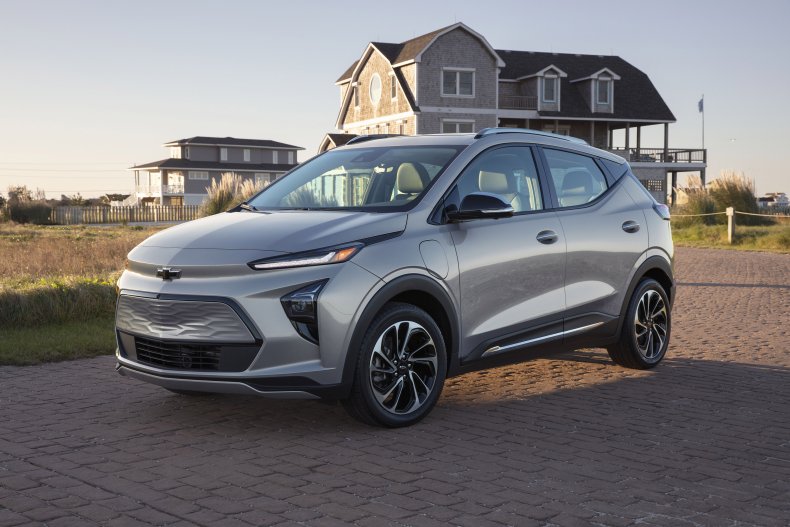 Chevy has taken the formula for the Bolt EV and shifted it over to a crossover. The Chevrolet Bolt EUV is new for the 2022 model year.
The five-seater has an EPA-estimated 247-mile range and can move from zero to 60 mph in 7.0 seconds thanks to its 200 horsepower.
It's available with Super Cruise advanced driver assist technology that allows for hands-free driving. Wireless Apple CarPlay and heated and ventilated seats are among the Bolt EUV's features.
Pricing for the model, which is on sale now at Chevy dealerships, starts at $33,995 and goes up to $38,495.
Volkswagen ID.4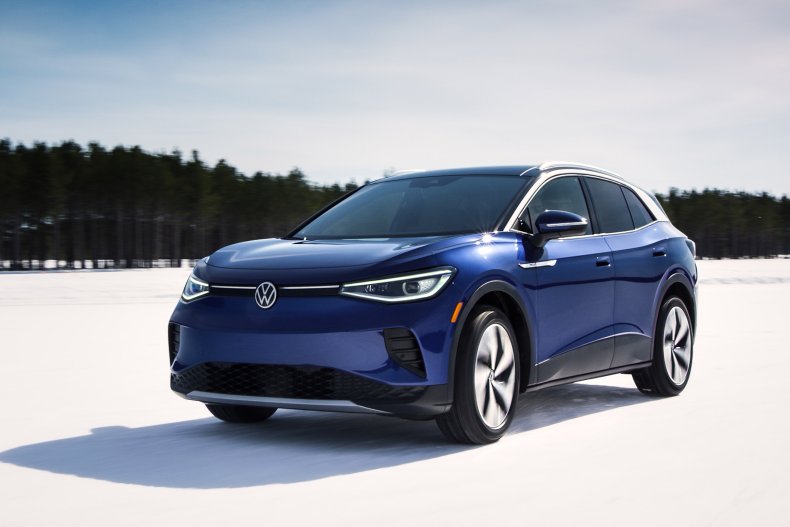 The Volkswagen ID.4 is the company's new all-electric crossover. It's available with all-wheel drive
VW has given the model an EPA-estimated 260 miles of range. Using a DC fast charger, drivers can get a quick top off of 62 miles of range in just 10 minutes.
Its starting MSRP is $39,995. Buyers first reserve their model through the company's website or online portal then track the vehicle's build progress via the online portal. Once the model is available to be picked up, financing can be completed at the dealership.
Hyundai Ioniq 5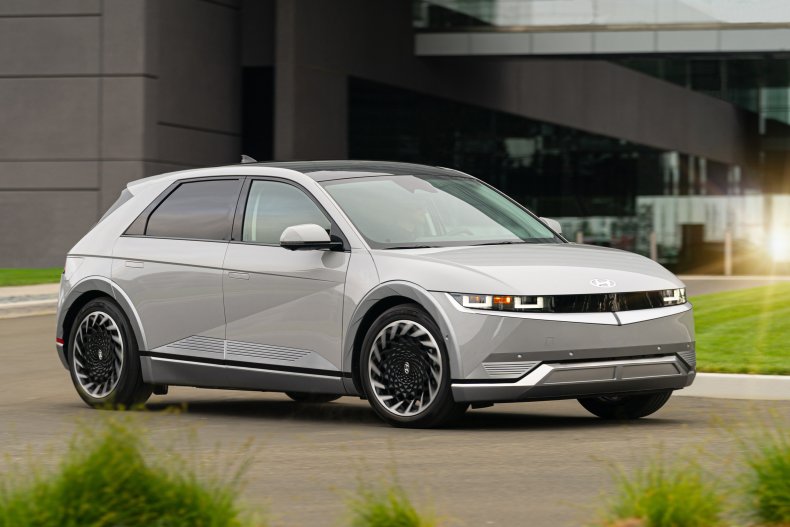 The Ioniq 5 will make its arrival at dealerships this autumn but interested buyers can reserve theirs today for $100. Each deposit is refundable.
The model comes in three trim levels: SE, SEL and Limited. Pricing for the crossover has yet to be announced.
Like other Hyundais, the Ioniq 5 has a long list of standard features including a 12.3-inch digital instrument cluster and touch screen display, navigation, heated front seats, and 12-inch wheels. Opting for the Ioniq 5 SEL adds full LED headlights, leatherette upholstery, Level 2 advanced driver assist technology, a hands-free power liftgate, digital key, and interior ambient lighting.
The Ioniq 5 Limited builds on the SEL grade offering remote parking assistance, 20-inch wheels, a surround view monitor, blind spot monitoring, a panoramic sunroof, and two-way on-board charger.
Hyundai has partnered with Electrify America to grant each Ioniq 5 buyer two years of unlimited 30-minute complimentary charging sessions with purchase.
Hyundai Ioniq Electric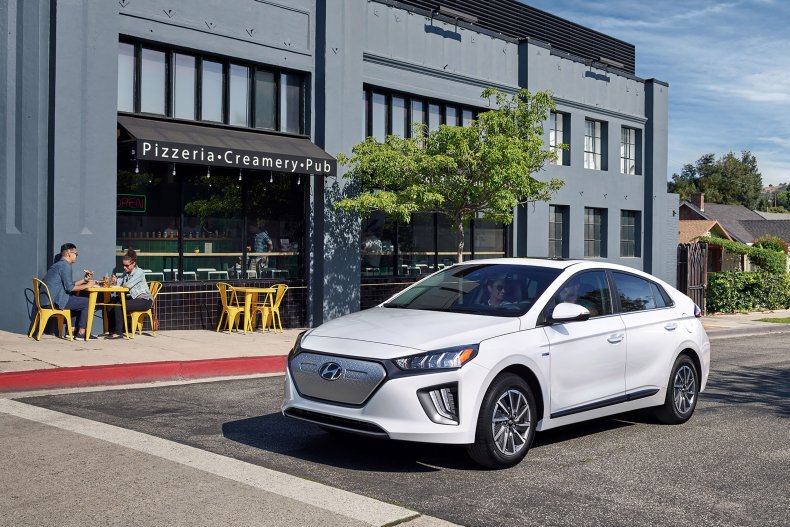 The predecessor to Hyundai's Ioniq-badged lineup of electric vehicles is still on sale. The Ioniq Electric boasts 170 miles of all-electric range and offers buyers access to 134 horsepower, which is plenty for an around-town car.
The list of standard and available equipment includes an 8-inch infotainment touch screen display, wireless Apple CarPlay and Android Auto, a Harman Kardon sound system, leather upholstery and a 10.25-inch infotainment touch screen display.
The 2021 Hyundai Ioniq Electric is sold in SE and Limited trim levels starting at $33,245 and topping out at $38,815.
Hyundai Kona Electric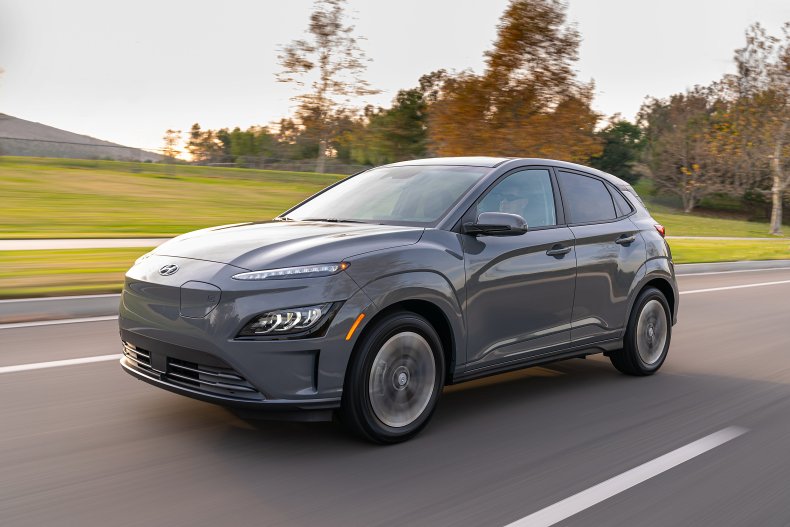 The revised 2022 Hyundai Kona Electric arrives on U.S. shores soon. It offers a range of over 250 miles and features the latest in Hyundai styling, including slim, LED headlights and a face that doesn't look like they just plugged up the grille.
The inside has gotten a revision too, adding an available 10.25-inch all-digital cockpit, large infotainment screen, heated and ventilated seats, digital key, and wireless Apple CarPlay and Android Auto.
Pricing for the SUV has yet to be released.
Kia EV6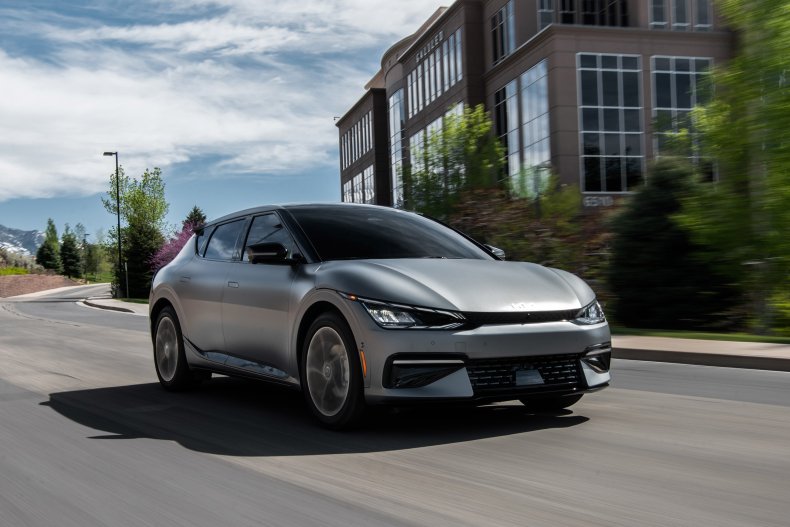 The EV6 is Kia's new all-electric crossover. Though it has much of the same engineering as the Hyundai Ioniq 5 (Kia and Hyundai share common ownership), it is a completely different beast. The EV6 is built for performance, especially the GT model, whereas the Ioniq 5 is positioned to be a confident daily driver.
Kia has given the model a 300-mile electric-only range and the ability to get from zero to 60 mph in 5.2 seconds. Using an 800-volt DC fast charger, the model can get up to 210 miles of range in 18 minutes. It has standard rear-wheel drive and all-wheel drive is available.
The EV6 waitlist is open. Shipments of the model are expected to begin in the first bit of 2022. Vehicle pricing has not yet been announced.
Kia Niro EV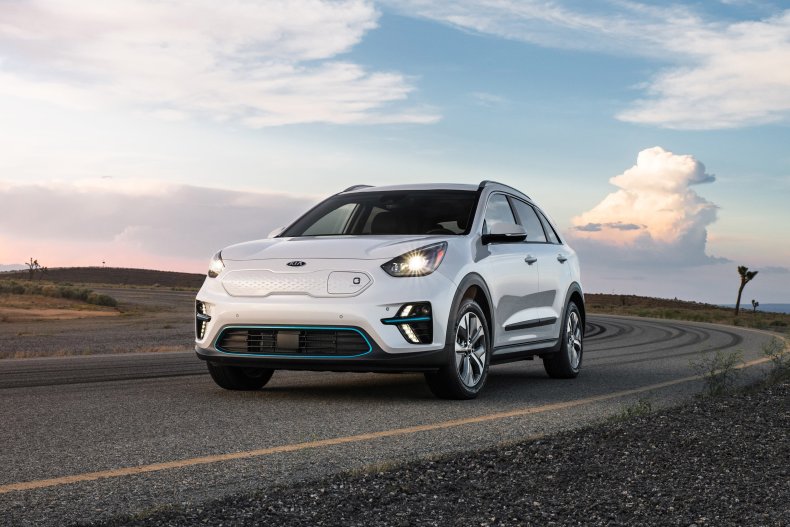 Some 2020 Kia Niro EVs are still available on dealership lots. They get an EPA-estimated 239 miles of range and have a starting price of $39,090.
The Niro EV is very similar to the traditional Niro, except with an electric-only powertrain. It can get an 80-percent charge in an hour and fifteen minutes on a 50-kilowatt DC fast charger.
Kia sells the Niro EV in EX and EX Premium trim levels. Both get 201 horsepower. Upgrade to the Niro EV EX Premium to get a host of standard desirable features including a power sunroof, LED lights, a 10.25-inch infotainment screen, navigation, satellite radio, a Harman Kardon Premium sound system, wireless phone charging pad, cargo cover, and ventilated seats.
BMW i3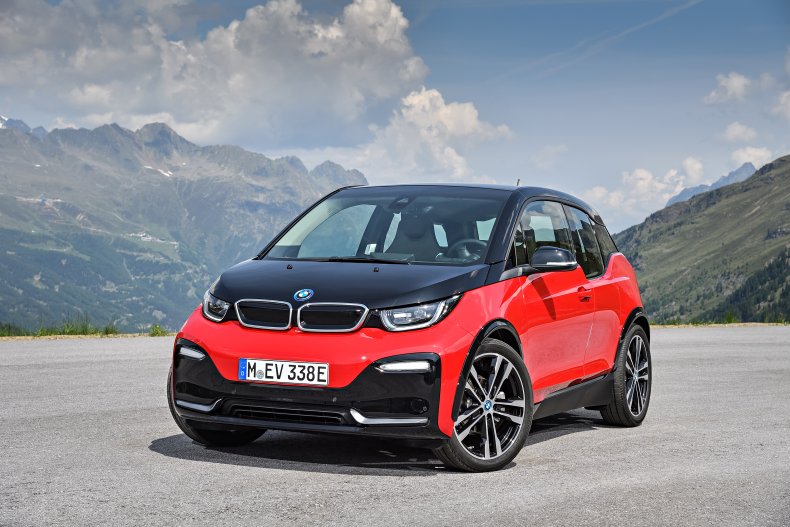 Sold in i3 and i3s varieties, the BMW i3 is an all-electric car that stands out in the BMW lineup for its quirky looks and unique drivability. It's priced to start at $44,450 and tops out near $50,000 when destination and delivery charges are factored in.
The i3 is unique among the set of vehicles on this list because buyers can purchase it with a gasoline-powered range extender. Think of that feature as a fossil fuel insurance policy.
BMW's i3s models are sportier than their i3 counterparts with more horsepower, faster acceleration, and a more dynamic drive setup.
BMW i4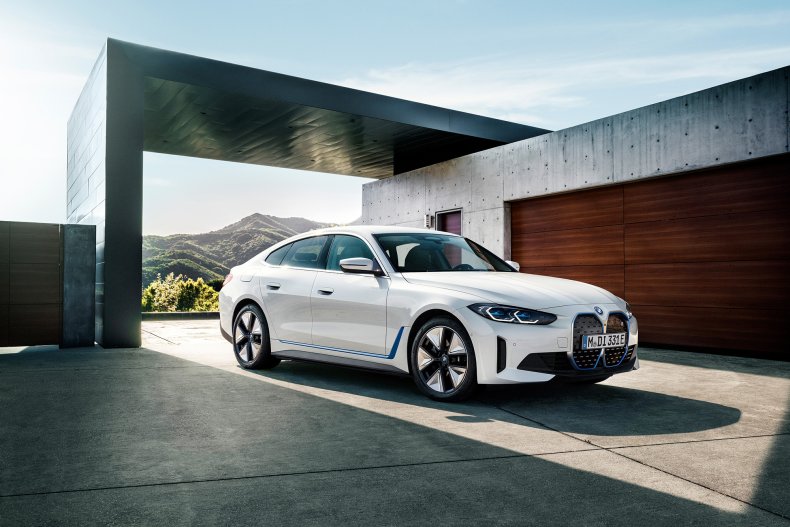 The five-seater BMW i4 combines the hallmark drive dynamics, acceleration, and handling of the BMW 4 Series with an all-electric powertrain. The recently-revealed model will arrive stateside in two variants: i4 eDrive40 and i4 M50.
The more pedestrian i4 eDrive40 uses its 335 horsepower to get from zero to 60 mph in 5.7 seconds. It has a range of approximately 300 miles. The more robust i4 M50 got o 60 mph from a standstill in 3.7 seconds thanks to its 536 horsepower. All that power eats up battery life, however. It had just a 240-mile range.
The i4 eDrive 40 is priced at $55,400 and the i4 M50 is listed for $65,900. Pre-orders of the model are currently being accepted with a $1,500 deposit required. Deliveries are expected to start in the summer of 2022.
BMW iX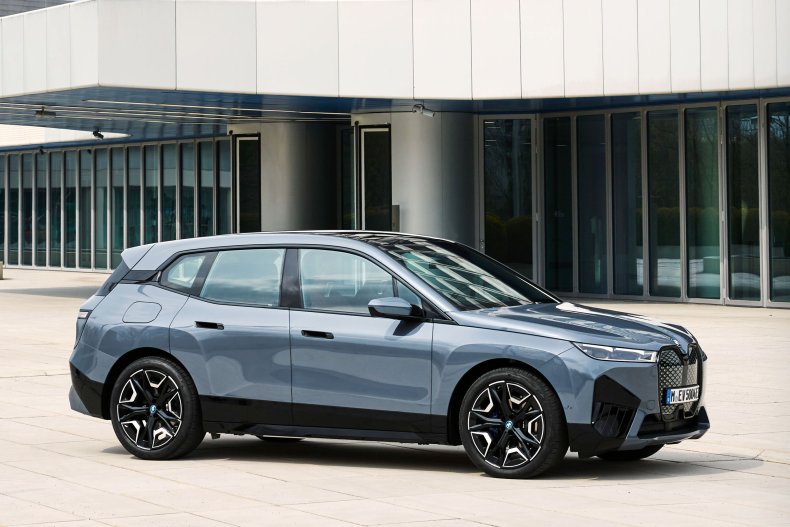 The iX SUV combines typical BMW SUV looks with the large grille made famous by the 4 Series. It is expected to go from zero to 60 mph in less than five seconds and have around 500 horsepower when it reaches U.S. shores in the summer of 2022.
The iX xDrive50 will have a starting price of $83,200 and a range of around 300 miles. Using a DC fast charger, the car can get about 75 miles of range in 10 minutes.
To pre-order the model, a $1,500 deposit is required. This autumn, dealers will contact those that have put in a reservation to finalize model details including options, packages, and design.
Audi E-Tron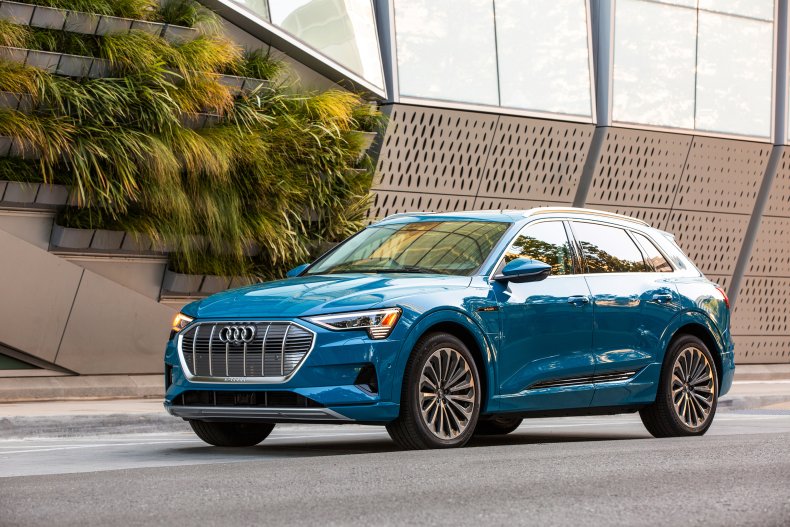 Audi's first all-electric SUV is only a few years into its first-generation run. The vehicle boasts a maximum of 402 horsepower, which is gotten from its 95-kilowatt-hour battery. It can go from zero to 60 mph in 5.5. seconds thanks to Boost Mode and has a top track speed of 124 mph. The model gets 222 miles out of a full charge.
For the 2022 model year, Audi is updating its E-Tron packages offerings to include more refined exterior and interior treatments. The SUV continues to have outside and inside looks that blend in with other Audi SUV products.
Audi sells the 2021 model in three trim levels with pricing starting at $65,900 and topping out at $83,400.
Audi E-Tron Sportback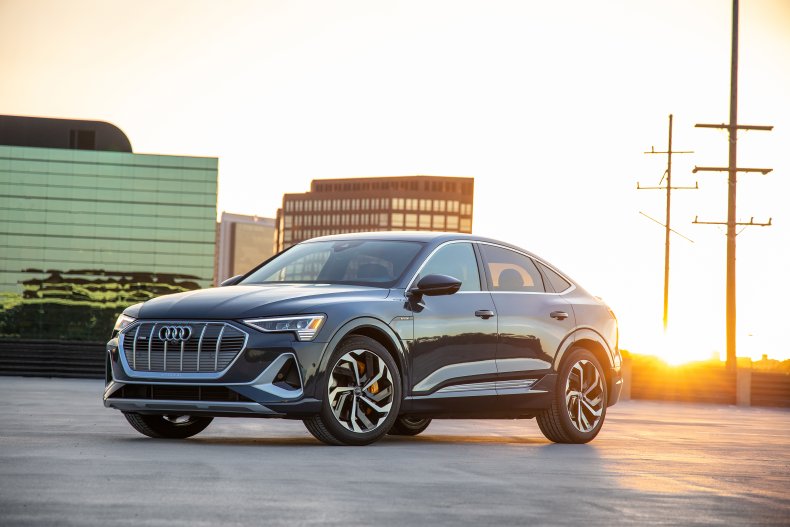 The E-Tron Sportback is the fastback version of the Audi E-Tron and has most of the same interior and an identical powertrain. The Sportback is less efficient and has less cargo room than the E-Tron, getting just 218 all-electric miles from a full charge.
Like the E-Tron, for 2022 the model will have a revised set of package offerings.
The 2021 Audi E-Tron Sportback starts at $69,100 and maxes out in the Prestige trim level at $82,300.
Audi E-Tron GT and RS E-Tron GT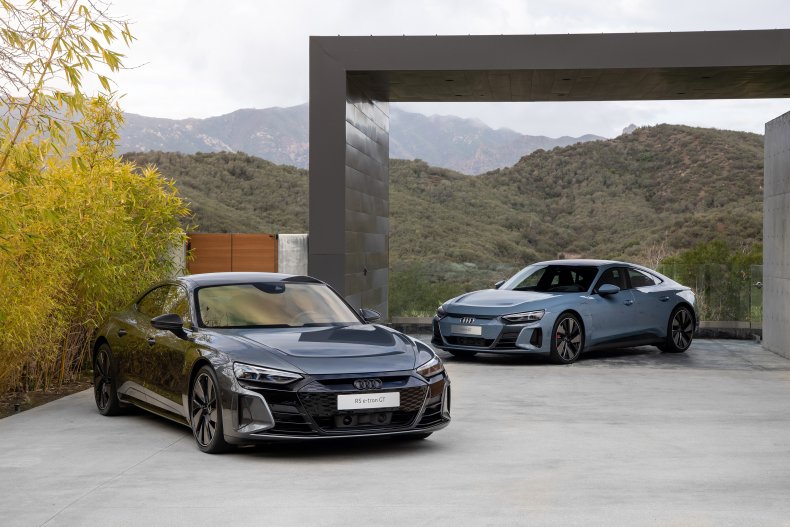 The 2022 Audi E-Tron GT and RS e-tron GT are concept cars brought to reality. The all-electric vehicle family features gran turismo styling and is offered in two personalities.
On any road, the new four-door model is bound to be a head-turner as it comes off the line. The E-Tron GT is capable of achieving 522 horsepower while the RS E-Tron GT makes 637, driving power to all our wheels.
The 2022 Audi E-Tron GT Quattro Premium Plus starts at $99,000. Moving up to the E-Tron Quattro Prestige will cost you $107,100. The RS E-Tron GT has a starting price of $139,900.
Jaguar I-Pace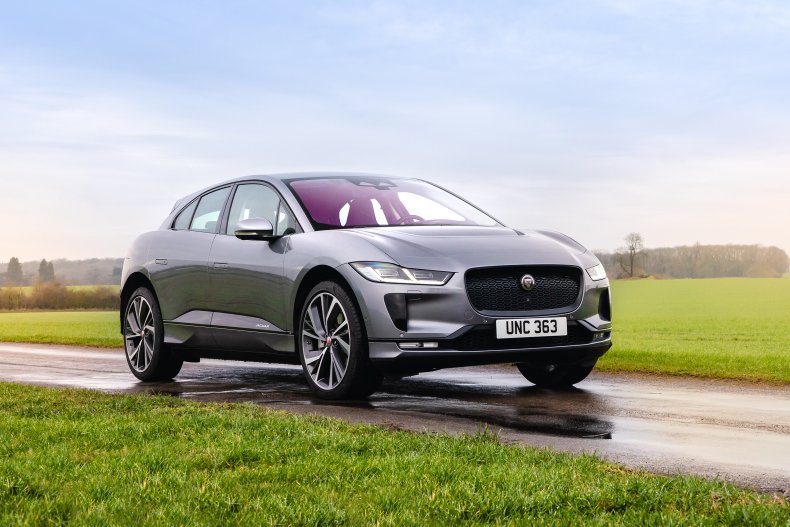 Jaguar updated the I-Pace for the 2022 model year. It now has the company's fresh infotainment system, which includes over-the-air update capability. Additionally, the car gets a new 11-kilowatt AC on-board charger that has been created to improve charging times and a 3D surround-view camera with ClearSight rearview digital mirror technology.
The car continues to have the ability to deliver up to 394 horsepower and 512 pound-feet of torque. All-wheel drive is standard.
In the U.S., the I-Pace starts at $69,900.
MINI Cooper SE Hardtop 2 Door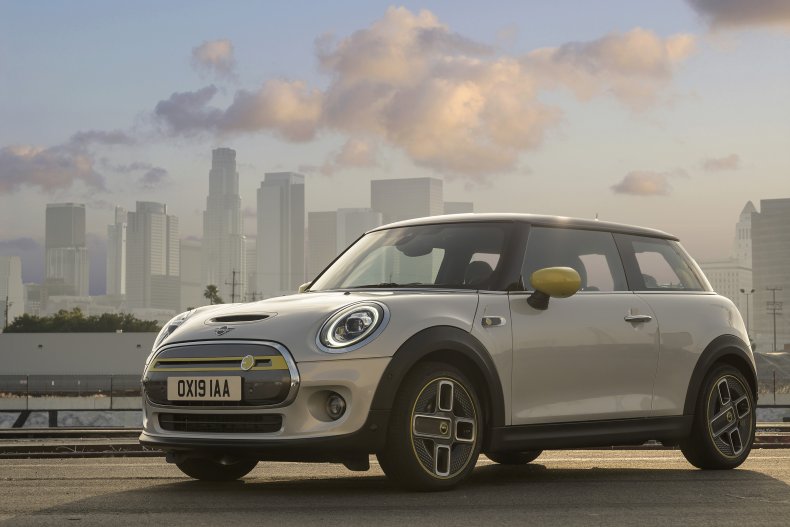 The fully-electric MINI Cooper SE Hardtop 2 Door has gotten a host of updates for the 2022 model year including an upgraded interior that makes it more premium than before. It comes standard with LED headlights, Union Jack taillights, and new front and rear fascia.
The car keeps its 181 horsepower power plant, which moves it from zero to 60 mph in 6.9 seconds.
MINI's EV is capable of charging to 80 percent in 36 minutes via a Level 3 DC fast charger.
The 2022 MINI Cooper SE Hardtop 2 Door starts at $29,900. Buyers can add up to $7,000 to the cost by opting for a higher trim level.
Porsche Taycan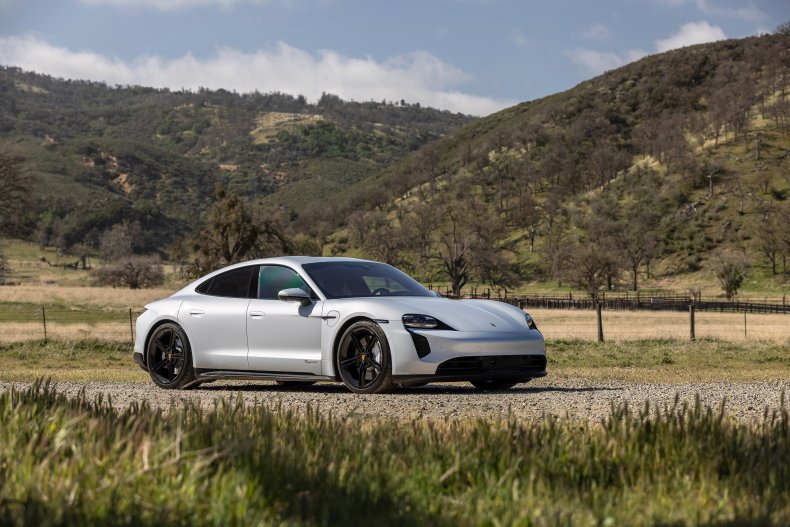 Porsche has a few hybrids and a few plug-in hybrids but this Taycan is the ultimate Porsche plug-in. The all-electric sports car puts the company's best electric efforts forward while maintaining typical Porsche drivability.
The Taycan Turbo starts at $150,900, which gets buyers an EPA-estimated 212 miles of all-electric driving range, 670 horsepower with launch control technology, and a zero to 60 mph time of 3.0 seconds.
The Taycan is on sale now.
Porsche Taycan Cross Turismo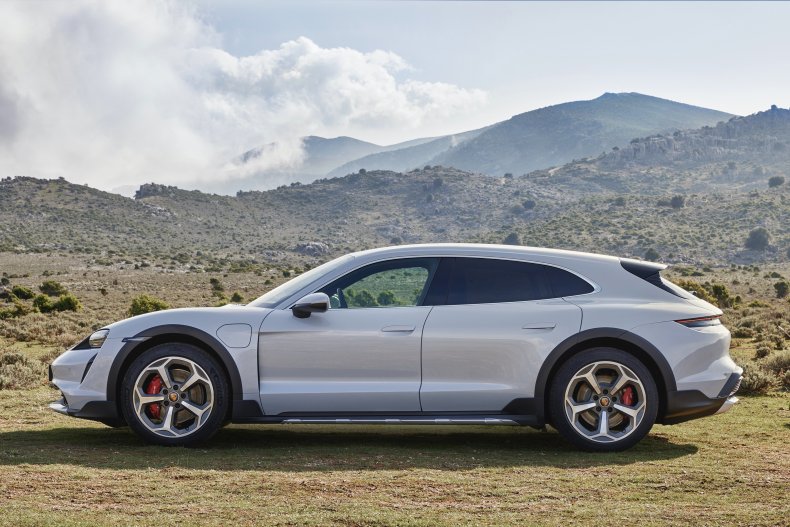 A little lift and some added backend bulk make the Porsche Taycan Cross Turismo the crossover-like all-electric fastback an instant Porsche Panamera rival. The automaker offers it in four variants: Taycan 4 Cross Turismo, Taycan 4S Cross Turismo, Taycan Turbo Cross Turismo and Taycan Turbo S Cross Turismo.
All the models boast more legroom and cargo space than the Taycan, as well as add trail-ready prowess. Range estimates for the models are forthcoming. Horsepower ranges from 469 to 750.
The Taycan Cross Turismo models start at $90,900.
Nissan Leaf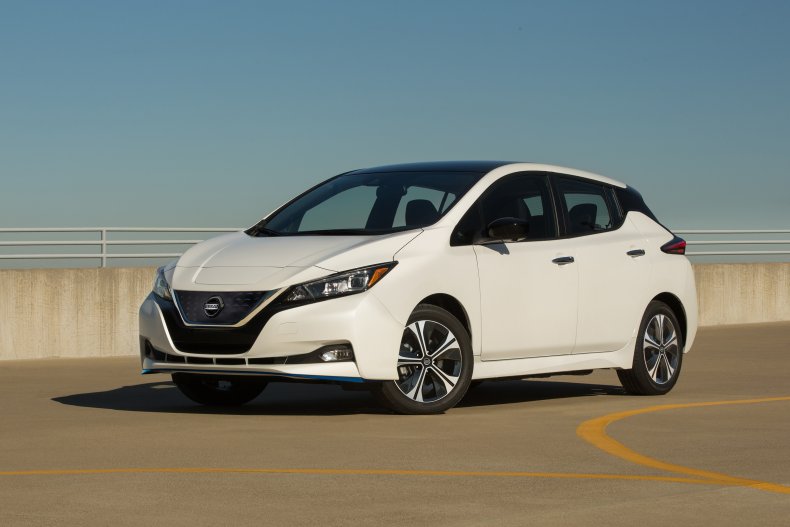 The Nissan Leaf has been around longer than any other vehicle on this list. Now in its second generation, Nissan sells the model in a regular and extended battery range option. The Leaf S and SV get 150 miles of all-electric power from their 40-kilowatt-hour battery. The Leaf S Plus, Leaf SV Plus and Leaf SL Plus achieve up to 226 miles of range from a 62 kilowatt-hour battery.
The base model Leaf S starts at $31,670 and the range-topping Leaf SL Plus comes in at $43,970.
Volvo C40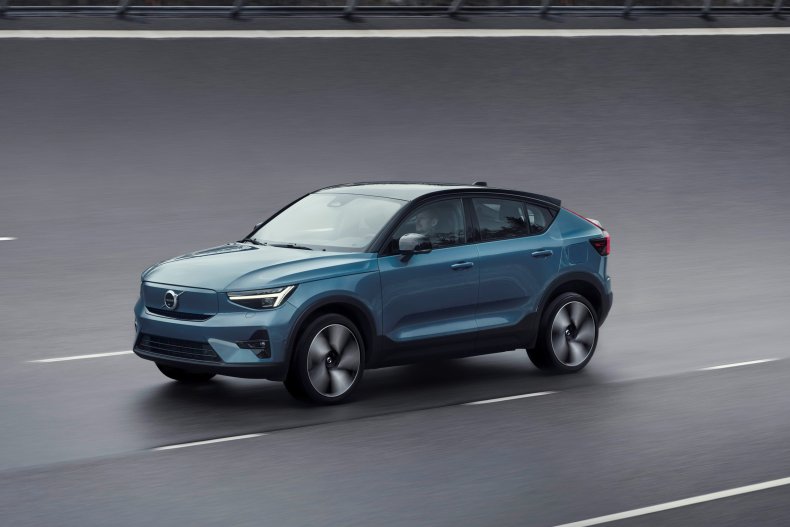 With a range over 200 miles and a 4.5-second zero to 60 mph time, the leather-free C40 makes a statement. Its fastback roofline is the main differentiator between the C40 and XC40, while the inside carries over the same key style elements
Buyers can currently reserve their C40 with a refundable $500 deposit via VolvoCars.com.
Volvo XC40 Recharge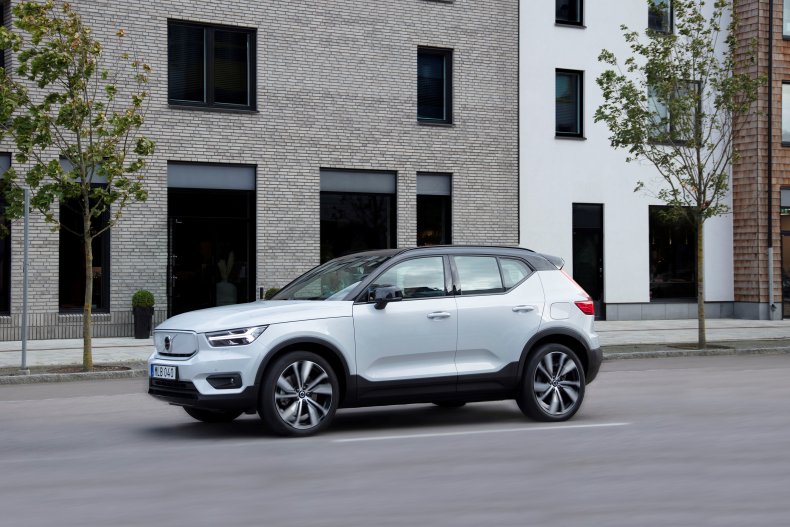 Volvo has given the all-electric XC40 Recharge an EPA-estimated 208 miles of range. The small SUV can get from zero to 60 mph in 4.7 seconds thanks to its 402 horsepower. It takes 40 minutes to gain an 80 percent charge.
The body style and interior of the XC40 Recharge are very similar to the traditional XC40. It is well appointed and comes with more cargo space than its gasoline-powered counterpart thanks to a front truck (frunk).
Volvos prices the XC40 Recharge to start at $53,990.
Tesla Model S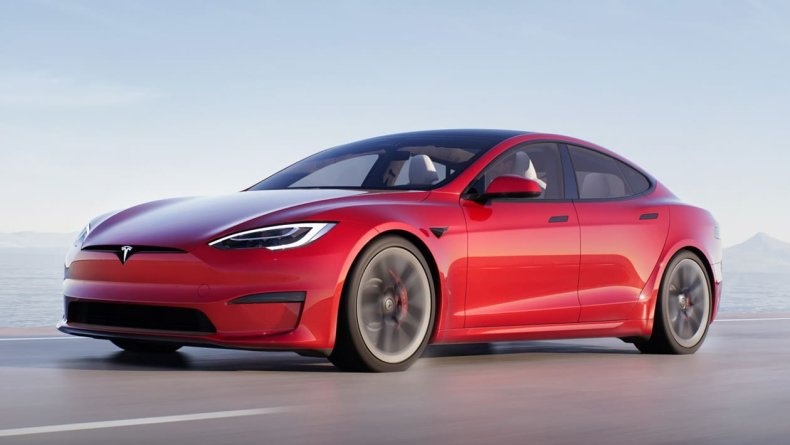 The Model S is a full-size sedan that boasts some of the best performance Tesla offers in a vehicle. Tesla recently refreshed the model with a redesigned interior that features a 17-inch touch screen at the center of the dashboard, tri-zone climate control, HEPA filtration and ventilated front seats.
The five-seater comes in Long Range and Plaid variants. Tesla Model S Long Range models are driven by a dual-motor all-wheel drive setup that gets an EPA-estimated 405 miles of all-electric range, has a top speed of 155 mph and gets off the line and to 60 mph in 3.1 seconds. Model S Plaid is quicker and less efficient with 390 miles of range, a top speed of 200 mph and access to 1,020 horsepower.
Tesla sets the pricing for Model S Long Range at $79,990 and Plaid comes in at $129,990.
Tesla Model X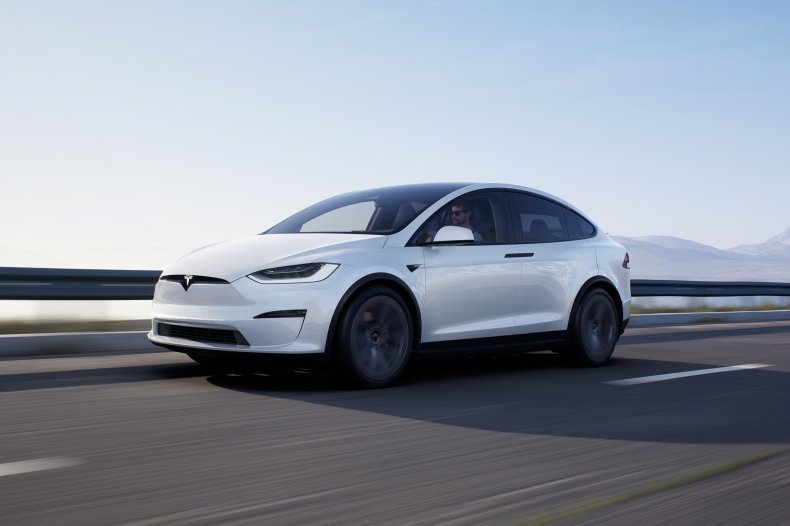 The Model X got the same interior updates as the Model S for the new model year. It too comes in Long Range and Plaid versions.
The dual-motor all-wheel drive Long Range has a 360-mile estimated range, top speed of 155 mph, and can get from zero to 60 mph in 3.8 seconds. The three-motor all-wheel drive Model X Plaid has an estimated 340-mile range, 163 mph top speed, and can get to 60 mph from a standstill in 2.5 seconds.
Pricing for the Model X starts at $89,990 and tops out near $120,000.
Tesla Model 3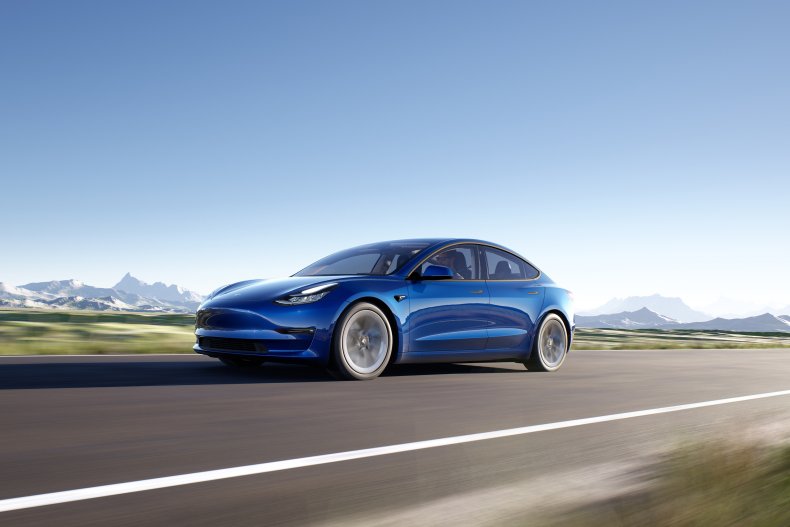 The Model 3 is the smaller of Tesla's sedans. It comes in Standard Range Plus, Long Range, and Performance variants, and has a starting price far lower than the Model S.
The $39,990 Model 3 Standard Range Plus has an EPA-estimated 263-mile all-electric range. It tops out at 140 mph and the rear-wheel drive car can make it from zero to 60 mph in 5.3 seconds.
Tesla prices the dual-motor all-wheel drive Model 3 Long Range at $48,990. It has 353 miles of all-electric range, a top speed of 145 mph and a 4.2-second zero to 60 mph time.
The Model 3 Performance allows for 315 miles of all-electric driving, has a top speed of 162 mph, and moves off the line and to 60 mph in 3.1 seconds. Its price is $56,990.
Tesla Model Y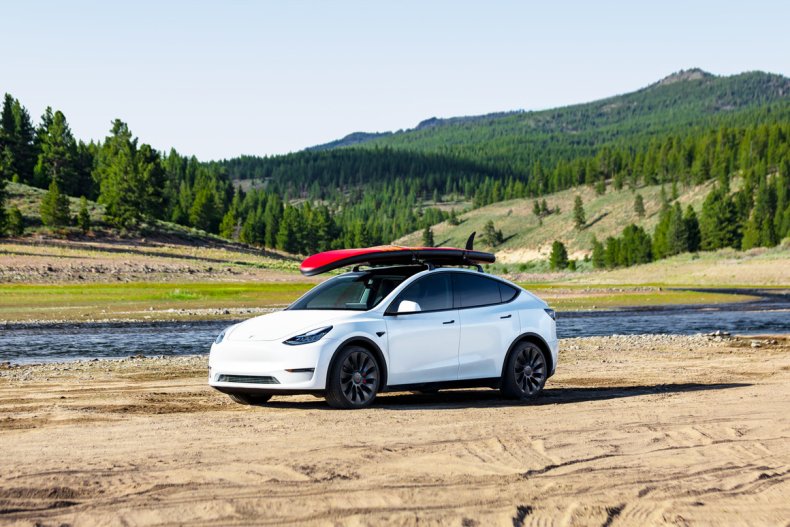 The Tesla Model Y is a crossover version offering similar options and performance as the Model 3. Its available in Long Range and Performance versions, both of which have dual-motor all-wheel drive setups.
Long Range models are priced at $52,990 and have an EPA-estimated 326 miles of all-electric range. The top speed of the crossover is 135 mph and it has a 4.8-second zero to 60 mph time.
The Model Y Performance is priced at $60,990. It achieves an estimated 303 miles of range, has a top speed of 155 mph, and gets off the line and to 60 mph in 3.5 seconds.
Karma GS-6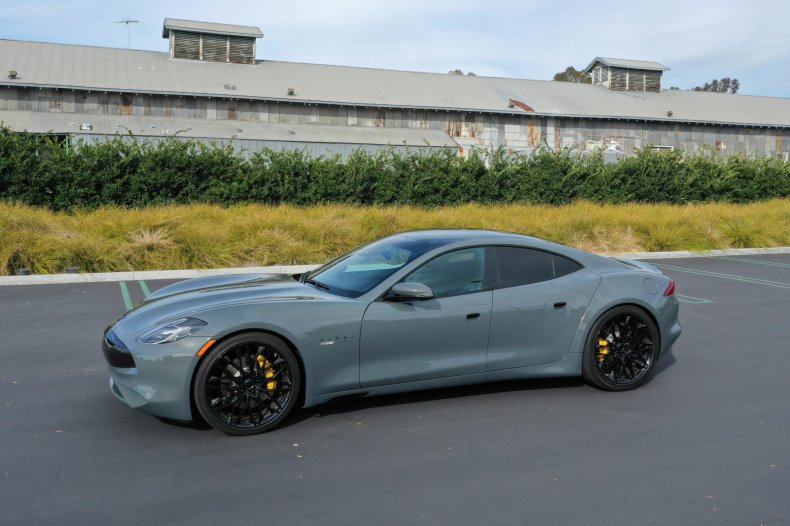 The Karma GS-6 Series was introduced in 2021 to give customers access to the good looks of the Karma Revero for far less money. To get the all-electric version of the model, the GS-e6 customers will have to wait a little longer and fork over $79,900.