31 Former Republican Lawmakers Urge Donald Trump to Accept Election Results
More than 30 former Republican members of Congress are calling on President Donald Trump to accept the results of the 2020 election.
In a statement released Monday, the group wrote that they believe the comments from Trump "alleging fraud in the election are efforts to undermine the legitimacy of the election and are unacceptable."
"Every vote should be counted and the final outcome accepted by the participants because public confidence in the outcome of our elections is a bedrock of our democracy," the statement reads. "Going forward, it is our hope the nation will, regardless of party or persuasion, recognize President-Elect Joe Biden has won this election."
Newsweek reached out to the Biden and Trump campaigns for comment on the statement but did not receive a response before publication.
Former Representative Tom Coleman (R-Mo.), who led the effort to gather former Republicans to sign and release the statement, said Trump's conduct and legal challenges have been "disgusting."
"I don't think he's acting presidential, I don't think he's acting as a Republican should or any public office holder should," Coleman told Newsweek.
The Associated Press and other news outlets projected Biden's victory on Saturday, after Biden appeared to secure a win in Pennsylvania. As of Monday, Biden was in the lead with 290 electoral votes compared to Trump's 214. To win, a candidate needs 270.
In a victory speech on Saturday night, Biden urged unity and pledged to be a leader for all Americans regardless of political ideology.
"For all those of you who voted for President Trump, I understand the disappointment tonight. I've lost a couple of times myself. But now, let's give each other a chance," Biden said. "It's time to put away the harsh rhetoric, lower the temperature, see each other again, listen to each other again. And to make progress we have to stop treating our opponents as enemies."
But Trump has refused to concede, alleging without evidence that there has been widespread fraud. His campaign has filed lawsuits in several swing states, including Michigan, Nevada and Pennsylvania.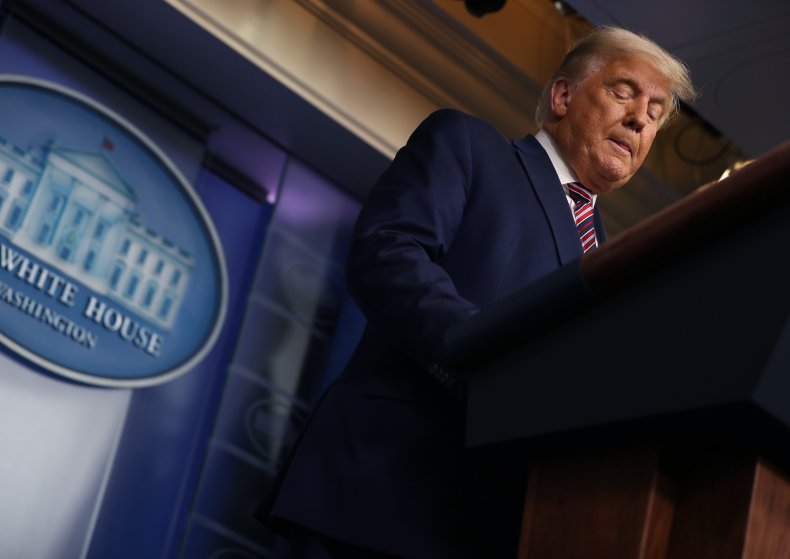 "The simple fact is this election is far from over," Trump said in a statement released just minutes after it was projected that Biden would win.
"Joe Biden has not been certified as the winner of any states, let alone any of the highly contested states headed for mandatory recounts, or states where our campaign has valid and legitimate legal challenges that could determine the ultimate victor," Trump claimed.
Many top lawmakers have followed Trump's lead, including senators Lindsey Graham and Ted Cruz. Graham urged Trump to "fight hard" after the election was called for Biden. Cruz insisted on Sunday that Trump "still has a path to victory" and that his court battle could reach the Supreme Court.
Coleman said the Republican Party needs speak out more against Trump's statements.
"He's endangering this country," he said, "and so it goes to the Republican Party as it now exists and the leadership to take a little walk down Pennsylvania Avenue and talk to him about what he's doing and how they cannot accept this."