31 Kilos of Cocaine Washes Ashore on Alabama Beach
At least 31 kilos of cocaine washed ashore a beach in Gulf Shores, Alabama, over the past several days.
Speaking with Newsweek, Gulf Shores Police Department Sergeant Jason Woodruff said that the drugs washed up in about a five-mile area of the beach.
According to Woodruff, police were first alerted of the washed-up drugs by beachgoers on Monday night and again on Tuesday.
"They just saw suspicious packages in the sand, on the surf and we sent officers down to recover," Woodruff said.
Shortly after police were notified, they arrived to the scene and conducted a field test of the packages.
"They field tested positive for cocaine," Woodruff said.
He explained to Newsweek that the packages of cocaine appeared to be wrapped in black tape.
"In some of these cases, I think some of these people kind of had an idea that it was something illegal just from the packaging and the shapes," Woodruff said.
While it is exactly unclear how much the 31 kilos of cocaine were worth, Woodruff told Newsweek that estimates from the Gulf Shores Police Department narcotics officers suggest a value of around $1 million to $1.2 million.
In response to the recovered drugs, the Gulf Shores Police Department has increased patrol security near the beach where the packages were found. The department also notified its neighbors, including the Baldwin County Sheriff's Office and the Orange Beach Police Department.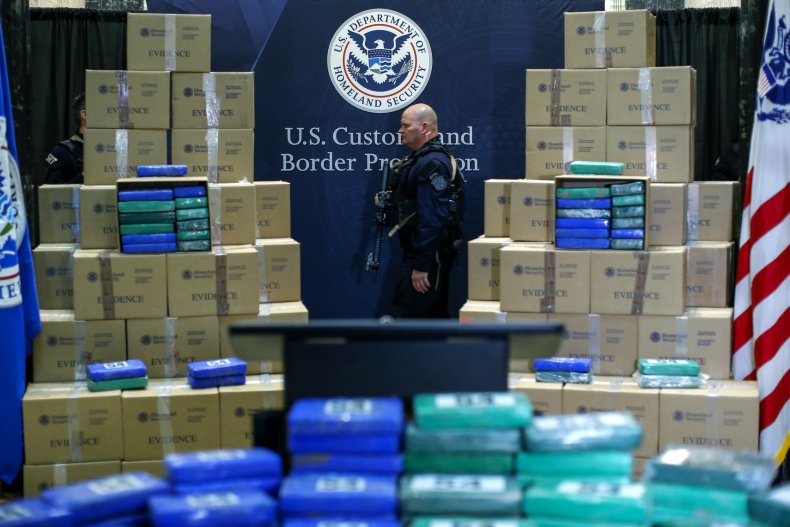 The Gulf Shores Police Department turned the drugs over to U.S. Customs.
Woodruff said that due to it being early in the investigation, police have not been able to identify where the drugs came from or how they washed ashore.
"It starts with more questions than answers and we rarely get any answers on these cases," Woodruff said, according to WALA in Alabama.
He also told Newsweek that while this is not the first time the Gulf Shores Police Department has recovered drugs that have washed ashore, "it is the first time of this amount that has ever washed up in Gulf Shores."
Woodruff said that in the past, police have recovered cocaine and marijuana on the beach, but it has only been around one package.
"Nothing like 31 [kilos]," he explained. "This was certainly a surprise."
A beachgoer identified as Chris Laughlin told WALA: "We're shocked. Yeah. We are shocked...This is such a family-oriented place to come. I can't believe a bunch of cocaine washed up."