31 Nights of Halloween Movies: Watch 'Rawhead Rex' For Clive Barker's Birthday
This October, horror fans across the country are challenging themselves to watch one horror movie a day. Horror movies aren't just for Halloween anymore. So we'll be bringing you our favorites, all month, one horror movie a night.
Friday, Oct. 5 isn't like any other day this month, because it's also Clive Barker's birthday. So to honor Barker, tonight we're watching…
Rawhead Rex
Clive Barker may have become most famous for his Hellraiser series and its delirious blend of sensuality and violence, but sometimes you just want to watch a rubber-suited monster tear apart a trailer park and supplex some Irish people.
Before Barker wrote and directed the first Hellraiser, he adapted two of his short stories into screenplays. The second to make it to screens, Rawhead Rex has a thuddingly simple premise: farmers try to remove a Celtic column, instead they unleash Rawhead. Rawhead is meant to be a pagan god, but he comes across more like a Power Rangers enemy.
Here he is, in all his heavy metal glory: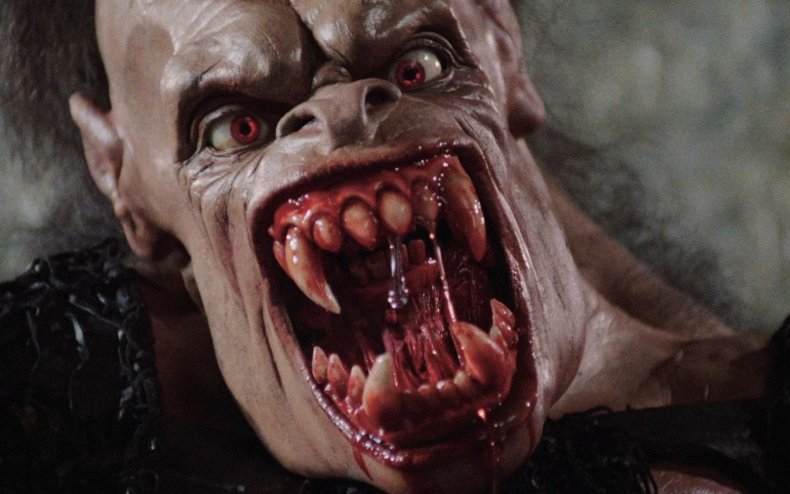 That may be why, if you look up Rawhead Rex, it's all bad reviews as far as the mouse can scroll. But ignore them, please, because Rawhead Rex is a bad movie blast. That said, it's definitely a Barker deep cut, so if you're unfamiliar with the Hellraiser series, start there instead.
Played by the titanic Heinrich Von Schellendorf, Rawhead stomps around, killing kids and dragging corpses. And just when the foam latex mayhem starts getting a little old, Rawhead Rex builds to one of those animated lightning-bolts-and-energy-beams climaxes only the 80s can provide.
Plus, there's no better time to watch Rawhead Rex than now. Last year, Kino Classics released a Special Edition of the movie from a new 4K restoration, now available for streaming on Amazon.
Happy Birthday Clive Barker!
Here's What We've Watched So Far: