31 Nights of Halloween Movies: Watch 'The Haunting' Before New Netflix Horror Series
Horror movies aren't just for Halloween. This October, horror fans across the country are challenging themselves to watch one horror movie a day. So we'll be bringing you our favorites, all month, one horror movie a night.
The new Netflix horror show The Haunting of Hill House is a remarkable series, but it takes its characters far afield of the source material, Shirley Jackson's 1959 gothic horror novel The Haunting of Hill House. The new series follows a family who lived in the Hill House decades after the events of the novel, but there are still some surprising overlaps, including a cameo or two from the original cast of the first adaptation of Shirley Jackson's novel…
The Haunting
Directed by Robert Wise (West Side Story, The Sound of Music), the 1963 adaptation of The Haunting represents the last gasp for sophisticated, black-and-white gothic horror, just a few years before Night of the Living Dead would change the genre forever.
The Haunting follows a paranormal investigation conducted by Dr. John Markway (Richard Johnson), who brings a handful of psychically sensitive subjects to the 90-year-old haunted Hill House in Massachusetts. Things go awry quickly. Doors open and close without warning. Something keeps banging on bedroom doors at night. A young girl's laughter echoes through the hallway. Whose hand was I just holding?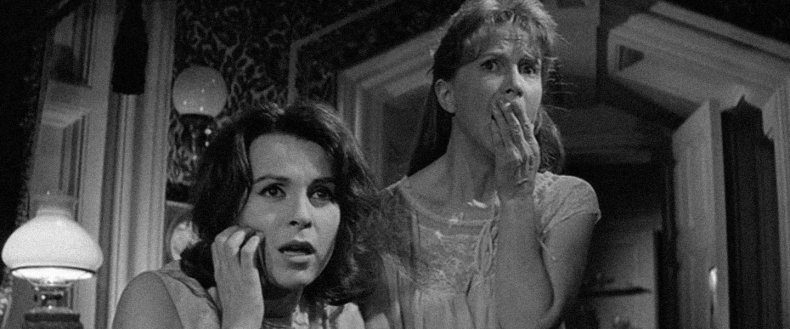 Watching The Haunting before Netflix's The Haunting of Hill House reveals a number of fascinating parallels between the two narratives, including the eerie statue garden, some surprising overlapping characters and the central importance of a rickety spiral staircase.
The Haunting may be tame by today's standards, but its suffocating and eerie tone builds to an almost unbearable tension, crushing the people inside. It remains one of the best horror movies ever made. As a companion piece to the new The Haunting of Hill House, it's better than ever.
Here's What We've Watched So Far: