31 Nights of Halloween Movies: Watch 'Phantom of the Paradise' To Celebrate 'Phantom of the Opera' Anniversary
31 Nights of Halloween #9
Horror movies aren't just for Halloween. This October, horror fans across the country are challenging themselves to watch one horror movie a day. So we'll be bringing you our favorites, all month, one horror movie a night.
Thirty-two years ago, on a dark and spooky night much like tonight, Andrew Lloyd Webber's musical The Phantom of the Opera opened in Her Majesty's Theater in London. Two years later, it came to Broadway and stayed there. It is now the longest-running show in Broadway history; staged over 10,000 times.
Webber's Phantom was far from the first adaptation of Gaston Leroux's 1910 novel. Lon Chaney famously appeared as the phantom in a 1925 adaptation, changing horror movie history forever. You've probably seen this face:
But of all the dozens of adaptations, the most fun has to be Brian De Palma's 1974 horror rock opera…
Phantom of the Paradise
The movie opens on tormented composer Winslow Leach (William Finley), who creates the perfect song for the opening night of the new club Paradise, owned by a Satan-worshipping record producer named Swan (A Star is Born and The Muppet Movie songwriter Paul Williams). It's just too bad Leach doesn't have nearly the starpower or sex appeal required for Swan's big night.
After Swan steals his music and frames him for a crime, Winslow escapes jail to halt the record presses churning out his composition. Instead, he slips into the machinery, which crushes his face and vocal chords. Stripped of his ability to sing, Winslow becomes the Phantom of the Paradise, playing his mournful music while strapped to the machinery required for his voice to come through.
Phantom of the Paradise combines the story of Faust with The Phantom of the Opera for a musical unlike anything else at the time, at least until Rocky Horror Picture Show came out the following year.
The soundtrack is ridiculously catchy, with songs performed by all of Swan's various acts, including a coffin-bound trio of goths in K.I.S.S. makeup, a Beach Boys knockoff and the unforgettable Beef, whose big number sees the Frankensteinian rockstar thrusting his corpsy pelvis and literally hurling audience members … at least until the Phantom decides to intervene.
Plus, the Phantom himself has one of the raddest costumes of all time—he's Darth Vader, years before Darth Vader existed.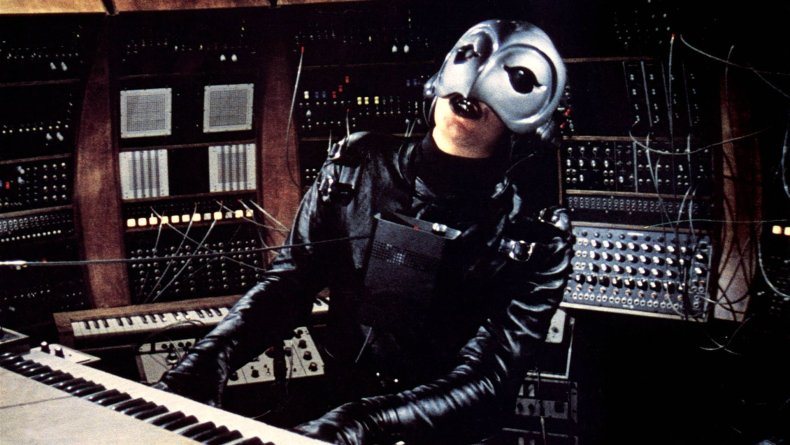 Phantom of the Paradise is available for streaming on Amazon, Google Play and YouTube.
Here's What We've Watched So Far: