31 States Fall Short of Coronavirus Testing Levels Needed to Reopen Safely, Harvard Research Analysis Shows
A recent study of COVID-19 testing in each state indicates that 31 U.S. states conducted very little testing between April 20 through April 26 to promptly identify the most infected people, and are not ready to safely reopen.
The study conducted by Harvard researchers and STAT, provides a fragmented view of testing which shows many states fall short in testing people for the novel coronavirus, with at least 10 states needing to increase testing by 10,000 per day.
"You can't just take the national number and scale it to states by their population," Ashish Jha, director of the Harvard Global Health Institute, said in the STAT report published on April 24. "You have to base it on the size of the outbreak in a state."
President Donald Trump has pushed to restart the U.S. economy by May 1 since the unveiling of federal guidelines for reopening to governors two weeks ago, but health care professionals aren't confident that states are testing enough to move forward with the plan.
"We need to significantly ramp up not only the number of tests, but the capacity to perform them, so that you don't have a situation where you have a test but it can't be done because there isn't a swab, or because there isn't extraction media, or not the right vial," Dr. Anthony Fauci, director of the National Institute of Allergy and Infectious Diseases and a member of the White House Coronavirus Task Froce, told Time on April 23.
The federal guidelines for reopening that were released earlier this month called for states to have established safe and effective COVID-19 screening processes, as well as providing the necessary hospital capacity, able to monitor the potential for the spread of the virus, and the ability to supply personal protective equipment to health care providers, employees and users of mass transit, and the continued use of social distancing.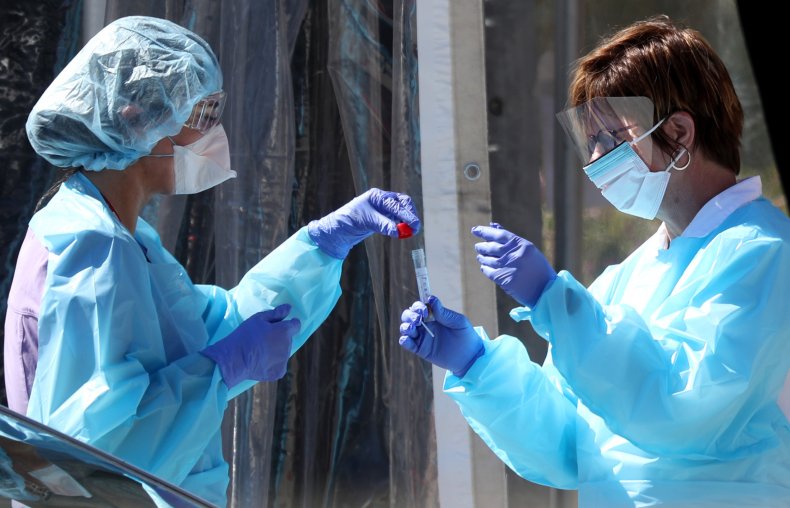 According to the data, New York, which has recorded the highest number of COVID-19 cases in the U.S., is able to test a little over 20,000 patients per day now and would need to test a minimum of 130,544 patients daily to reopen its economy by May 1.
In neighboring New Jersey, a minimum of 75,406 would have to be tested each day instead of the average of 7,000 per day, according to the report.
Florida, which opened some beaches and parks on April 17, is testing about 5,200 less for COVID-19 than needed to safely reopen, the study said.
Other harder hit states, such as Michigan, Illinois, California, Pennsylvania, and Ohio also need to ramp up testing, along with Georgia, which has plans to reopen on May 1. Some businesses in Georgia opened up on April 24 and others on Monday following orders from Governor Brian Kemp. Trump and others have responded by saying it was "too soon" to do so, though Trump admitted that Kemp must "must do what he thinks is right."
"I want him to do what he thinks is right. But I disagree with him on what he's doing," Trump said during the White House Coronavirus Task Force press briefing on April 22.
California would need to double its testing efforts in order to reach the 26,464 patients per day that would mark the state safe to reopen by May 1, according to Harvard researchers.
The California Department of Public Health, the availability of COVID-19 testing is expanding statewide at hospitals, as well as academic and commercial laboratories, and public health laboratories, with priority given to those displaying symptoms, followed by asymptomatic patients and symptomatic patients in critical occupations. Patients displaying little or no symptoms are the lowest priority for testing.
Meanwhile, Texas, which was among the first states to announce a phased reopening of businesses on April 17, is already testing more than 9,200 patients per day for COVID-19—exceeded the guidelines of 9,189 patients per day that the STAT report suggests is needed to safely reopen businesses statewide.