31 States Have Seen at Least a 15 Percent Increase in COVID Cases Over Past 7 Days
About 31 states and Washington, D.C. have reported an increase in COVID-19 cases of at least 15 percent over the past seven days.
According to data from The COVID Tracking Project and Axios, those states include: Alaska, Arizona, Colorado, Connecticut, Florida, Idaho, Illinois, Indiana, Iowa, Kansas, Kentucky, Louisiana, Michigan, Minnesota, Montana, Nebraska, Nevada, New Jersey, New Mexico, North Dakota, Ohio, Oregon, Pennsylvania, Rhode Island, South Dakota, Tennessee, Virginia, Washington, West Virginia, Wisconsin and Wyoming.
Three of the states—Montana, New Mexico and South Dakota—saw their case counts rise by over 50 percent.
The number of new cases have increased by more than 10 percent in 37 states and D.C. over the past week. In 11 additional states, coronavirus cases have remained steady within the timeframe, either increasing or decreasing at rates below 10 percent.
Only one state—Texas—has seen its cases decrease over the past week at a significant rate of 10.5 percent, the data shows. Missouri is not included in any of the categories because it hasn't reported cases since October 10 due to a database error.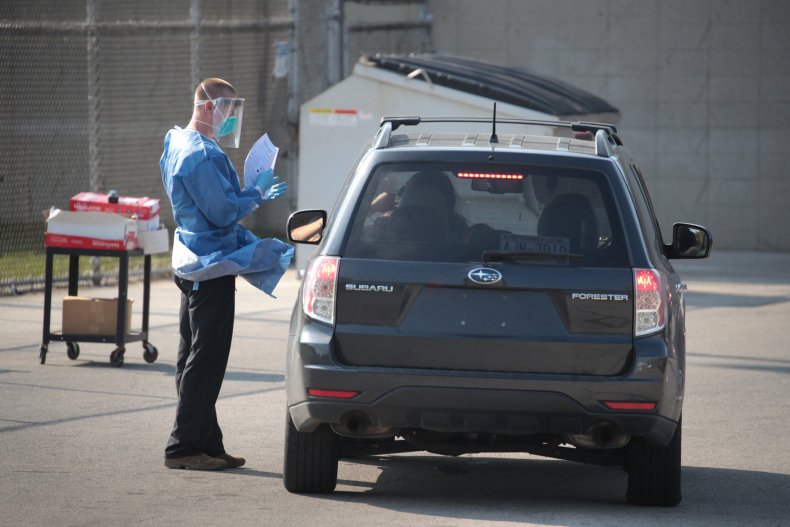 Health experts hoped the U.S. could get its caseload under control before the fall and winter months, when the virus is expected to worsen due to colder weather, more time spent indoors, and the beginning of flu season. But the U.S. has reported an average of around 51,000 new cases per day over the past week, according to Axios.
Dr. Anthony Fauci, the nation's leading infectious diseases expert, said during a discussion on October 8 with the Berkeley Forum that the country's current infection rate was "unacceptably high."
"We've got to get that down or otherwise, we're going to have a very tough winter in the next few months," Fauci said, as reported by The Los Angeles Times.
He predicted that returning to some semblance of pre-pandemic normalcy would be a "gradual process." On Wednesday, he warned Americans that it may be unwise to hold large family gatherings at Thanksgiving in November.
"You may have to bite the bullet and sacrifice that social gathering, unless you're pretty certain that the people that you're dealing with are not infected," Fauci told CBS Evening News.
Testing in the U.S. has also increased over the past week, with the country conducting about 1 million tests per day, according to Axios—something President Donald Trump has repeatedly touted as evidence the coronavirus pandemic has improved under his leadership.
"The total number of cases is not the full metric of success. Hospitalization capacity and mortality rates are far more instructive metrics," Trump said during a September 28 press conference. "As we do more tests, you're going to have automatically more cases. We are relentlessly focused on protecting the vulnerable while enabling healthy Americans to go back to work."
But this recent increase in cases—roughly 17 percent—is bigger than the increase in testing—about 6 percent—according to Axios, meaning the pandemic is actually worsening.
The overall cumulative coronavirus-associated hospitalization rate through the week ending October 3, the most recently available data, was 183.2 per 100,000 people, the U.S. Centers for Disease Control and Prevention (CDC) reported.
On Wednesday, the U.S. saw a seven-day average of 720 new deaths, numbers consistent with the past month, according to data provided by The New York Times.