31 U.S. States Averaged Fewer Than 1,000 COVID Cases Per Day in Last Week
Across the U.S. 31 states reported less than 1,000 daily COVID-19 cases over the past week.
According to data from the Centers for Disease Control and Prevention (CDC), these 31 states included Alabama, Alaska, Arizona, Arkansas, Delaware, Hawaii, Idaho, Indiana, Iowa, Kansas, Kentucky, Louisiana, Maine, Mississippi, Missouri, Montana, Nebraska, Nevada, New Hampshire, New Mexico, North Dakota, Oklahoma, Oregon, Rhode Island, South Carolina, South Dakota, Utah, Vermont, West Virginia, Wisconsin and Wyoming.
On the other hand, nearly half of the COVID-19 cases reported across the country in that time period have occurred in just five states. According to data compiled by Johns Hopkins University, New York, Michigan, Florida, Pennsylvania and New Jersey combined have reported 44 percent of COVID-19 cases across the U.S. last week.
Over the past week, these five states have reported 197,500, while the total number of confirmed cases across the U.S. during the same week was 452,000.
The decline in COVID-19 cases across the 31 states comes as the federal government has continued to provide states with COVID-19 vaccines with many states expanding vaccine eligibility. While the federal government has not announced plans to deliver more vaccines to states with rising cases, some health experts believe it could help.
"On the other hand, it only makes sense to send vaccines to where the cases are rising," Dr. Elvin H. Geng, a professor in infectious diseases at Washington University, told the Associated Press, but noted that making states that have seen a decline in cases wait for more vaccines could cause confusion.
Newsweek reached out to the CDC for comment but did not receive a response in time for publication.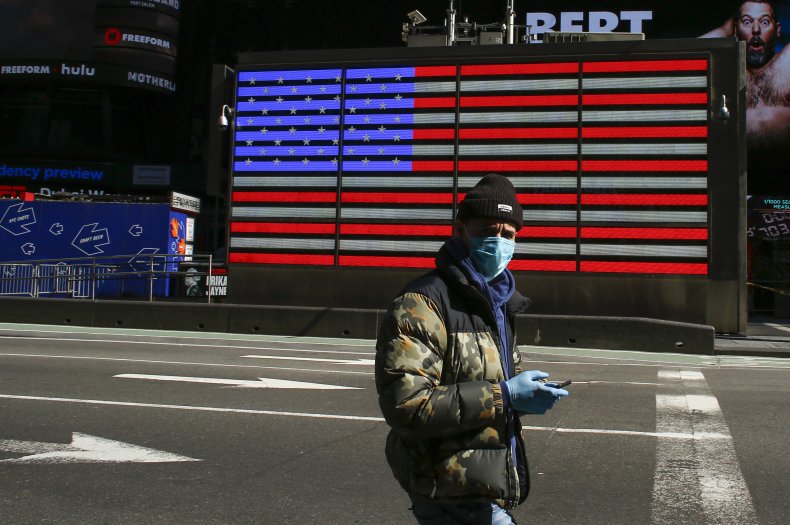 For more reporting from the Associated Press, see below.
The heavy concentration of new cases in states that account for 22 percent of the U.S. population has prompted some experts and elected officials to call for President Joe Biden's administration to ship additional vaccine doses to those places. So far, the White House has shown no signs of shifting from its policy of dividing vaccine doses among states based on population.
The spike in cases has been especially pronounced in Michigan, where the seven-day average of daily new infections reached 6,719 cases Sunday—more than double what it was two weeks earlier. Only New York reported higher case numbers. And California and Texas, which have vastly larger populations than Michigan, are reporting less than half its number of daily infections.
Though Michigan has seen the highest rate of new infections in the past two weeks, Democratic Gov. Gretchen Whitmer has said she does not plan to tighten restrictions. She has blamed the virus surge on pandemic fatigue, which has people moving about more, as well as more contagious variants.
White House coronavirus coordinator Jeff Zients said Tuesday more than 28 million doses of COVID-19 vaccines will be delivered to states this week. That allocation will bring the U.S. total to more than 90 million doses distributed in the past three weeks.
The news came as Biden announced more than 150 million coronavirus shots have been administered since he took office, and that all adults will be eligible to receive a vaccine by April 19.
About 40 percent of U.S. adults have now received at least one COVID-19 shot, according to the Centers for Disease Control and Prevention. About 23 percent of American adults have been fully vaccinated—including more than half of Americans 65 and older.
Geng said the nation should take a step back and go slow. Even just a few more weeks of Americans sticking with social distancing and other precautions could make a huge difference.
"The take-home message here is, let's not jump the gun," Geng said. "There's light at the end of the tunnel. We all see it there. And we will get there. Slow and steady."