31-Year Incumbent Trailing Progressive In N.Y. Congressional Race: Poll
Democratic Representative Elliot Engel of New York, who has served in the House of Representatives for over three decades, trails his progressive challenger Jamaal Bowman by 10 points, a week ahead of the primary, new polling shows.
The polling by Data for Progress shows Bowman, an educator who founded a middle school in the Bronx, with support from 41 percent of voters in New York's 16th District while Engel, who first entered the House in 1989, backed by just 31 percent. Meanwhile, 27 percent of voters said they were unsure in the survey, which was conducted from June 11 and 15, suggesting support for either candidate could still shift significantly.
But the polling data showed that more than twice as many of the undecided voters were leaning toward backing Bowman compared to those leaning toward supporting Engel, the 16-term incumbent. Of those saying they were unsure, 40 percent said they were leaning toward Bowman, while just 18 percent said the same of Engel.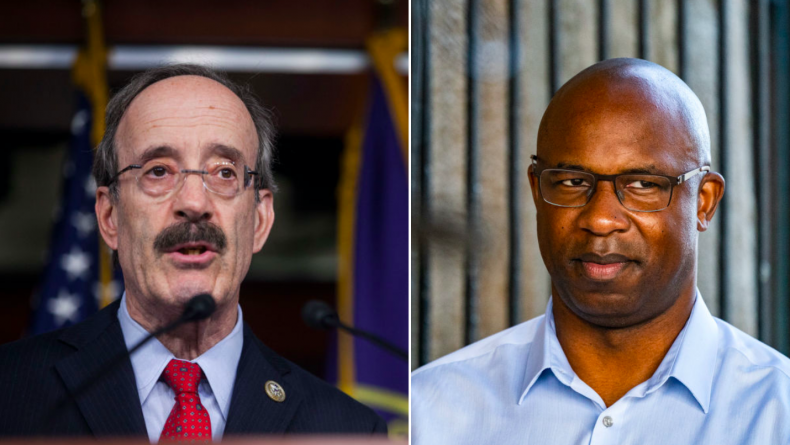 Newsweek reached out to Bowman and Engel for comment on the polling, but they did not respond by the time of publication. In a press release, Bowman's campaign manager Luke Hayes said the polling showed "this district is ready for fundamental change and new leadership."
"Because of the diverse coalition we are building across the district, the old guard and outside special interests are throwing everything they have at us, so we need to work incredibly hard and not take any votes for granted," Hayes said.
Bowman's challenge to the long-time incumbent Democrat, who chairs the House Foreign Affairs Committee, is reminiscent of the unexpected victory of progressive Democratic Representative Alexandria Ocasio-Cortez over former Representative Joe Crowley in New York's 14th District. Crowley had chaired the House Democratic Caucus and had served in Congress since 1999.
Like Ocasio-Cortez, Bowman was recruited by the progressive political organization Justice Democrats, which aims to unseat entrenched moderate and conservative Democrats with progressives. The congressional candidate has also been endorsed by a range of progressive icons, including Ocasio-Cortez, Representative Ayanna Pressley of Massachusetts and Senators Elizabeth Warren and Bernie Sanders, whom are both former Democratic presidential candidates.
"Jamaal will be relentless in his commitment to universal health care, affordable housing, and environmental justice. He will never forget who he represents or who he is accountable to – the people," Pressley said on Wednesday in a statement endorsing Bowman.
Meanwhile, Engel has been backed by a range of colleagues and more moderate Democrats. Former Democratic presidential candidate Hillary Clinton, who previously served as a senator from New York, endorsed Engel on Monday, her first House primary endorsement of 2020. Senator Kristin Gillibrand of New York, who briefly sought the Democratic presidential nomination last year, has also endorsed the incumbent congressman, as has New York Governor Andrew Cuomo.
"I have worked with Eliot Engel as first lady, as senator from New York and as secretary of state," Clinton said in a statement to The New York Times. "Every step of the way, his No. 1 priority has always remained the same: delivering for his constituents."
The congressional race in New York reflects a divide within the Democratic party, with progressives and moderates clashing over issues such as health care policy, climate change higher education and a range of other policies. Progressive ideals were embodied by Sanders and Warren during the Democratic primary debates, while Democratic presidential candidate Joe Biden and several other contenders offered more moderate proposals.
In the end, Biden, who served as vice president under former President Barack Obama, has all but secured his party's nomination, which is expected to be formally confirmed during the Democratic National Convention scheduled for August 17 to 20. But exit polls during the primaries have also shown a significant portion of Democratic voters support more progressive policies, and Biden has taken steps to adjust his platform to appeal more to voters further to the left. Sanders and Warren have both endorsed Biden as well.