3,100 Americans Are Heading Home Today From Prison. It's Our Duty to Support Them | Opinion
When the First Step Act was signed into law last December, we saw a ripple of hope spread through nearly 200,000 people currently incarcerated in federal prisons across America. The passage of that bill didn't just mean that thousands of incarcerated people would soon be released from federal custody and reunited with family. It also laid out a pathway for additional reforms in Congress and state capitals nationwide.
A diverse, bipartisan coalition came together to advocate for the First Step Act—considered one of the most transformative reforms to the federal prison system in more than a decade. At #cut50, we fought alongside formerly incarcerated leaders who joined us on Capitol Hill to share their personal experiences with the prison system because we know that the people closest to the problem are also closest to the solution, but furthest from resources and power.
The passage of the First Step Act was no easy feat. From building support with congressional leaders on both sides of the aisle to navigating the Trump administration—there were major hurdles. And since last December, the work has shifted to making sure the law was fully funded and implemented quickly and effectively.
Today, thousands of Americans are starting to head back home.
Tomorrow, there will be new hurdles: around good jobs, education, transportation and potential pitfalls that come with re-entering society.
To support those coming home, it's now our responsibility to provide empathy, care and opportunity.
When I came home after serving nearly 14 years in federal prison myself, the idea of obtaining dignified employment seemed unclear. I was living with the consequences of a crime I committed and faced unimaginable barriers in not only supporting myself post-incarceration, but also supporting my family. I know firsthand that when you're released from prison, the hardest part is not what came before, but what lies ahead. This is why it's imperative that we make the successful re-entry of our returning brothers and sisters a national priority.
Since I was released from federal custody, I've been fighting for sensible policy reforms. My experience includes working with the Connecticut legislature for successful enactment of legislation related to reforms to pretrial practices, expanding access to licenses for people living with criminal records, limiting asset forfeiture practices by law enforcement, strengthening reentry practices and services for people returning from prison, and currently serving as the National Organizer for #cut50 to uplift the voices of those who have suffered from mass incarceration.
Not everyone is as fortunate as I am. And I shouldn't be an exception. There are barriers that hinder thousands of Americans every day for meaningful opportunities because of prior convictions. We are working hand in hand to create partnerships with organizations because we believe everyone is worthy of a fair chance.
Re-entering society has its barriers for our formerly incarcerated neighbors. The ability to obtain a job, educational resources and housing become limited when criminal records are an attached part of your identity.
Because of those obstacles, we just launched a comprehensive online directory of resources for returning community members. We worked hard to secure partnerships and investments—like free Lyft ride credits, commitments to hire people who are formerly incarcerated, job training opportunities, more than 1,000 hours of free counseling or therapy, hundreds of hours of résumé writing, and peer coaching. And we created a guide, First Step to Second Chances, that we are distributing to individuals being released this week and the critical direct service organizations that will support their transition.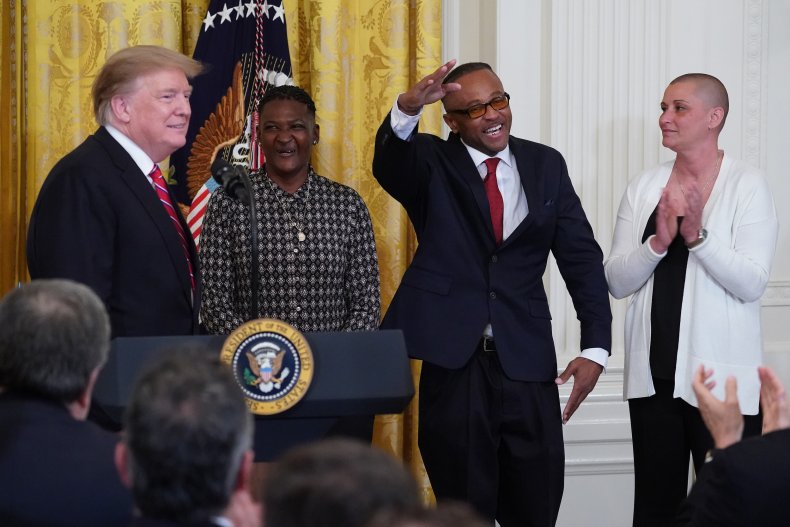 Since my release five years ago, I've yet to speak with any other formerly incarcerated individuals who haven't been adversely impacted by the lasting trauma of incarceration. We can help change this by implementing and investing in meaningful resources.
If we expect people to leave prison, reintegrate into society and be positive contributors to our communities, we have to ensure accessibility to employment, education and vocational programs. We have to champion job readiness, mental health resources and technical training. We have to provide a fundamental, fair chance to everyone.
There is nothing like freedom and independence. Take it from me. Having gone through the injustices of our criminal system in the United States, I've seen firsthand the urgent need for sensible reforms.
It is now on us, as a country, to take on the moral responsibility to provide every tool possible to rehabilitate our returning community members.
Louis Reed is the national organizer for #cut50, which championed the First Step Act.
The views expressed in this article are the writer's own.