32 Percent of Students Say They Won't Go to College Next Year If Classes Are Online Only
Nearly a third of current and prospective college students said they preferred not to attend college in the fall if classes remain online only, according to a new survey conducted by the National Society of High School Scholars (NSHSS).
Of the more than 2,000 high school and college students who responded to the survey between April 18 and 26—770 of whom the NSHSS said were graduating high school seniors—32 percent said they were not interested in attending online-only college courses when the next academic year begins.
While many states have yet to decide whether colleges and universities will resume for in-person instruction, the wave of e-learning strategies brought about by the coronavirus pandemic has revealed the pros and cons of virtual education environments, with the loss of social events routinely identified by students as a significant loss.
Despite the negative perspective on virtual classrooms continuing into the next semester, NSHSS President James Lewis had a more optimistic view of how students will proceed in their pursuit of higher learning.
"I think that students will adapt and institutions will get better at delivering the college experience in a virtual way," Lewis told Newsweek. "Students may complain about the things they are missing, but I am confident that they will make the best of the situation."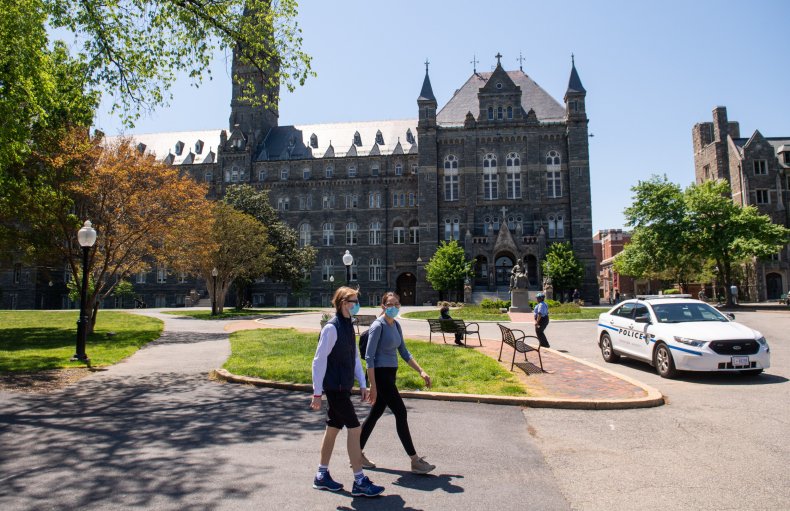 Lewis pointed to another of the survey's findings, which said 53 percent of students who preferred in-person classes were willing to adjust to virtual learning. While Lewis acknowledged the value of in-person interactions and the challenges virtual learning poses to hands-on activities, he said instructors at the high school and collegiate levels have done well in adapting to states' stay-at-home orders.
"I do think that students will be more willing to consider some combination of in-person and virtual learning in the future. Not every class needs a physical classroom," he said.
Even though nearly a third of students cast doubt on their college attendance in the fall if classes remain virtual, other responses to questions asked during the survey indicate students still plan to pursue college education. Of the surveyed students, 94 percent said they were still confident in their ability to earn a degree, and 86 percent said they believed they would be able to graduate on time.
"There are stories of some students deferring for a semester or gap year, but my sense is that most students will plow ahead," Lewis said.
According to Lewis, the implementation of virtual classrooms now could present colleges and universities with an opportunity down the line to reach more students by using a combination of in-person and virtual learning strategies.
"I envision a greater acceptance for degrees that are achieved by some hybrid of online and in-person coursework," Lewis said. "That could actually translate into higher attendance rates at colleges that can craft their offerings to maximize enrollment in classes that are best suited to online delivery while creating a more concentrated in-person experience for other courses. In an ideal world, that could also result in cost savings for students and their families."