33% of Americans Believe Banning Trump From Some Social Media Went Too Far: Poll
Thirty-three percent of Americans say social media platforms suspending President Donald Trump's accounts goes too far, according to a new poll.
The poll, which was conducted by Morning Consult, found that 39 percent of Americans believe banning Trump was the right move, while 28 percent said it didn't go far enough.
Across political party lines, the poll found 51 percent of Democrats saying that banning Trump was the right move, while 69 percent of Republicans said the opposite and believe it went too far.
Morning Consult surveyed 2,200 U.S. adults from January 8 to January 11 and reported a margin of error of plus or minus 2 percentage points.
The poll's findings come shortly after Trump was permanently banned from Twitter, and his account is suspended indefinitely across several other social media platforms, following the January 6 riots at the U.S. Capitol, when Trump supporters breached the building in protest of Congress certifying states' electoral votes.
"After close review of recent Tweets from the @realDonaldTrump account and the context around them—specifically how they are being received and interpreted on and off Twitter—we have permanently suspended the account due to the risk of further incitement of violence," Twitter wrote in a statement on Friday.
A Twitter spokesperson declined to comment on the poll's findings after Newsweek reached out.
On Thursday, Facebook CEO Mark Zuckerberg, announced that Trump was blocked from posting on the social media platform, as well as Instagram "indefinitely."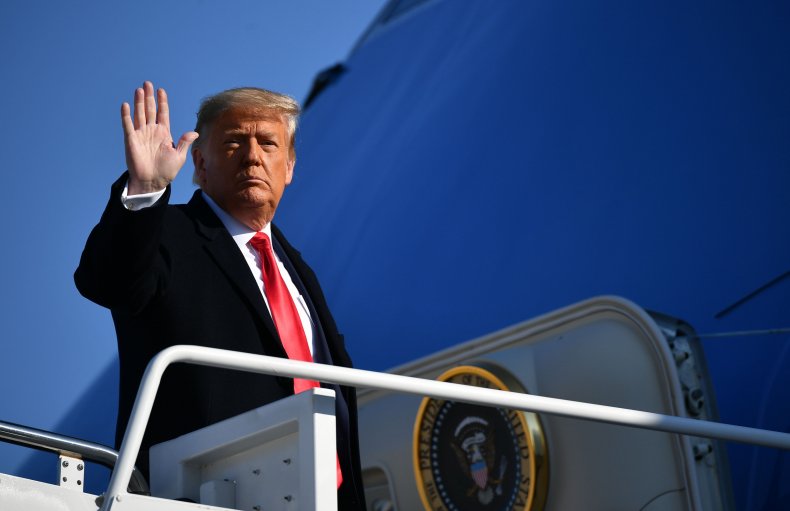 "We believe the risks of allowing the President to continue to use our service during this period are simply too great. Therefore, we are extending the block we have placed on his Facebook and Instagram accounts indefinitely and for at least the next two weeks until the peaceful transition of power is complete," Zuckerberg wrote in a Facebook post.
Newsweek reached out to Facebook for comment.
Additionally, the poll found that 50 percent of Americans believe that Trump's social media accounts should have been suspended earlier, while 12 percent said he was suspended at the right time and 26 percent said his accounts should never be suspended.
Shortly after Trump's suspension from several social media platforms, many lawmakers, such as Senators Mark Warner and Joe Manchin applauded the move, while some others criticized the decision.
While speaking to reporters on Monday, German Chancellor Angela Merkel's spokesperson said that "the chancellor considers it problematic that the president's accounts have been permanently suspended."
Russian opposition leader, Alexey Navalny also called Trump's Twitter ban "an unacceptable act of censorship."