34 GOP Reps Ask Nancy Pelosi to Lift Mask Rule in House Following New CDC Guidelines
Over 30 House Republicans sent a letter to Democratic Speaker of the House Nancy Pelosi on Thursday asking her to lift the mask mandate in the House following new guidelines from the Centers for Disease Control and Prevention (CDC).
The letter, first obtained by The Daily Caller, and appears to have been spearheaded by Ohio Congressman Bob Gibbs then signed by 33 other GOP members, begins by pointing to new guidance from the CDC released earlier on Thursday. Then the letter "urg[es]" Pelosi "to immediately return to normal voting procedures and end mandatory mask requirements in the House of Representatives."
"CDC guidance states fully vaccinated people no longer need to wear a mask or physically distance in any setting except where required by governmental or workplace mandate," the letter said. "It is time to update our own workplace regulations. Every member of Congress has had the opportunity to be vaccinated, and you have indicated about 75 percent have taken advantage of this opportunity."
The letter writers were likely referring to figures from Pelosi's weekly news conference of April 29, where she estimated 75 percent of the House of Representatives had been fully vaccinated against the coronavirus, although she could not know who had and who hadn't been due to privacy concerns.
"The United States Congress must serve as a model to show the country we can resume normal life through vaccination. Let's follow the science and get back to work," the GOP letter finished.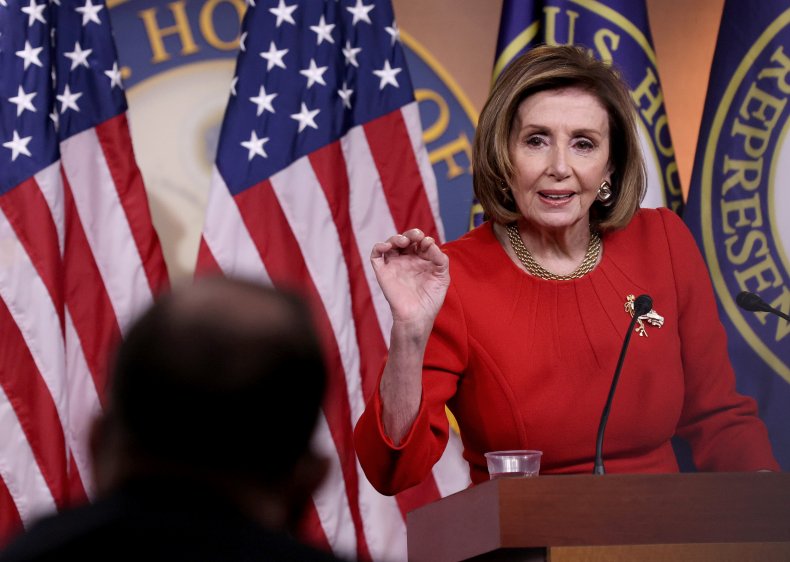 Earlier on Thursday, Pelosi told CNN that she does not plan to immediately lift the mask mandate in the House, answering "Are they all vaccinated?" to questions about whether or not she would. Later, her spokesman Drew Hammill clarified that she was unwilling to lift the mandate because the details of who is and isn't vaccinated among members of congress remain unclear, Bloomberg reported.
In response to inquiries from Newsweek, Hammill pointed to language in a letter that appeared to be sent to a Congressional employee listserv Thursday from the attending physician, Dr. Brian P. Monahan, highlighting that rules for unvaccinated members of Congress remain unchanged.
"For the Hall Of The House: The present mask requirement and other guidelines remain unchanged until all Members and floor staff are fully vaccinated," Monahan stated. "For House Office Buildings Spaces and all Other Areas: IF YOU'VE BEEN FULLY VACCINATED... You can resume activities that you did prior to the pandemic."
The GOP-led letter campaign comes two days after Pelosi announced that House members will be allowed to remove their masks on the floor when they are recognized to address the chamber. This move showed a relaxing of the mask-wearing mandate Pelosi first introduced in July of 2020 after Rep. Louie Gohmert, a Republican from Texas, tested positive for COVID-19 after appearing in the chamber almost exclusively without a mask.
The World Health Organization (WHO) states that herd immunity is different for every disease, and it is still unknown what percentage of the population would have to be vaccinated to gain herd immunity for COVID-19. For reference, the number for polio is about 80 percent and the number for measles is 95 percent.