35 Capitol Police Officers Under Investigation in Connection With Riot
Almost three dozen U.S. Capitol Police officers are under investigation for their conduct during last month's violent attack on the federal complex they are primarily assigned to protect.
Of the 35 officers involved in the Capitol Police's ongoing internal inquiry, led by the law enforcement agency's Office of Professional Responsibility, six were suspended with pay on Thursday afternoon, according to a spokesperson who shared the update with Fox 5 DC's Lindsay Watts.
"Our Office of Professional Responsibility is investigating the actions of 35 police officers from that day. We currently have suspended six of those officers with pay," the agency's statement read. "Acting Chief Yogananda Pittman has directed that any member of her department whose behavior is not in keeping with the Department's Rules of Conduct will face appropriate discipline."
News of the internal investigation's progress comes more than a month after thousands of former President Donald Trump's supporters stormed the Capitol on January 6. Those who participated in the siege did so to overturn results of the November election, which Trump and his proponents had contested for months after polls closed. Five people, including one Capitol Police officer, died as a result of the riot, while dozens of others suffered injuries.
Several hundred Capitol Police officers were stationed around the complex at the time of the insurrection, which coincided with the U.S. House and Senate's joint congressional sessions to certify President Joe Biden's Electoral College victory. The initial group of officers was later joined by hundreds of others from the D.C. Metro Police Department—and, eventually, another 1,100 members of the D.C. National Guard—who arrived to provide reinforcement.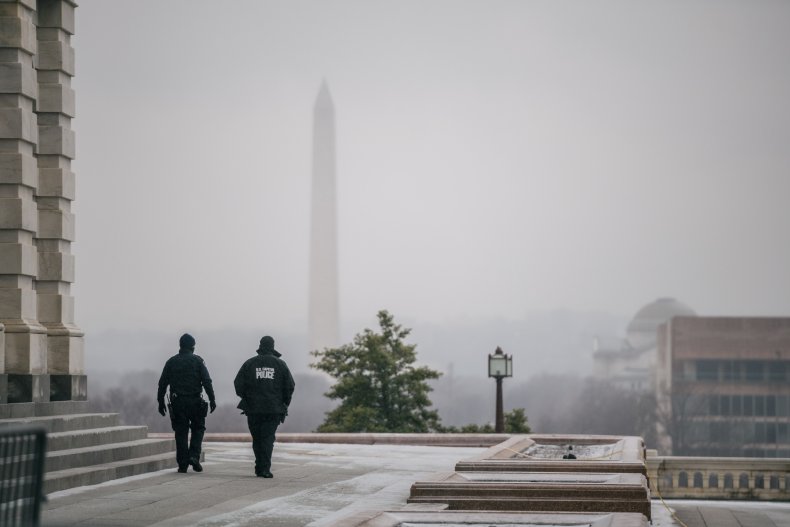 Officers affiliated with the Capitol Police, in particular, were subject to widespread scrutiny in the aftermath of the attack, where photographs showed some posing for selfies beside rioters as they gathered outside. Federal lawmakers immediately called for an investigation into law enforcement's handling of the uprising.
"We recognize the bravery of the Capitol Police and law enforcement officers who protected Members and essential workers in the Capitol Complex yesterday. At the same time, it is obvious that there was a severe systemic failure in securing the building's perimeter and in the response once the building was breached," said Reps. Rosa DeLauro and Tim Ryan in a January 7 statement announcing the House Appropriations Committee's intent to conduct a "review of the law enforcement response" to the riot.
Steven Sund, the former Capitol Police chief, resigned the same day. Three Capitol Police officers were reportedly suspended, and 17 became involved in conduct investigations, within a week of the insurrection.
Newsweek contacted the Capitol Police for confirmation and further comment but did not hear back before publication.
This story was updated at 6:13 p.m. ET with additional details and background information.