35% of Voters Believe Cuomo's Sexual Harassment Allegations After 7 Accusers Come Forward: Poll
Just over one third of New York voters believe that Democratic Governor Andrew Cuomo is guilty of sexual harassment, according to a new poll.
A Siena College poll released Monday found that while 41 percent of respondents said they either do not know or have "no opinion" on whether Cuomo committed sexual harassment, 35 percent believe the governor is guilty. Another 24 percent believe that Cuomo is not guilty.
A total of seven women have come forward with allegations against the governor in recent weeks. Multiple investigations have been launched, with bipartisan calls for Cuomo's resignation growing and New York state legislators setting the stage for his potential impeachment.
Party identification was a significant factor in determining whether those participating in the poll believed the allegations. While 53 percent of Republicans said they believed Cuomo's accusers, just 29 percent of Democrats agreed.
A 43 percent plurality of Democrats offered no opinion, with 28 percent saying they believed the governor was not guilty. Only 16 percent of Republicans said they thought Cuomo was not guilty, while 31 percent were undecided.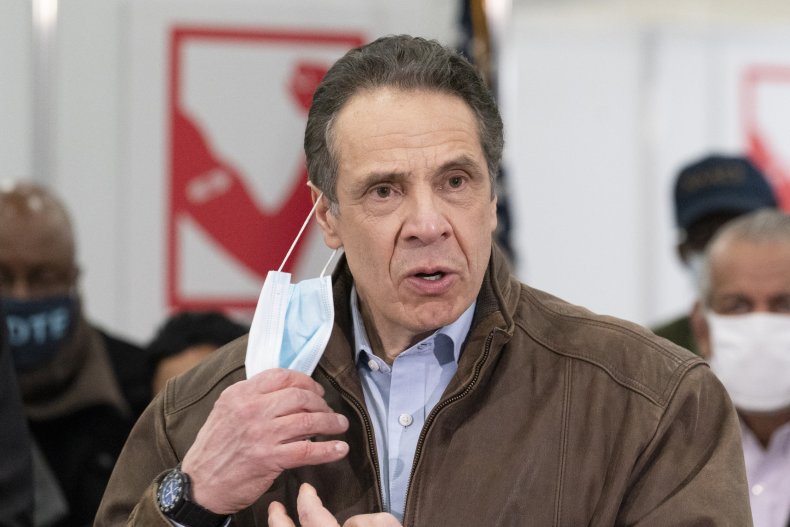 Belief in Cuomo's guilt was roughly the same regardless of gender, with 36 percent of men and 35 percent of women believing the accusers. Another 25 percent of men and 23 percent of women said they believed Cuomo was not guilty. No opinion on the allegations was offered by 39 percent of men and 43 percent of women.
Half of all respondents agreed that Cuomo should not "immediately resign as governor," with 35 percent saying that he should resign and 15 percent being uncertain.
Sixty-four percent of Republicans said that Cuomo should resign, while 61 percent of Democrats said that he should not. Men were slightly more likely than women to call for Cuomo's resignation, 39 percent to 32 percent. Those living outside of New York City were the most likely to say that Cuomo should resign, although respondents from the state were more likely to agree that he should not.
"While many elected officials – Democrats and Republicans alike – have called for Cuomo's resignation, by a 50-35 percent margin, the voters of New York say Cuomo should not immediately resign," Siena College pollster Steven Greenberg said in a statement. "A majority of New York City voters and a plurality of voters from both upstate and the downstate suburbs say he should not resign."
Cuomo has continued to refuse calls to resign as accusations against him have multiplied, insisting last week that those urging him to step down were "bowing to cancel culture." He has also denied the allegations, while offering an apology for any interactions that may have been "misinterpreted as an unwanted flirtation."
The poll found that 57 percent of New Yorkers were "satisfied with the way Cuomo has addressed the allegations," while 32 percent said they were not satisfied and 11 percent offered no opinion. Just under half, 48 percent, believed that Cuomo remained able to "effectively do his job as governor" despite being under investigation due to the allegations.
The poll was conducted among 805 registered New York state voters online and over the phone between March 8 and March 12, a time period during which Cuomo's sixth and seventh accusers came forward. It has a margin of error of 4.1 percent.
Newsweek reached out to Cuomo's office for comment.