35 Years Later: The Aftermath of John Lennon's Death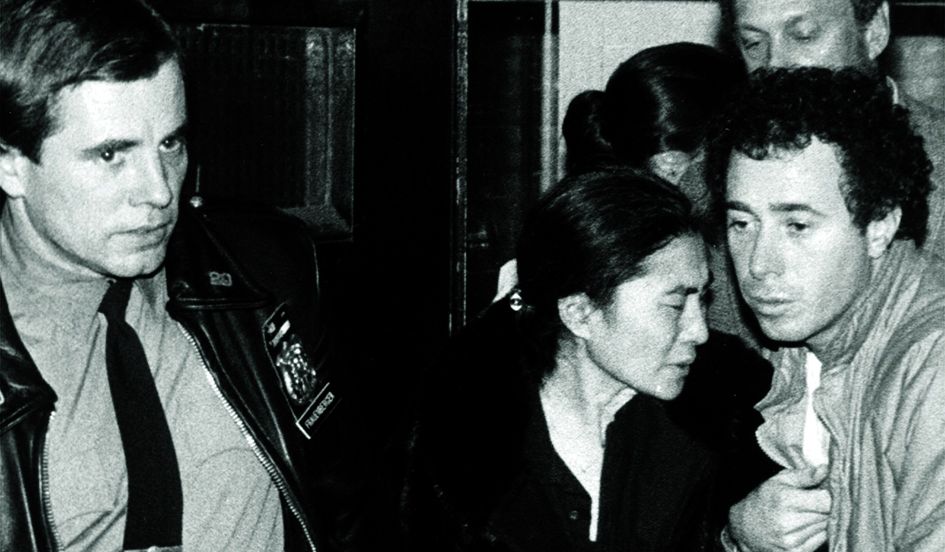 On December 8, 1980, the music world ground to a halt when John Lennon was murdered. His death was one of the defining moments of the 20th century, and culturally, we're still dealing with it. This article, and others about Lennon's life and legacy, are included in a new Newsweek Special Edition celebrating the 75th birthday of the legendary Beatles co-founder.
Three and a half decades have come and gone since John Lennon's passing, but the details of the murder—it's been called an "assassination," but the word assassin gives too much credit to the raving madman who pulled the trigger—are still painful for those of Lennon's fans who are old enough to remember the event. Shortly afterward, Pete Hamill wrote of Lennon's murder as ripping him back to the 1960s in the worst possible way. "Because it was a man with a gun, we fell back into the ritual," Hamill wrote in his New York magazine article "The Death and Life of John Lennon." "If you were there for the '60s, the ritual was part of your life. You went through it for John F. Kennedy and for Martin Luther King, for Malcolm X and for Robert Kennedy…. Except this time there was a difference. Somebody murdered John Lennon. Not a politician. Not a man whose abstract ideas could send people to wars, or bring them home; not someone who could marshal millions of human beings in the name of justice; not some actor on the stage of history. This time, someone had crawled out of a dark place, lifted a gun and killed an artist."
The 20th century had more than its fair share of senseless murder, and a worrying amount of it had begun to be directed toward public figures as it pushed onward. But the targets of such senseless crimes had, until Lennon's murder, been those whose power was the concrete stuff of governmental halls, not the ethereal connection of the musician to his public. One only needs to look at Paul McCartney's horrified face as he addresses the media after his former bandmate's death to understand the hateful precedent that had been set when Mark David Chapman shot John Lennon in the back. As McCartney struggles to gather his thoughts into a coherent statement, "Am I next?" is as clearly written in his features as if inked there. Fear surely extended to all famous artists that day, but none felt it as clearly as the remaining three Beatles. As Hamill put it, "This was something new. The ritual was the same, the liturgy as stale as ever, but the object of attack was a man who had made art. This time the ruined body belonged to someone who had made us laugh, who had taught young people how to feel, who had helped change and shape an entire generation, from inside out. This time someone had murdered a song."
On December 8, 1980, John Lennon was returning to his home at New York's Dakota, a massive Victorian apartment block on Central Park West, shortly after 11 p.m. He and Yoko Ono were arriving after a day of work in the recording studio—without stopping for a meal at the Stage Deli as they had planned. After five years out of the studio, Lennon was used to being what he called a "househusband" and was anxious to get home to his 5-year-old son Sean.
Because of his habit of meeting fans outside the Dakota—"People come and ask for autographs, or say 'Hi,' but they don't bug you," Lennon said of the revelers who sometimes waited all day for a glimpse of their idol—Lennon pulled up to the Dakota at the sidewalk rather than using the building's secluded courtyard. As he made his way through the crowd of fans to the lobby of his home, a 25-year-old man in a black trenchcoat got his attention with the simple words "Mr. Lennon." Lennon stopped, but before he could turn to address Mark David Chapman, the young man had shot Lennon in the back. He was rushed to the nearby Roosevelt Hospital. Chapman sat handcuffed on the sidewalk outside the Dakota, his copy of The Catcher in the Rye on hand. In his madness, Chapman had channelled Holden Caulfield's angst-filled rants into an unshakable obsession that Lennon was one of J.D. Salinger's hated "phonies." At the hospital, Lennon was opened up by surgeons, who tried desperately to bring him back from the brink. "We tried to save him," Dr. Stephan Lynn said at the time. "We opened his chest and massaged his heart, but he was virtually dead when they brought him in."
It's knowing these kinds of details that makes Lennon's death difficult to deal with even more than three decades after the fact, even for those of his fans too young to have been around to feel the raw wound of his loss. In our knowledge of the minutiae of Lennon's last day, we are almost forced to imagine: What if, on his way back to 72nd Street and Central Park West from the Times Square studio where he did his last day's work, Lennon had insisted on stopping at the Stage Deli—taking just long enough that Chapman went home for the night? What if Lennon had stopped at a hot dog cart instead—would the five extra minutes have meant a different position for Chapman, a different angle of fire for his pistol and a nonfatal wound for Lennon? What if Lennon had, tired from a full day of interviews, photo shoots and recording, pulled up to the Dakota's courtyard instead of taking a few minutes to appease his fans? What if Chapman had been touched by A Confederacy of Dunces instead of The Catcher in the Rye? Lennon's unrivaled celebrity, among the first of a new breed from whom fans demanded constant knowledge, meant these informational tidbits were destined to be recorded and their attendant "What Ifs?" neverending. But all this would come in the ensuing days—on the night of December 8, there was only shock.
Much of America learned of Lennon's death as they watched the New England Patriots and Miami Dolphins square off on Monday Night Football. With the game tied at 13 in the fourth quarter, the commentator pairing of Howard Cosell and Frank Gifford were given a bulletin informing them of Lennon's death. Though Cosell handled the situation with trademark professionalism, ABC's reporting the news when it did was the result of a tragic coincidence. As Lennon was rolled into Roosevelt Hospital on a stretcher, an ABC news producer was in the emergency room following a motorcycle accident. Though Yoko Ono had asked that she be given time to tell Sean Lennon of his father's death before it was announced on television, the word spread like wildfire through the ABC ranks, eventually landing in the commentary booth at Monday Night Football. "I don't care what's on the line, Howard, you have got to say what we know in the booth," Frank Gifford told his co-star, fully aware that the information currently in front of them would shatter the fabric of popular culture.
"Yes, we have to say it. Remember this is just a football game, no matter who wins or loses," Cosell replied. "An unspeakable tragedy confirmed to us by ABC News in New York City: John Lennon, outside of his apartment building on the West Side of New York City, the most famous, perhaps, of all of The Beatles, shot twice in the back, rushed to Roosevelt Hospital, dead on arrival. Hard to go back to the game after that news flash, which, in duty bound, we have to take." For 35 years, fans of Lennon have been attempting to keep him alive, something Mark David Chapman made it impossible for surgeons to do on the night of Lennon's death. We might be separated from John Lennon the man by three and a half decades, but his work and his messages still resonate more than ever.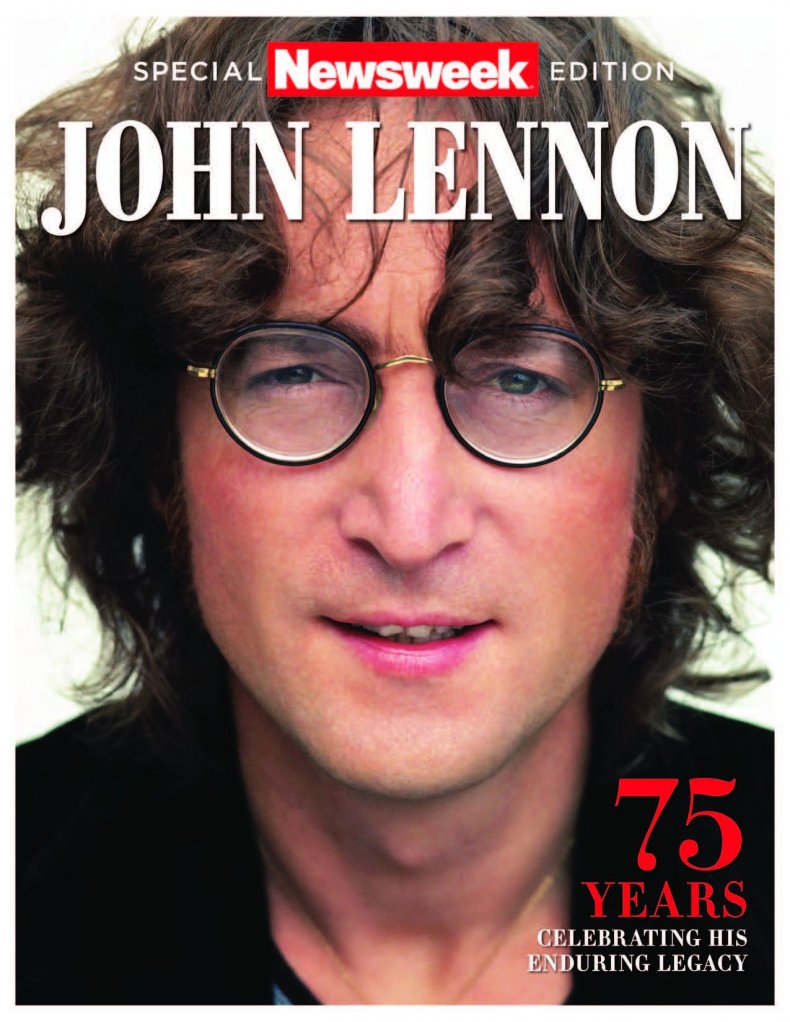 This article appears in Newsweek's Offical Collector's Edition, John Lennon: 75 Years—Celebrating His Enduring Legacy, by Issue Editor Tim Baker.