35,000 Structures At Risk, 600 Burned As Almeda Fire Grows To Over 3,000 Acres In Oregon
At least 35,000 structures are currently at risk and approximately 600 have already burned, according to the Federal Emergency Management Agency (FEMA) as the Almeda Glendower Fire continues to grow in Jackson County, Oregon.
According to a recent press release issued by FEMA, the fire has already burned over 3,000 acres of land.
The 35,000 homes that are currently at risk from the fire are "in and around the communities of Ashland, Talent, Phoenix, and the city of Medford."
"The fire also threatened Interstate 5, Highway 99, schools, a fire station, parks, small businesses, transmission and communication lines in the area," FEMA added in their release. "Level One, Two, and Three evacuations were issued for the region of the fire, which was zero percent contained at the time of the request."
The release also noted that FEMA authorized the use of federal funds, or a Fire Management Assistant Grant (FMAG) to help with the firefighting costs to contain and stop the fire. According to FEMA, FMAGs come from the president's Disaster Relief Fund "and are made available by FEMA to assist in fighting fires that threaten to cause a major disaster."
FEMA is also providing $629,681 in mitigation assistance that will be available to Oregon. Newsweek reached out to FEMA for additional comment but did not receive a response in time for publication.
Prior to FEMA's announcement, Oregon Governor Kate Brown on Tuesday approved an emergency conflagration declaration for the Almeda Fire.
Brown's declaration authorizes the Oregon Office of State Fire Marshal to mobilize all resources needed to assist local authorities in fighting the fire.
"This situation is very dangerous," Brown said during a press conference on Tuesday. "Wind continues to fuel these wildfires, with devastating consequences across Oregon. People's homes, lives and land are at risk. If you are in an evacuation area, please pay close attention and listen to local calls to evacuate as needed — this can save your life, your family and the lives of our firefighters."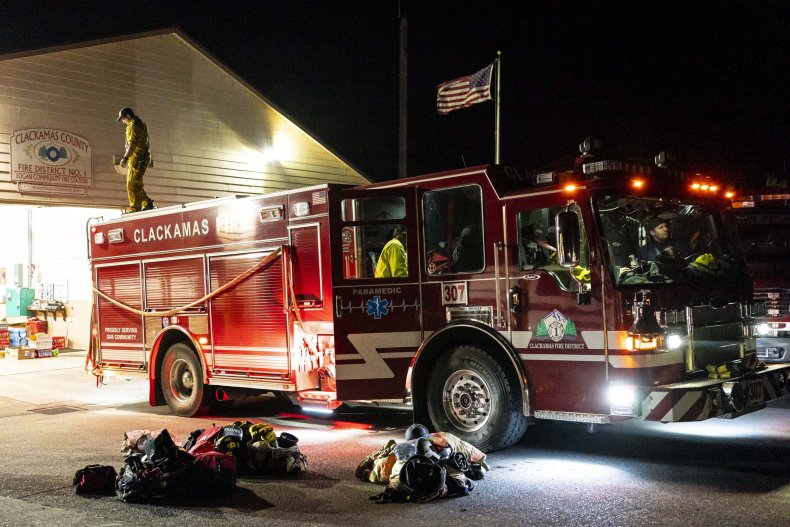 According to a wildfire tracking map published by the New York Times, the Almeda Fire in Oregon forced much of the city of Medford, which has approximately 80,000 residents, to evacuate. On Tuesday, the Jackson County Sheriff's office confirmed one fatality from the Almeda fire.
In addition to the Almeda Fire, Oregon is currently battling a number of other wildfires including the Holiday Farm Fire, the Riverside Fire, the Beachie Creek Fire and the Lionshead Fire.
According to the U.S. Forestry Service, the Beachie Creek Fire is the largest across Oregon, as it has burned over 158,000 acres. The Riverside Fire has burned over 120,000 acres and the Holiday Farm Fire and the Lionshead Fire have both burned over 105,000 acres.