365 Dni (aka 365 Days) has been called by many the 'Polish 50 Shades of Grey' since the movie has become a minor phenomenon on Netflix, where it topped the streamer's U.S. charts over the weekend. Like 50 Shades before it, it seems that 365 Dni might become a trilogy of films. Blanka Lipinska, who wrote the book the movie is based on, has written two more novels in the series, titled Ten dzień (This Day) and Kolejne 365 dni (Another 365 Days).
The second movie in the franchise has already been announced, and the as-yet-untitled 365 Dni 2 was meant to start shooting this summer in the same Sicily locations as the first movie.
However, the August production start date has been postponed—after all, with the world on lockdown, it would be hard enough for the movie to shoot in its native Poland, so an on-location shoot in Italy would be near impossible.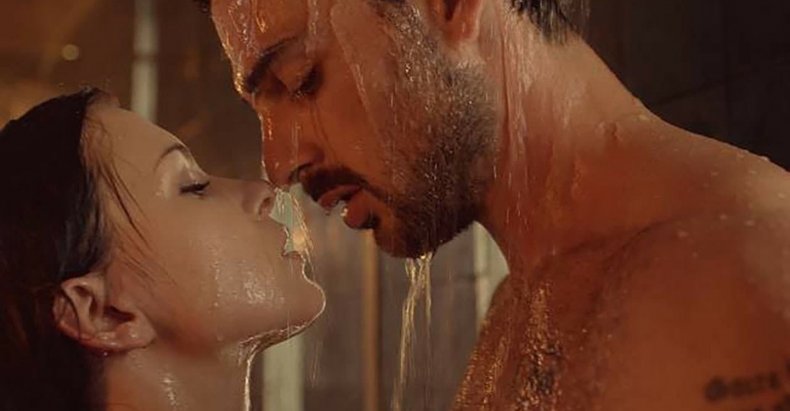 This was something confirmed by 365 Dni actors Anna Maria Sieklucka and Magdalena Lamparska, who played Laura and Olga in the Netflix movie. In a Polish-language Instagram Q&A, the stars were asked when the sequel would start shooting. Sieklucka said: "We will not be able to go abroad to shoot this year because of the pandemic. You must be patient and wait. It will probably be next year. We do not know exactly when we will be able to start."
Lamparska, meanwhile, added: "Everything has stopped. The situation is similar in every country. The film industry has just frozen. A trip to another country, especially to Italy, would be too risky for the Polish crew at the moment."
With the start date of production on Part 2 of 365 Dni unknown, a late 2021 release date is likely, though fans may have to wait until 2022 for more erotic misadventures between Laura and Massimo (Michele Morrone).
There is, however, one silver lining from Sieklucka and Lamparska's Instagram video. As the former says that "we" will be unable to shoot in 2021, this seems to confirm that Laura did not die at the end of the first movie. Although she could be appearing in a flashback in the sequel, as the character appears in book sequel Ten dzień, it is likely that she is alive and ready for more steamy scenes with her abductor-turned-lover.
However, that does not mean that Part 2 will be plain sailing for the couple. As the second book sees her captured by a rival gang member, then it seems that the ending shows him capturing her. However, fans have a long wait ahead of them to find out what this means for Laura and Massimo—and whether Laura will yet again confuse Stockholm Syndrome with love with another captor.
365 Dni 2 is coming soon.