'365 Dni' Book: The Novel That Inspired Netflix's Movie '365 Days' and If It Is Coming Out in English
365 Days (or to use its original Polish title, 365 Dni) has split Netflix viewers, with some enjoying the show's multiple graphic sex scenes while others question a plot that essentially sees a woman falling in love with her kidnapper. While English-speaking viewers may be surprised by the twists and turns of the 50 Shades of Grey-style movie, many Polish-language readers have already read the Blanka Lipinska novel the movie is based on which, apparently, makes the film look tame in comparison.
Currently, the book has not been officially translated into English, but a number of fans have been trading self-translated versions on sites like WattPad which give non-Polish speakers a glimpse of the very x-rated and very NSFW content of the 365 Dni book.
In the first chapter alone, Sicililan mob boss Massimo (played by Michele Morrone in the Netflix movie) exchanges erotic messages with his girlfriend and has oral sex with a "terrified" flight attendant on his private plane, which readers have described to them in graphic detail. This is before he has even met Laura (Anna Maria Sieklucka), the woman he abducts and gives 365 days to fall in love with him.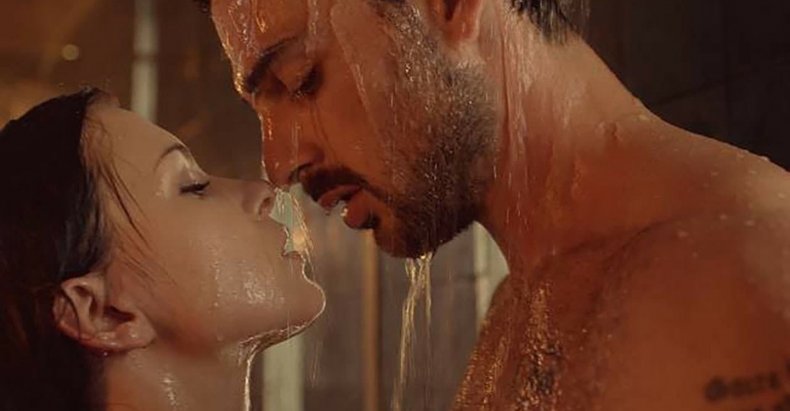 The synopsis of Lipinska's book reads: "Laura, together with her boyfriend Martin and two friends, go on holiday to Sicily. On the second day of her stay, on her twenty-ninth birthday, the girl is kidnapped. The kidnapper turns out to be the head of the Sicilian mafia family, the extremely handsome young Don Massimo Toricelli.
"A few years ago, he had an attempt on his life. Shot several times, he almost died - and when his heart stopped beating, he saw a girl in front of his eyes; Laura Biel. When he was brought back to life, he promised himself that he would find the woman he saw.
"Massimo gives the girl 365 days to make her love him and stay with him."
Though there is currently no official English language version of 365 Dni, one may be coming to bookstores soon. Fans have been speculating that the book has been bought by an American publisher, meaning that an English language tie-in may be on its way. However, this has not been confirmed by any publisher, so fans will have to stay tuned for news about the book's future.
Moreover, fans of the Netflix movie will be pleased to know the Lipinska has written a trilogy of 365 Dni books, meaning there is a potential for two more films in the future. Ten dzien ("This Day") was published in 2018, while Kolejne 365 dni ("Another 365 Days") came out the following year.
These books (spoilers ahead) see Laura marry Massimo, but that is far from the end of their problems. The second novel sees a rival mob trying to kill her, while the third in the trilogy sees Laura facing a problematic pregnancy that threatens her life.
365 Dni/365 Days is streaming now on Netflix.