'365 Dni' Behind the Scenes: What the Makers Have Said About Filming the Show's Graphic Sex Scenes
365 Dni (aka 365 Days) remains among the most-watched movies on Netflix and social media has exploded with shocked reactions to just how graphic its numerous sex scenes are between Laura (played by Anna Maria Sieklucka) and Massimo (Michele Morrone). These scenes, including a particularly lurid four-minute sequence on a yacht, have gone so viral, in fact, that Variety interviewed the movie's cinematographer Bartek Cierlica about them.
"We created the most intimate atmosphere we could for the actors," the director of photography said. "We reduced the on-set crew to an absolute minimum. As it was handheld I was following their action, and trying to show their passion in a natural but beautiful way. We wanted this sex to be pretty authentic. We wanted the viewer to hear their whispers, heavy breaths and we wanted to show the sweat, passion. Be natural, authentic, but not to cross the border of pornography."
He later reiterated: "We didn't want to create porn, but at the same time, we wanted to do justice to the book that is pretty full of very intimate and passionate sex descriptions."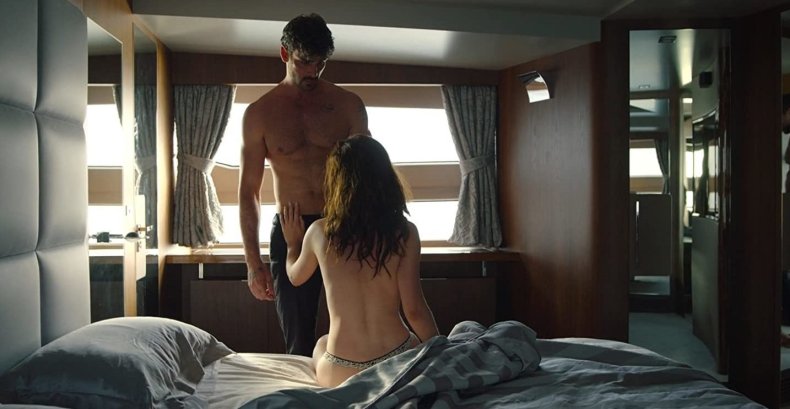 If Cierlica's intention was not to make 365 Dni feel too pornographic, then according to Twitter he failed. Thousands of viewers have compared the movie of either soft-core porn or just regular porn. For example, one wrote: "if you wanna watch a porn but you think you are too classy for it, just watch 365 DNI on Netflix instead... it's like porn Italian fifty shades of grey."
Others wrote: "that 365 dni movie really was soft porn that Cinemax used to play," while many tweeted variations on: "The movie 365 DNI is just a porn with a storyline."
Part of the reasons why the movie feels so graphic is due to the chemistry between its leads, something one Twitter user mentioned when they wrote, "the most realistic sex scenes I've seen in a film without it being porn! Both actors connected on another level."
In a Polish-language interview with Onet Film, 365 Dni novelist and screenwriter Blanka Lipinska revealed that the key to these sex scenes was making the leads comfortable. She said: "The actors could come to us at any time and tell us what they did not like. Of course, we made a few mistakes, [but] if Ama or Miki paid us attention to something, we noticed it and in the future improved it."
Lipinska may have also had something to do with how graphic the sex scenes are. Firstly, her book is even more explicit, and secondly, she told the editors to keep in moments like when Massimo spits on Laura.
Speaking of this, she said: "In the first edit, the editors did not use that scene. I had to ask [them to put it back it." As for why this was important to her, she said: "It depends how you spit...that's what this book is about. You can scoop phlegm from the sinuses and spit it on someone's face, or, like Massimo Laura, spit on intimate areas to have a super slip...I bet it's a very popular gesture in Poland."
The writer has also teased in multiple interviews that she encouraged the crew to take off their clothes to make the lead actors more comfortable. Asked about this, she said: "I once read that someone did it and it worked out..."
365 Dni is streaming now on Netflix.