A $36B Company You've Never Heard of Is Defining the Electric Truck Future
You may not see their brand name at dealerships or promoted in the booklet you get at your local auto show, but there's a good chance that if you are sitting in a new vehicle, you're surrounded by Magna parts.
The specialty automotive parts supplier has developed and sells everything from seats and chassis to mirrors and lighting. They also have developed components for many of the vehicles that are on the market now and those that are coming soon.
Magna has supplied powertrain systems for some of the hottest-anticipated models coming in 2022 and beyond, including the Ford F-150 Lightning, Cadillac Lyriq, Mercedes-Benz EQE SUV, Rivian R1S and Volkswagen ID. Buzz. Its units can already be found in the BMW iX, GMC Hummer EV and Volkswagen ID.4.
Magna did $36 billion in sales in 2021. It employs 158,000 workers worldwide and is the top automotive parts supplier in North America. Continuing that success, Magna CEO Seetarama Kotagiri told Newsweek, means capitalizing on the four cardinal points of the vehicles of the future: electrification, autonomy, new mobility and connectivity.
The key to moving forward, profitably, is down to a modular component strategy that the company has initiated. Instead of launching a new development program, which can cost hundreds of millions, if not billions of dollars, the company is economizing while acting smarter, not harder, using know-how and parts already in place to evolve its powertrain offerings for the modern electric vehicle era.
Magna has also tapped partnerships with LG and Haskell to push innovation forward across their lineup.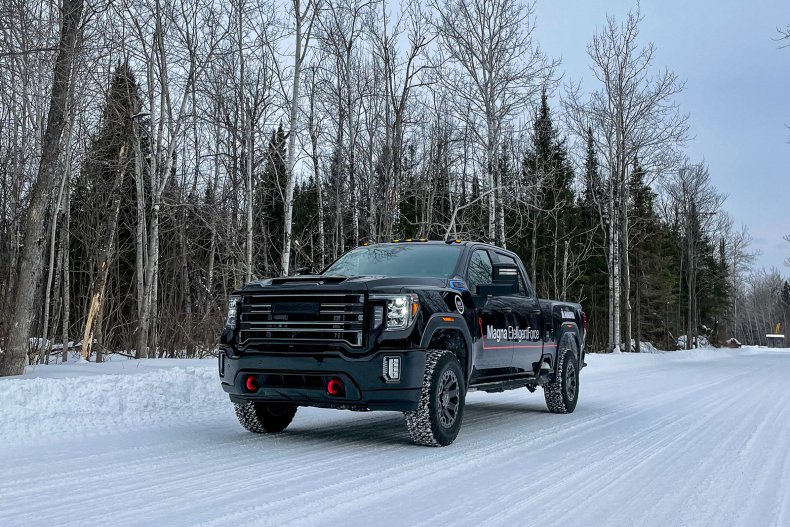 Development of the fresh all-electric propulsion system that was shown off during a snowy test track day in Michigan's Upper Peninsula, is thanks to a combination of technologies and equipment that are already on-sale or well on the development track and making their way into vehicles.
That combination, along with modern computer modeling and three-dimensional (3D) printing, use has allowed for shorter development times. It's a strategy automakers are employing as well.
In just 18 months, Magna has created an electric propulsion system for large trucks and SUVs, a segment that is traditionally thought of as being all-electric far down the road.
The result is Magna's EtelligentForce battery electric four-wheel drive powertrain system for passenger trucks and light commercial vehicles. Unlike the compromises that are inherent with all-electric powertrains in autos on the market today, Magna's system is designed to offer "uncompromised payload and towing" capacity. It can deliver 14,500 pounds of towing capability, the company says.
The key to the success of that powertrain, Kotagiri said, is that it is designed to fit within existing platforms automakers are creating, meaning that it could be offered alongside an internal combustion engine (ICE) or hybrid system and produced on the same assembly line.
That's not to say that every automaker that chooses to use the system would be getting the same product. Kotagiri explained that the company's 1,200 software engineers are "working closer than ever before" with mechanical, electrical and automotive engineers to create the electronic building blocks of the company's new systems, which can be fine-tuned to fit the needs of each automaker's product development goals.
Further, once the Magna system is installed in a vehicle, it can be recalibrated throughout its lifespan using over-the-air updates. This type of enhancement isn't a possibility in internal combustion engine vehicles as their equipment is not part of a connected mobility environment.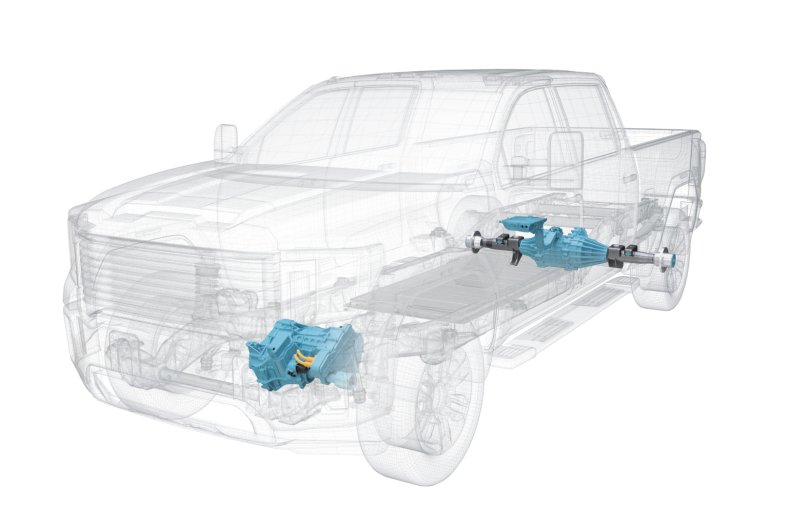 To exhibit the possibilities of the EtelligentForce system, Magna retrofitted it to a 2020 GMC Sierra HD 2500 AT4, stripping out the ICE components and inserting its all-electric eBeam rear axle and the eDS Mid+ front drive unit. The result is a truck that is just 50 pounds heavier than the model was with its original 6.6-liter V8 engine.
The now-electric truck maxes out at 547 horsepower and can move from zero to 60 miles per hour (mph) in 4.6 seconds, faster than most big or small SUVs on the market today.
When matched up against a comparable General Motors ICE truck in a drag race Magna hosted on privately owned proving grounds, the EtelligentForce truck pulled away heartily in the first 10 yards of the contest.
Dynamics are impressive as well, leaning heavily on the centralized weight of the truck's battery pack, the truck is easy to handle when pushed to its limits on a snow field and is able to work hand-in-hand with existing stability control technology to keep the truck shiny side up.
The biggest challenge facing electric trucks and commercial vehicles isn't power, but range and charging capability. Magna's technology includes the ability to choose from 400- and 800-volt inverter variants.
Utilizing 800-volt technology allows vehicles to be charged far more rapidly than most powertrains today, when hooked up to an appropriately powerful charger.
The Porsche Taycan, Hyundai Ioniq 5 and Kia EV6 are on sale now with 800-volt architecture.
Future implementation of the powertrain in a production model vehicle has not yet confirmed. However, the company has a close working relationship with Stellantis and the Ram 1500 EV is expected to come to market soon. It will join the Rivian R1T, Ford F-150 Lightning and Chevrolet Silverado EV in the increasingly well-populated full-size truck segment.