37 Convicted for Multi-Million Dollar Illegal Organ Harvesting Operation in Egypt
A group of 37 people were convicted on Thursday for their involvement with an illegal human organ trafficking operation in Egypt.
The convicted individuals were handed down sentences ranging from 3 to 15 years. In total, 41 people—including doctors and nurses—were implicated in the probe by Egyptian authorities, Reuters reported. Three people were also cleared by the criminal court, and one had died before the trial was completed. The suspects were detained in a 2016 raid, at which time millions of dollars were also confiscated.
Authorities investigated private hospitals and other clinics throughout Egypt, the health ministry explained at the time of the arrests. Some of the facilities where transplants and organ harvesting took place were licensed and others were not.
The BBC reported in 2016 that those arrested were "made up of Egyptians and Arabs taking advantage of some of the citizens' difficult economic conditions so that they buy their human organs and sell [them] for large sums of money," the Administrative Control Authority said. Despite selling organs being illegal, poverty in the North African country drives some desperate people to do so.
According to Reuters, six of the convicted individuals were sentenced to 15 years of prison and given fines of $28,000. Eleven others were sentenced to seven years in prison and the remaining 20 were handed down three-year sentences.
Previous reports have said that illicit organ dealers in Egypt prey on undocumented African migrants by using prostitutes.
"[One pimp] used the services of sex workers as leverage when negotiating fees with both sellers and buyers," a 2016 report by the British Journal of Criminology said. "A night with a sex worker was offered as an extra inducement to sell."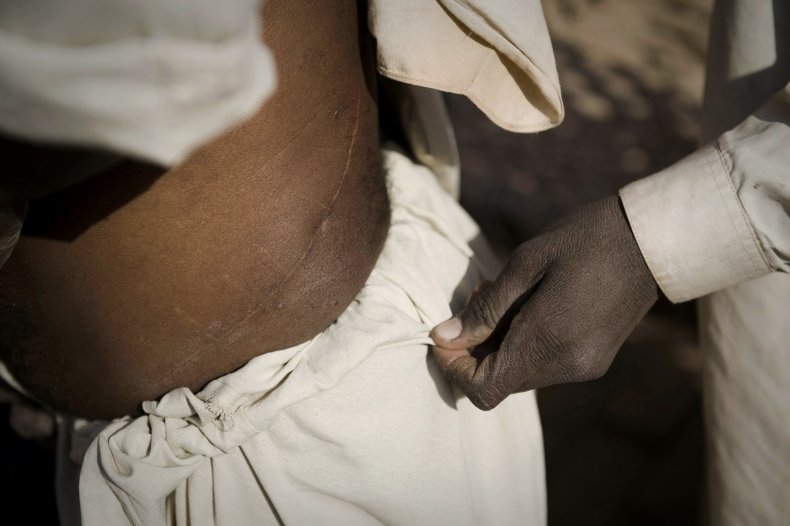 Images also circulated online in April 2016 showing Somali immigrants in Egypt who had scars from where organs had been removed. Reports also circulated suggesting that African migrants were being killed by Egyptian traffickers so their organs could be harvested and sold.
African immigrant Nuredin Wehabrebi Atta revealed the practice to authorities in Italy in 2014. "The Egyptians come equipped to remove the organ and transport it in insulated bags," he said, The Times reported.
The World Health Organization (WHO) has previously named Egypt as one of the world's top five countries for illegal organ trade. The U.S., along with Australia, Canada, Israel, Japan, Oman and Saudi Arabia, is among the world's top importers of illegal organs, according to the WHO.