38 Percent of Independents Believe More Information Is Needed to Determine Who Won Presidential Election
Following President-elect Joe Biden's projected victory, 38 percent of independent voters believe more information was needed to determine who won the 2020 presidential election.
According to a new poll by Monmouth University Polling Institute, the majority of those surveyed, 54 percent, believed that we have enough information regarding that vote count to know which candidate won the presidential race. However, a sizable minority, 44 percent, believed we don't.
Among that minority was 88 percent of voters who favored President Donald Trump, 46 percent of nonvoters, 38 percent of voters who supported a third-party candidate or refused to reveal their vote and 4 percent of Biden voters.
The poll surveyed 810 adults in the U.S. over the phone from November 12 to November 16. The data had a margin of error of 3.5 points.
"It's not unusual for backers on the losing side to take a while to accept the results," said Patrick Murray, director of the Monmouth University Polling Institute in a November 18 release. "It is quite another thing for the defeated candidate to prolong that process by spreading groundless conspiracy theories. This is dangerous territory for the Republic's stability."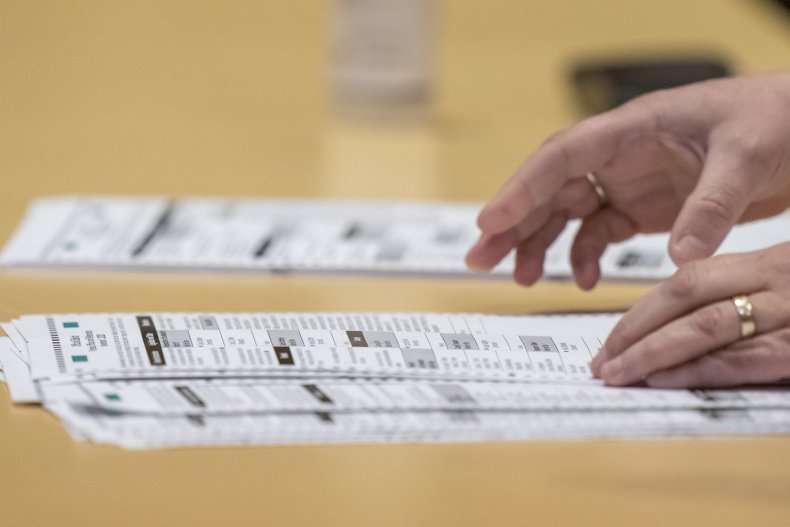 Biden and Vice President-elect Kamala Harris were declared the projected winners of the presidential election on November 7, after the Associated Press and other television networks called Pennsylvania and Nevada for Biden. This pushed the Democratic ticket over the 270 threshold required for victory in the Electoral College.
But Trump has refused to concede, baselessly claiming that the election was decided through widespread voter fraud.
"He [Biden] won because the Election was Rigged," Trump tweeted last week. Some on social media quickly suggested that this amounted to a tacit concession, even if the president continued to push unfounded claims that the results were "rigged."
In a later tweet, the president clarified: "He only won in the eyes of the FAKE NEWS MEDIA. I concede NOTHING! We have a long way to go. This was a RIGGED ELECTION!"
Although Trump has yet to concede, over a third of the country is happy that the president lost, according to the Monmouth poll.
Of those surveyed, 34 percent said they were happy about Trump's defeat and 18 percent said they were satisfied.
Among Biden voters, 57 percent responded that they are happy that he won, while 73 percent said they are happier that Trump lost. Among Trump voters, however, 26 percent were angry that he lost, while 36 percent were angrier about Biden's win.
"This election was always about the incumbent first and foremost," said Murray. "The thought of his loss provoking a stronger positive reaction than the idea of a Biden victory is just one more example of that. Still, the poll shows that the country continues to suffer from deep partisan divisions in the election's aftermath."
Monmouth University Polling Institute didn't respond to Newsweek's request for comment in time for publication.