3-D Gun Maker Cody Wilson Charged with Sexual Assault, Paid Teen For Sex, Arrest Affidavit Says
UPDATE: Thursday, 11:46 a.m. EDT – Austin Police Department Commander Troy Officer said during a press conference that Cody Wilson, who was charged with sexual assault of a minor, has not been taken into custody. His last known location was Taipei, Taiwan, and he did not board his return flight back to the United States. A national and international effort is being conducted to bring him back to the United States.
Officer explained that the police department is unsure why Wilson went to Taiwan but added that before he left, a friend of the victim told him that the victim had spoken to the police.
Original story:
Cody Wilson, the founder of Defense Distributed, which was recently blocked from releasing plans for 3-D printed guns, was charged with sexual assault on Wednesday.
The Austin Police Department in Austin, Texas, charged Wilson with sexual assault on Wednesday morning, according to KVUE reporter Tony Plohetski. The charge was brought after he allegedly paid a teen $500 to have sexual relations with him in a hotel. Plohetski added that he used the name "Sanjuro" but later identified himself by his real name.
An arrest affidavit filed in Travis County district court in Texas was compiled based on victim and witness statements and stated that police officers responded to a call from a counselor on August 22. The counselor stated that a female client under the age of 17 told her that she had sex with a 30-year-old man on August 15 and was paid $500. Newsweek reached out to the Austin Police Department but did not receive a response in time for publication.
Austin Police Department Officer Shaun Donovan, who works as a detective assigned to the Human Trafficking/Vice Unit, attended a forensic interview with the juvenile female. During the interview, she repeated the claim she made to the counselor and said it began when she created a profile on the website SugarDaddyMeet.com.
After messaging each other online, the American-Statesman reported the pair exchanged text messages and Wilson described himself as a "big deal." Wilson allegedly sent the female images of his penis and she sent nude photos of herself. Wilson reportedly rented a hotel room and the pair left around 9:20 p.m. MDT, at which point, Wilson dropped her off at a Whataburger. Officers corroborated the juvenile's story with surveillance footage.
Travis County Jail records indicated that Wilson had not been booked into the jail as of 10:50 a.m. EDT on Wednesday morning.
Wilson previously sued the State Department for violating his free speech rights when they prevented him from distributing plans for 3-D printed firearms on his website. In June, he garnered national attention when the State Department under President Donald Trump settled with Wilson and agreed to allow him to publish the plans. However, the day before the release of the plans was set to be made legal, a federal judge in Seattle issued an order blocking their publication.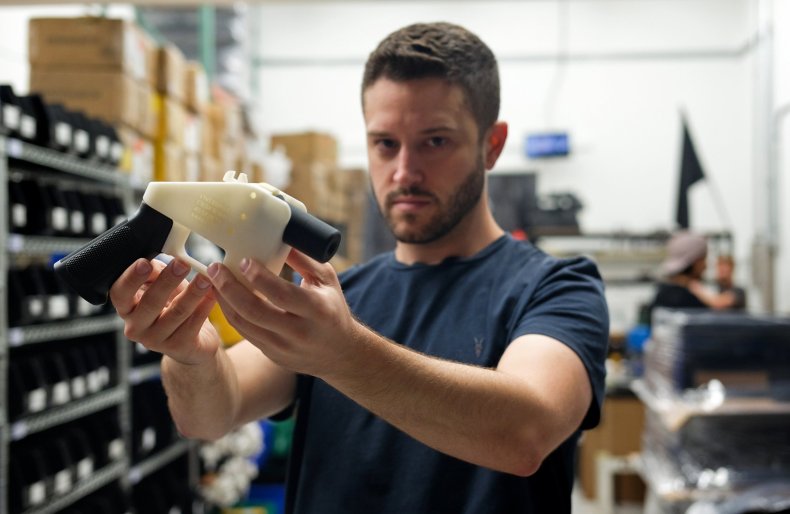 Detractors of 3-D printed guns argue that it will increase the number of shootings and decrease the government's ability to regulate who has access to firearms. Second Amendment supporters contend that a person is already able to skirt regulatory measures by legally making a firearm at home and anyone intent on doing harm will find a way regardless of if the plans are available.
This is a developing story and will be updated as more information becomes available.