3-D Printed Weapons Threaten Global Security, Think Tank Warns
Imagine a world where anyone with access to a simple and affordable piece technology could produce their own deadly weapons on demand.
This hypothetical future is the focus of a new report from the RAND Corporation think tank, which looks at the potential threats to personal, national and global security posed by the proliferation of 3D printing—also known as additive manufacturing (AM).
Additive manufacturing is a term used to describe various technologies which produce three-dimensional objects by "printing" layer-upon-layer of a given material, while following a digital blueprint.
Although the technology is currently fairly limited in some respects, it is already being used to produce everything from prosthetic hands to food items, and to quickly prototype products before they go on sale. And in the coming years, analysts predict that increasing numbers of people will have 3D printers in their homes, enabling them to print their own products at will.
But according to the new report, as this technology proliferates, it will inevitably find its way into the hands of street criminals, violent extremists or even rogue states who will be able to download digital templates of weapons from sources like the Dark Web and manufacture them for their own use.
"In 2013, the first digital design for a functioning, 3D printed gun became widely available for download," Trevor Johnston, an Associate Political Scientist at RAND told Newsweek. "Since then, more advanced weapons have been printed, including a U.S. Army-produced grenade launcher in 2017."
Currently, printed guns have nowhere near the lethality or durability of conventional weapons, according to Johnston. "However, as this technology matures, growing in capability and affordability, more consumers will have access," he said. "Over the next decade, we should expect more home users to experiment with designing and printing small firearms, explosives, and drones."
Even in countries like the United States where gun control laws have done little to restrict access to lethal weapons, the 3D printing of firearms could increase the risk of violence and murder, he said.
"In terms of personal security, as 3D printing technology further develops and proliferates, point-of-sale controls regulating access to firearms and other dangerous weapons will become less effective. While conventional weapons remain readily accessible to most people in the US today, 3D printing could undermine future regulatory efforts to restrict access to certain types of weapons or withhold firearms from individuals who pose a greater risk."
Lone wolf killers and terrorist groups, for example, may soon be able to print their weapons of choice, which could include everything from traditional firearms to suicide attack drones equipped with improvised explosive devices.
In addition, additive manufacturing could also benefit pariah states, such as North Korea, Johnston argues.
"As 3D printing matures, designs for more sophisticated weapons could provide other states the means to overcome or offset some of the technological advantages that the US currently enjoys," he said. "Just as point-of-sale controls will become less effective in regulating domestic consumers' purchase of weapons, 3D printing and the proliferation digital designs will undermine export controls like ITAR (International, Traffic in Arms Regulations), making it easier for violent actors to gain access."
The 3D printing devices themselves also pose their own security risks because they are vulnerable to sabotage, the authors warn. For example, hackers could implant flawed instructions into the printing of critical airplane parts, military equipment or buildings, among other things, causing malfunctions that may lead to serious injury or death.
Furthermore, a hacker could remotely take-over a 3D printer inside supposedly secure locations, such as stadiums and offices, and use it to produce a weapon for an attack while avoiding security checks.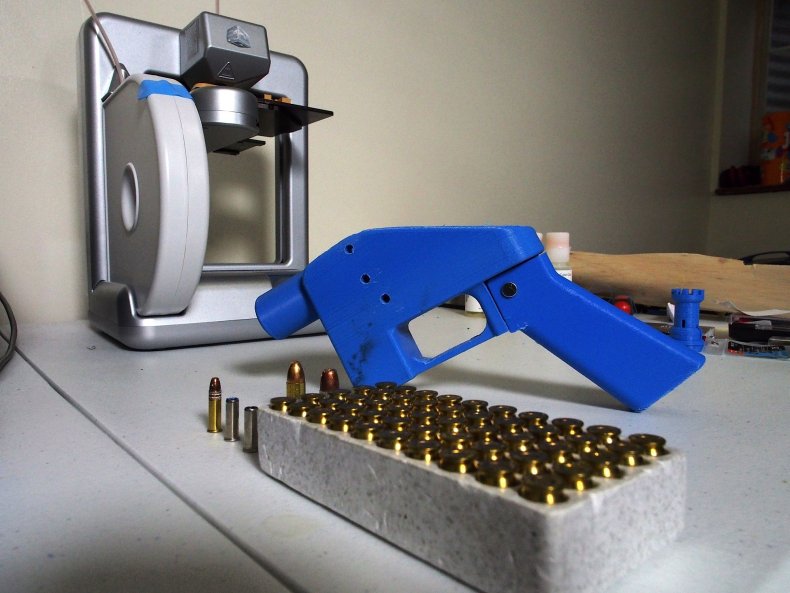 The potential risks outlined in the report are hypothetical and are clearly dependent on how additive manufacturing evolves over the coming years. But the authors say policymakers should start taking steps now to mitigate these threats before it is too late to control them.
"There are a series of potential strategies that policymakers could take to mitigate, if not prevent, these threats in the future," Johnston said. "In terms of prevention, regulators should consider ways to mandate printer registration. Along with this registration, owners may have to accept terms of use that restrict certain types of printing. If these terms are violated, printers could be disabled or lose some degree of functionality. Controls on printing materials may also help prevent the production of certain types of weapons, like explosives."
However, it is unlikely that such measures will be able to fully prevent the spread of risks connected to 3D printing, the authors conclude.