4 Basketball Heavyweights Are Giant Long Shots in Latest March Madness Odds
College basketball is just one month away from its annual madness, and the latest top 25 polls have several glaring ommissions. With Kansas dropping out of the polls for the first time since 2009, there are now four perennial heavyweights not ranked.
Here are four teams that casual sports fans might find surprising to not be in the top 25: Duke, North Carolina, Kansas and Kentucky. Also not in the rankings are Indiana, Louisville or Michigan State. UCLA finds itself at No. 24 in the coaches poll, but not in the Associated Press ranking.
Here are teams that are in there instead (AP rankings): No. 1 Gonzaga, No. 2 Baylor, No. 3 Michigan, No. 4 Ohio State, No. 5 Villanova. Other teams include a surprising No. 11 Alabama, No. 13 Texas, No. 19 Creighton and No. 22 Loyola-Chicago. Drake, which is also undefeated along with Gonzaga and Baylor, is receiving votes for the top 25.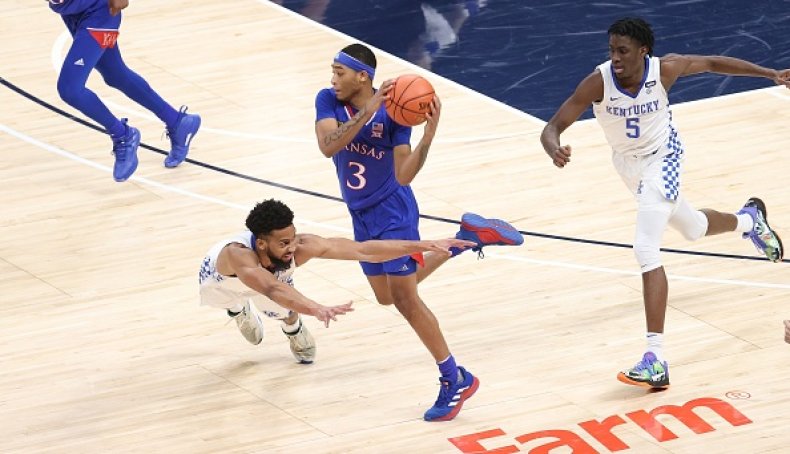 The Kansas Jayhawks lost a pair of games by double digits in the last nine days, and they lost five of their last seven to fall to 12-7 on the season and just 6-5 in the Big 12 conference. This is the first time they have fallen from the top 25 since they entered the rankings on Feb. 2, 2009. Their streak of 231-consecutive weeks in the top 25 is a record.
The road gets a little easier for Kansas after Monday night's game at home against No. 23 Oklahoma State. The Jayhawks will get back-to-back games against Iowa State, which is winless in the Big 12, and then Kansas will travel to face in-state rival Kansas State, which is next-to-last in the Big 12. Things get tougher after that with three games against ranked teams. The Jayhawks will finish the season against No. 7 Texas Tech, No. 13 Texas and No. 2 Baylor.
Kansas, Kentucky, Duke and UNC have become long shots to win the NCAA Men's Division I Basketball Tournament that starts on March 18 in Indiana. Gonzaga is the favorite, followed closely by Baylor, Michigan, Illinois and Villanova, according to sportsbetting.ag.
Here's how the odds work. Gonzaga is the favorite at +250. That means a $100 bet on the Bulldogs would win the bettor $250. Kansas and North Carolina have the best odds of the four aforementioned teams at +5000, meaning a $100 bet on them would win $5,000 if they were to win the national championship.
Here are the odds, according to sportsbetting.ag:
Gonzaga +250
Baylor +300
Michigan +1000
Villanova +1000
Illinois +1800
Alabama +2000
Iowa +2000
Texas +2000
Houston +2500
Ohio State +2500
Tennessee +2500
Texas Tech +2500
Virginia +2500
Wisconsin +2500
Creighton +3300
Florida State +3300
West Virginia +3300
Colorado +5000
Kansas +5000
Missouri +5000
North Carolina +5000
Oklahoma +5000
Oregon +5000
UCLA +5000
USC +5000
Connecticut +6600
Duke +6600
Florida +6600
Indiana +6600
Louisville +6600
Loyola Chicago +6600
LSU +6600
Purdue +6600
St. Louis +6600
Virginia Tech +6600
Xavier +6600
Arkansas +8000
Clemson +8000
Drake +8000
Michigan State +8000
Minnesota +8000
Rutgers +8000
San Diego State +8000
Stanford +8000
Boise State +10000
BYU +10000
Dayton +10000
Georgia Tech +10000
Kentucky +10000
Maryland +10000
Syracuse +10000
Mississippi State+15000
NC State +15000
Ole Miss +15000
Richmond +15000
SMU +15000