4-Foot Long Ball Python Captured Slithering Near Playground
A 4-foot long ball python was spotted near a playground Friday afternoon in Greenbelt, Maryland. The exotic reptile was spotted on a sidewalk directly outside of the city's public works building. Officers from the Greenbelt Police Department and the Animal Control Department worked together to capture the snake, which was captured on body camera footage.
Greenbelt Police Department Press Information Officer Hannah Glasgow told Newsweek that police officers are not equipped to handle an exotic animal report, but an officer accompanied the animal control official to offer help if needed.
"Generally, with any calls that have to do with animal welfare, we'll also have a police officer attend the call," she said.
Glasgow said the department is not sure how the python ended up on city government property and that there haven't been any reports of a missing pet ball python. The department, she said, is welcoming information about the animal from the public.
Though it was close to a playground, Glasgow said children and families were safe because it was far enough away that it did not pose any danger.
The ball python is not native to Maryland, and Glasgow said if the snake was not captured, it likely would not have survived the dip in temperatures.
According to an article by Reptiles Magazine, the ball python is the most popular pet python in the world.
"Ball pythons are generally a bit shy, but they make for ideal captives, because they are of a small size, are generally friendly, are manageable to care for, and come in a remarkable array of colors and patterns," the article read.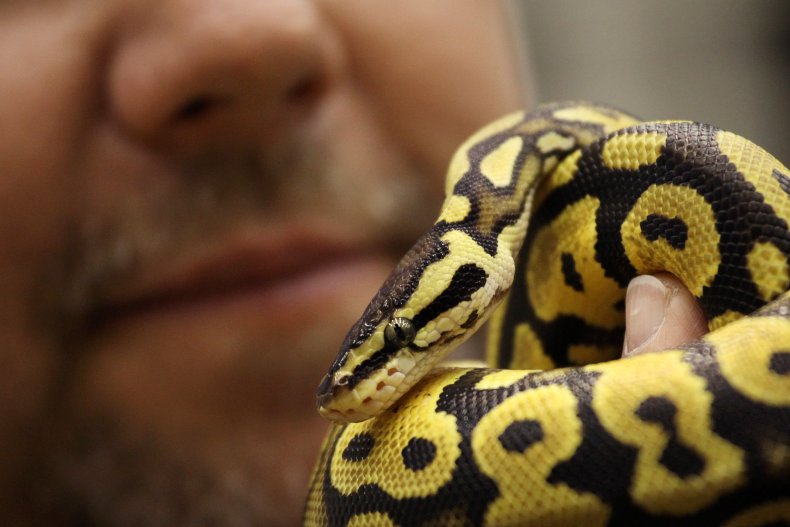 The article continued and stated the reptiles are native to central and western Africa and tend to do well in warm and tropical environments. Adult female ball pythons can average 3 to 5 feet long while adult male ball pythons can average 2 to 3 feet long.
Rebecca Myers, an animal control officer for the City of Greenbelt, told Newsweek that the majority of the animal control calls they responded to regarding snakes were those native to the area. She said when they got a call about the ball python, she was initially skeptical about whether they would come across an exotic snake. However, it turned into a memorable experience when she arrived at the scene.
"I thought it was an amazing experience," Myers said. "While it was my first time dealing with this type of call in the field, I've had an exotic in my house before."
Because of her previous experience, Myers said she knew how to approach the snake.
"I tell people that I channeled my inner Steve Irwin," she told Newsweek. "I thought it was a beautiful creature."
Though the python was hissing, which Myers said is a sign that it felt threatened, wrangling the snake took about three minutes.
Once the reptile was captured, it remained in the animal control shelter for about 24 hours before an exotic rescue specialist took it. Glasgow said the python will be examined to ensure it is healthy, and can potentially be adopted.
In a Facebook post, the City of Greenbelt referenced the dazzle of zebras on the loose earlier this month in the Town of Upper Marlboro in Maryland.
Newsweek reported that three zebras escaped from a private farm and walked through a residential backyard. Animal control officers were working on corraling the zebras.
Updated 09/23/2021, 2:31 p.m. ET: This story has been updated with a verified video of the incident.