4 Killed, 3 Injured as Gunman Goes on Shooting Spree Before Being Fatally Shot in Colorado
A gunman reportedly killed four people in a series of shootings across Denver Monday evening.
The gunman was not identified during a joint press conference between the Denver and Lakewood police departments. The Denver Channel reported the suspected shooter also died Monday.
The first shooting took place just after 5 p.m. at First Ave and Broadway in central Denver. At this location, the suspect shot three people, killing two women and injuring a man, Denver Police Chief Paul Pazen said.
Shortly after, a second shooting occurred near Denver's Cheesman Park. One man was killed.
Denver police were then sent to W. 6th Avenue and Cherokee Street, but there were no injuries reported at the location following gunfire.
According to The Denver Channel, officers identified the shooting suspect's vehicle after the third shooting incident, at which point they chased the vehicle and exchanged gunfire with the suspect. No officers were reported injured.
After this, Pazen said the gunman "disabled the police vehicle" and fled to nearby Lakewood.
John Romero, public information officer with the Lakewood Police Department, said his department received calls about a shooting outside of a Lakewood business a little before 6 p.m. Another person was killed at this location.
After receiving a description of the suspect's vehicle, Lakewood police identified the vehicle at the Belmar shopping area. When the authorities tried to make contact, the suspect began to shoot, at which point gunfire was returned.
The suspect ran from the car and went into the Hyatt Place hotel, where The Denver Channel reported a clerk was shot. The clerk's condition is not currently known.
After the confrontation at the hotel, the suspect tried to flee again but ran into a Lakewood police officer. The suspect reportedly shot the officer. Romero said the officer was in surgery at the time of the press conference.
Following the officer's shooting, the suspect and additional Lakewood officers exchanged more gunfire.
The suspect was fatally shot, and it is uncertain whether it was the police who struck him, according to authorities, per The Denver Post.
Many businesses in the area went into lockdown well into the night as police cleared the area.
When speaking with FOX31, witnesses described the gunman as "a tall man, blond hair, with a trench coat."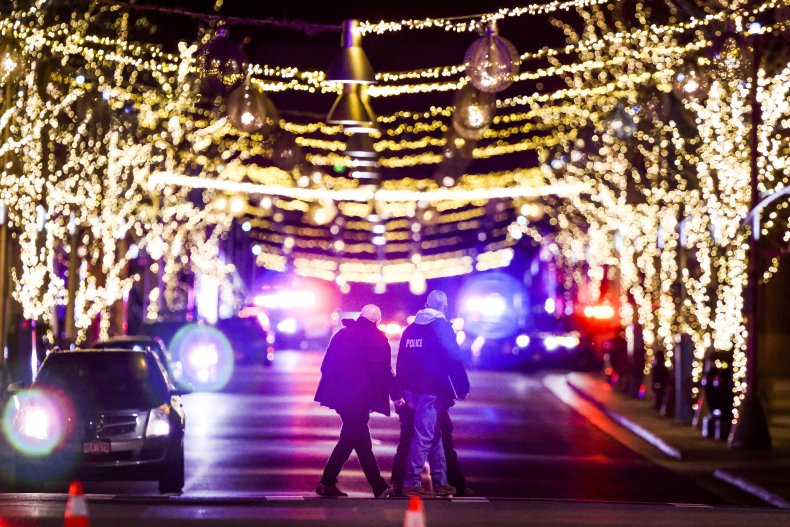 The wounded officer was undergoing surgery Monday night and his condition was not immediately known, a spokesman for the Lakewood Police Department said.
"This one individual was responsible for this very violent crime spree that took place this evening, Pazen said.
The Associated Press contributed to this report.