4 Law Enforcement Groups Ask Wisconsin Gov. To Avoid Speaking on Kenosha Shooting 'Until the Facts' Are Known
Four different law enforcement groups sent a letter Thursday to Wisconsin Governor Tony Evers, asking him to avoid speaking on the recent police shooting of Jacob Blake in Kenosha, "until the facts" are known.
"The purpose of this letter is to respectfully ask that those in your administration discontinue and refrain from making statements and issuing press releases specific to the City of Kenosha Police involved shooting until the facts of the investigation are know," the letter said.
The letter was signed by Sheriff Mark Podoll, president of the WI Badger State Sheriff's Association, Chief Kenneth Pileggi, president of the WI Chiefs of Police Association, Chief Deputy Jeff Spencer, president of the WI Sheriff's and Deputy Sheriff's Association and Chief William Lamb, president of the WI Police Executive Group.
In addition to Evers, the letter was also sent to Wisconsin Lieutenant Governor Mandella Barnes.
The letter goes on to say that previous remarks made by Evers and Barnes "are premature, judgmental, inflammatory and only add to the anger and divisiveness of an already dangerous situation," while adding that statements, "based on opinions and unsubstantiated claims puts people's lives at risk."
"Continued remarks like those already made by each of you have also put the lives of Law Enforcement Officers, National Guardsman and the public at risk," the letter adds. "Law Enforcement Leaders also respectfully ask that you call for an end to these riots and a stop to the violence."
Newsweek reached out to the four law enforcement agencies that signed the letter for comment but did not receive a response in time for publication.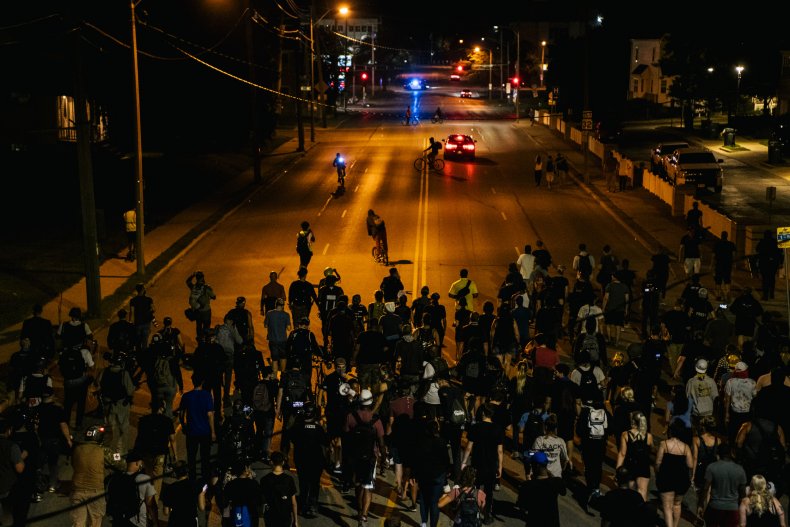 On Sunday, Blake, a 29-year-old Black man, was shot in the back seven times by an officer from the Kenosha Police Department in Wisconsin, who was identified by the state's Attorney General Josh Kaul as Officer Rusten Sheskey.
Officers were reporting to the scene after they received a call from a female, who said that her boyfriend was present and not supposed to be there. Upon arrival, the officers tried to arrest Blake, and used a taser, but they were unable to detain him.
According to Kaul, Blake admitted that he had a knife in his possession, but there were no other weapons in his vehicle. Blake then walked over to his car, and as he opened the driver's side door, Officer Sheskey fired seven shots into Blake's back.
Shortly after the incident, Evers issued several statements posted on his Twitter account.
"While we do not have all the details yet, what we know for certain is that he [Blake] is not the first Black man or person to have been shot or injured or mercilessly killed at the hands of individuals in law enforcement in our state or our country," Evers wrote in a tweet posted on Sunday. "We stand with all those who have and continue to demand justice, equity, and accountability for Black lives in our country."
On Tuesday, Evers issued a press release in regard to the protests in Kenosha, following the shooting.
"The ability to exercise First Amendment rights is a critically important part of our democracy and the pursuit of justice. But there remains a line between peaceful assembly and what we saw last night that put individuals, families, and businesses in danger," the release stated. "We cannot forget the reason why these protests began, and what we have seen play out over the last two nights and many nights this year is the pain, anguish, and exhaustion of being Black in our state and country. But as I said yesterday, and as I'll reiterate today, everyone should be able to exercise their fundamental right—whether a protester or member of the press—peacefully and safely."
Evers' office did not immediately respond to a comment request.