In the first new United Nations General Assembly emergency session convened in a quarter of a century, some 141 nations voted to call for an immediate end to Russia's military intervention in Ukraine.
But preventing an elusive unanimous vote at the global gathering on Wednesday were five countries, including Russia, that outright rejected the resolution and 35 more who abstained.
Among Moscow's supporters on the war, now entering its second week, were Belarus, Eritrea, North Korea and Syria. While Eritrea remains largely quiet on most international affairs, the other three nations have explicitly blamed the conflict not on Russian President Vladimir Putin but on the eastward expansion of the U.S.-led NATO military alliance that Ukraine hoped to join.
Also backing Moscow's motivations was Venezuela, which was absent from Wednesday's vote along with Azerbaijan, Burkina Faso, Eswatini, Ethiopia, Guinea, Guinea-Bassau, Morocco, Togo, Turkmenistan and Uzbekistan.
The 35 who opted to stay neutral are comprised of a mix of nations that have also largely blamed the West for inciting the conditions that led to the conflict, and others who have chosen to remain neutral on the matter.
These nations included Algeria, Angola, Armenia, Bangladesh, Bolivia, Burundi, the Central African Republic, China, Cuba, the Republic of the Congo, El Salvador, Equatorial Guinea, India, Iran, Iraq, Kazakhstan, Kyrgyzstan, Laos, Madagascar, Mali, Mongolia, Mozambique, Namibia, Nicaragua, Pakistan, Senegal, South Africa, South Sudan, Sri Lanka, Sudan, Tajikistan, Tanzania, Uganda, Vietnam and Zimbabwe.
While China and India stuck with their position after having previously abstained during a U.N. Security Council attempt on Friday to condemn Russia over its military activities in Ukraine, the United Arab Emirates shifted from abstaining in that round to supporting the measure on Wednesday.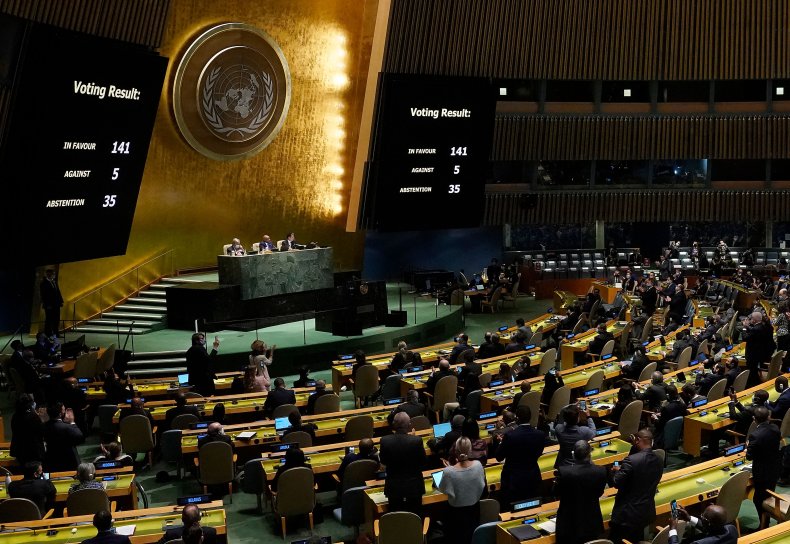 There have only been 11 emergency sessions of the U.N. General Assembly since the international body was founded at the end of World War II. The latest session was held in 1997 in response to Israel's occupation of the Palestinian territories of the West Bank and Gaza Strip and has been reconvened on a number of occasions, most recently in 2018.
Putin's decision last week to commence a "special military operation" against Ukraine has drawn increasingly severe international backlash, including a growing number of sanctions and other punitive measures targeting Russian leadership and both state and non-state institutions in the country.
But Ukrainian President Volodymyr Zelensky has appealed for even greater international support, especially from the West as Russian troops threaten to encircle major cities, including the capital Kyiv.
As hostilities continue, a second round of negotiations set to be held Wednesday in the Belarusian city of Gomel between representatives from Moscow and Kyiv was reportedly postponed.
This is a developing news story. More information will be added as it becomes available.