4 Viral Sweet Holiday Recipes That Have TikTokers Buzzing
This year, TikTok has treated viewers to a number of viral and tasty holiday recipes that people can't stop making. From Christmas cookie fudge to a s'mores dip, discover new dishes and see what people are saying about each one.
Christmas cookie fudge
This concoction, called Christmas cookie fudge, was posted by @kaitlinquick, and it's been viewed more than 19 million times. The fudge is made with white chocolate morsels, sugar cookie mix, and sweetened condensed milk, which @kaitlinquick adds together. After being all mixed together on the stovetop, red and green sprinkles are stirred in. Then it all gets put in a pan and left to refrigerate before serving.
Some viewers really seemed to like the recipe. "I have to make this!" one viewer said. "Looks so good!"
"Looks amazing," another TikToker wrote.
One viewer admitted, "I'm making this now."
Christmas crack
TikToker @biggirlbakery's video recipe called "Christmas crack" has gone viral with 13 million views. The user added a cup of butter and a cup of brown sugar to a boil for a total of five minutes. Next, they poured the mixture onto 40 crackers on a baking sheet that's been lined. That gets placed in the oven for five minutes, then covered with chocolate chips and spread around while melted. The TikToker also added sprinkles at the end.
One viewer of the video joked, "I gained 10 lbs just watching this."
"We tried it this year and it is so good," another TikToker wrote.
While another viewer called it "the best thing ever!"
According to ABC News, on average, people eat more than 7,000 calories just on Christmas day alone.
S'mores dip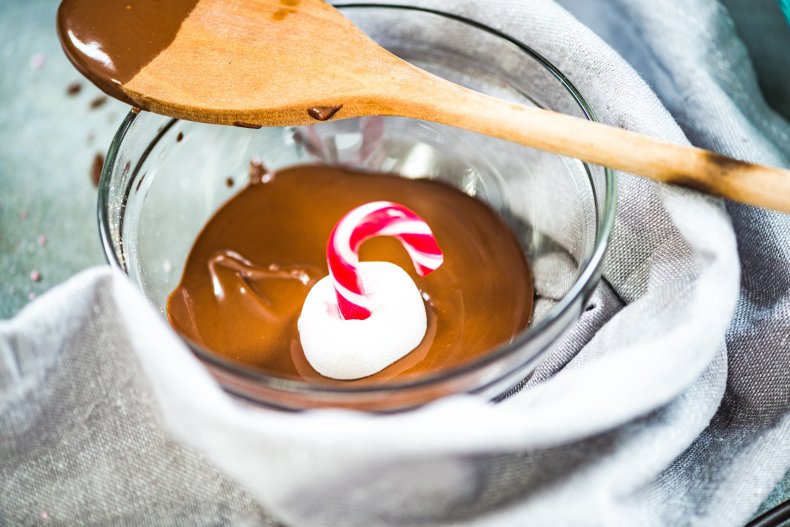 This s'mores dip recipe is simple and easy to make. TikToker @christmasbaking adds in Hershey's bars lining the inside of a cast-iron skillet. Then, a layer of large marshmallows are lined up on top of the chocolate. Cooking for five minutes, the marshmallows come out slightly browned on the top. Add in graham crackers for dipping. More than 1.8 million people viewed the video, and some will be trying their hand at the recipe.
"That looks sooooo good!" a viewer said.
While another TikTiker admitted it "looks delicious."
Christmas tree dip
Over 6.2 million people have viewed another viral sweet holiday recipe called "Christmas tree dip." TikToker @rgootee showed how it's made with a container of Cool Whip and a package of cream cheese, which is all mixed together. Then she added in Little Debbie Cakes Christmas Trees—a whole two boxes of them. She stirred that together, adding in milk as well. Sprinkles topped it off and it's refrigerated before serving.
One viewer said "100% recommend this! Made this after seeing the video, and it's a Christmas tree dream!"
Another TikTok user suggested using Marshmallow Fluff as well. "I've made this twice now! Umm game-changer, add a half of 16oz container of Marshmallow Fluff," they said.
These viral recipes are sure to turn heads this holiday season.