4-Year-Old Autistic Boy Can Fly Maskless After Judge's Ruling
A man and his son have received a temporary victory when it comes to not wearing a mask while flying.
On Wednesday U.S. District Court Judge Patti Saris of Boston granted Michael Seklecki's son, Michael Seklecki Jr., a 30-day mask exemption on planes. Seklecki Jr., 4, is autistic and his father requested an emergency hearing due to a requirement of medical care.
In August 2021 the Transportation Security Administration's face mask requirement for individuals across all U.S. transportation networks was extended through March 18 of this year.
On January 28 Seklecki Sr. filed a lawsuit against the Centers for Disease Control and Prevention, American Airlines and Southwest Airlines for "the unlawful discrimination against the disabled" who are required to wear face masks during the COVID-19 pandemic. The lawsuit also called for $400,000 in damages.
According to court records, Seklecki Sr. called the Federal Transportation Mask Mandate "improper, illegal and unconstitutional," adding that "numerous, state, local and regional transportation agencies are told to enforce a federal mandate that is in direct conflict with the laws and policies of 43 states that prohibit mask mandates or do not require face coverings."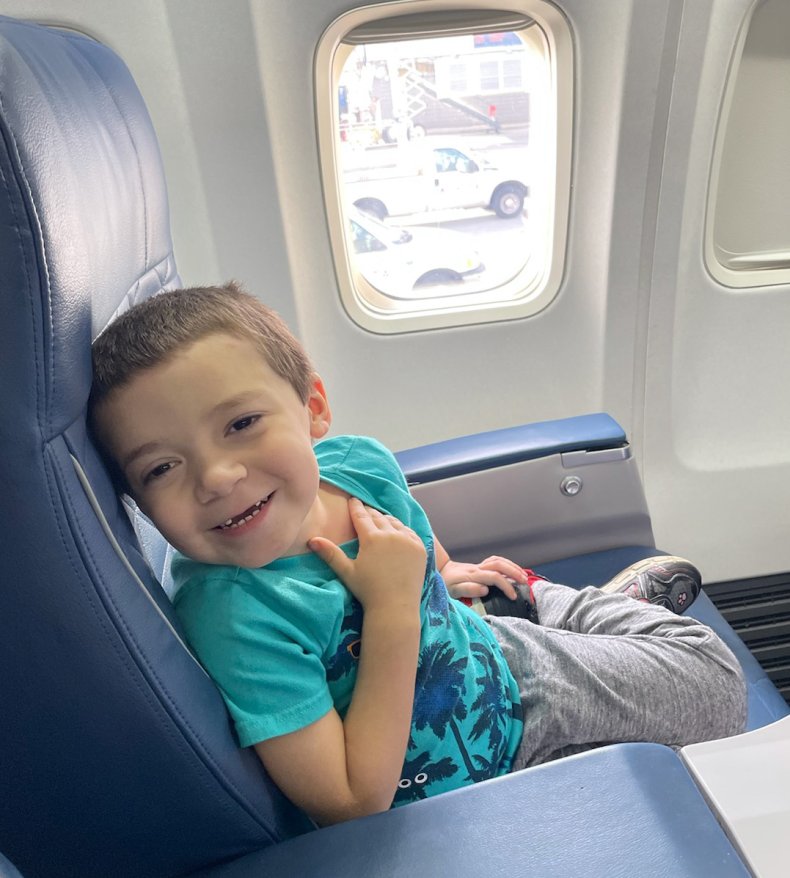 The father and son live in Sanford, Florida, and routinely fly back and forth between their home and Massachusetts General Hospital in Boston. Seklecki Sr. said in the lawsuit that his family's insurance company was unable to locate a particular level of care in Florida or somewhere "closer to home."
Seklecki Sr. said in the lawsuit that he also is unable to wear a face covering due to his generalized anxiety disorder, which he claimed "creates a sense of panic and breathing difficulties" that frightens Seklecki Jr. and his other 2-year-old son.
Seklecki Jr. reportedly refused to wear a face covering and began yelling, the lawsuit claimed.
"If I try again, [Seklecki Jr.] says things such as, 'Get this thing off of me, I'm scared; I can't breathe; I don't like this,'" Seklecki Jr. said.
Seklecki told Newsweek he is representing himself and his son, adding that there is "a coalition of 600 of us called Americans Against Mandate." He said that about 25 of the individuals are plaintiffs in 11 federal lawsuits, with another seven to 10 lawsuits yet to be filed, all against the Federal Transportation Mask Mandate and "airlines' mask discrimination."
The $400,000 in damages sought from American Airlines and Southwest Airlines is "for discriminating against the disabled in violation of federal civil rights laws," he added.
"The 30-day exemption is only the start," Seklecki told Newsweek. "I want the entire Federal Transportation Mask Mandate vacated and all airlines restrained from requiring anyone to wear a mask, especially those with disabilities.
"My son absolutely refuses to wear a mask. He can't tolerate having anything placed on his face," he said.
Today, both airlines responded to inquiries from Newsweek.
"American's policies and procedures are in line with the federal mask mandate," a spokesperson for American Airlines told Newsweek. "Mr. Seklecki submitted the required paperwork and was granted an exemption for his son, per our policy."
A spokesperson for Southwest Airlines told Newsweek that in accordance with the existing federal mask mandate, mask exemptions are routinely provided to eligible individuals and protocols and processes are defined on the airline's website.
"Once travel was reserved by this customer on Southwest, and the airline's mask exemption application process was followed, Southwest voluntarily granted an exemption to the child for travel per our existing policy—without any court intervention," the spokesperson said. "On Wednesday, the court simply inquired whether Southwest would provide a written letter to the customer explaining that an exemption had been granted for his son's travel, which Southwest provides as a matter of routine policy."
Aside from suing American Airlines and Southwest Airlines, Seklecki Sr. alleged that "because of mandates" his family has been banned from Frontier Airlines, harassed by Spirit Airlines, and constantly subjected to Delta Airlines' "Clearance to Fly" procedures on every flight.
Prior to hospital visits, Seklecki Sr. said he and his family took flights on Spirit Airlines between August 2020 and September 2021 to visit his parents in western Massachusetts. It was in that time period when he first submitted requests for mask exemptions.
Seklecki Jr.'s first appointment at Boston Children's Hospital was in October 2021. Rather than drive at least 20 hours each way, Seklecki Sr. said he and his children fly from Orlando to Boston once to twice per month.
Newsweek reached out to Michael Seklecki Sr. for comment.
Updated 02/18/2022, 2:32 p.m. ET: This story has been updated with a photo of Michael Seklecki Jr.