Four Years After Colin Kaepernick's First Protest NBA Players Are Taking a Stand
The impact of Colin Kaepernick's kneeling during the National Anthem is still felt today. Four years ago, on August 26, the San Francisco 49ers star kneeled for the first time during the National Anthem before a football. This peaceful method of protesting sparked a movement among athletes, as they continue to express their desire for change.
On Wednesday, four years after Kaepernick initially protested, six NBA teams decided that not playing their games that day was the best way to stand in solidarity with Jacob Blake.
Blake was shot in the back multiple times by Kenosha, Wisconsin police officers on Sunday and left paralyzed by the incident. Protests have broken out since, leaving two dead and one injured.
Three playoff games were postponed as a result of the historic boycotts, and the NBA released a statement:.
"The NBA and the National Basketball Players Association today announced that in light of the Milwaukee Bucks' decision to not take the floor today for Game 5 against the Orlando Magic, today's three games – Bucks vs. Magic, Houston Rockets vs. Oklahoma City Thunder and Los Angeles Lakers vs. Portland Trail Blazers - have been postponed. Game 5 of each series will be rescheduled," the league stated in a release on Wednesday.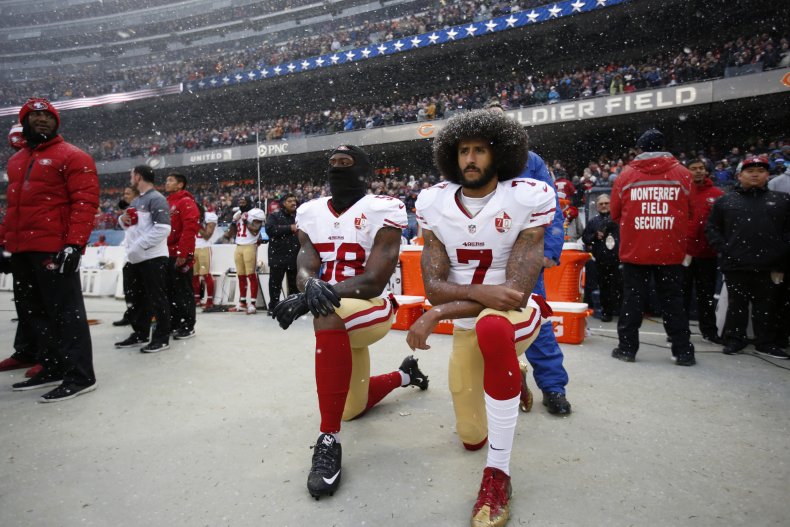 In August 2016, Kaepernick initially sat during the National Anthem as a way of protesting systemic racism and police brutality against black Americans. However, he switched to kneeling after consulting military veterans on the best way to peacefully protest, which he did before the September 1, 2016 game.
"I am not going to stand up to show pride in a flag for a country that oppresses black people and people of color," Kaepernick told NFL Media in an exclusive interview at the time. "To me, this is bigger than football and it would be selfish on my part to look the other way. There are bodies in the street and people getting paid leave and getting away with murder."
The 49ers also issued a statement about Kaepernick's decision: "The national anthem is and always will be a special part of the pre-game ceremony. It is an opportunity to honor our country and reflect on the great liberties we are afforded as its citizens," the statement read at the time. "In respecting such American principles as freedom of religion and freedom of expression, we recognize the right of an individual to choose and participate, or not, in our celebration of the national anthem."
The NBA wasn't the only league to boycott games on Wednesday. Two MLB teams, the Milwaukee Brewers and Cincinnati Reds, called a boycott of their Wednesday night game. Other teams declared they might boycott as well to stand in solidarity with Blake. The MLB released a statement later that evening.
"Given the pain in the communities of Wisconsin and beyond following the shooting of Jacob Blake, we respect the decisions of a number of players not to play tonight," it read. "Major League Baseball remains united for change in our society and we will be allies in the fight to end racism and injustice."