Black Senior Citizens Told to Get Off Bus Taking Them to Vote: 'It Was an Intimidation Tactic'
Dozens of Georgia black senior citizens were forced to disembark from a bus taking them to vote on Monday, prompting accusations of voter suppression from organizers of Black Voters Matter, a nonpartisan group encouraging black Americans to get out and vote.
BVM organizer LaTosha Brown told The Atlanta Journal-Constitution that the group had arranged for the senior citizens to depart from a senior center in Louisville, operated by Jefferson County, to be transported to a voting center to cast their ballots early in the November midterm elections.
Before the bus could leave, however, the center's director reportedly told passengers they needed to disembark.
Video of the incident shared by BVM shows a group of senior citizens boarding the bus and later standing outside it.
Brown told the Journal-Constitution a county clerk had apparently called the senior center to voice concerns over the plan to allow a bus to take residents from the senior center.
The BVM organizer said she believed the decision to bar black senior citizens from voting was "an intimidation tactic" and an act of voter suppression.
"It was really unnecessary," she told the news outlet. "These are grown people."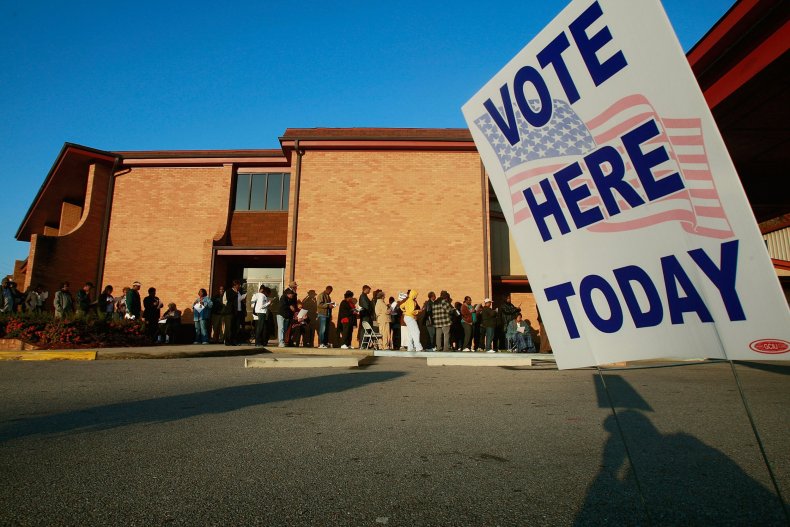 Jefferson County's administrator has defended the move, saying that the county government felt that the event could be considered "political activity," which is not allowed during county-sponsored events.
"Jefferson County administration felt uncomfortable with allowing senior center patrons to leave the facility in a bus with an unknown third party," County Administrator Adam Brett told the Journal-Constitution.
"No seniors at the Jefferson County senior center were denied their right to vote," he added.
Monday was the first day of in-person early voting in Georgia, which faces a heated governor's race between former state House Minority Leader Stacey Abrams, a Democrat, and Secretary of State Brian Kemp, a Republican.
Kemp is currently facing a separate lawsuit from civil rights groups over alleged voter suppression after his office was reported to have been holding more than 53,000 "pending" voter registrations of mostly black voters weeks before the upcoming election.
Read more: Georgia Senator Appears to Snatch Student's Phone After Refusing to Answer Question on Voter Suppression
Despite the bump in the road, Brown said senior citizens at the Louisville senior center are determined to cast their ballots in the November midterms.
"The seniors were so resolved. They said: 'We're going to vote. Nobody's going to stop us,'" Brown said.
"It wasn't the first time someone has denied them or tried to prevent them from voting," she added.
Still, it is unclear whether the seniors will be provided with transportation the next time they try to cast their ballots.
The Jefferson County government did not immediately respond to a request for comment from Newsweek.