40 Civil Rights Groups Demand McConnell Halt 'Dangerous and Irresponsible' Judicial Nominations Amid Pandemic
Dozens of national civil rights groups on Monday urged GOP Senate Majority Leader Mitch McConnell, Senator Lindsey Graham and other congressional Republicans to halt judicial nominations and prioritize passing legislation to help American families and workers amid the coronavirus pandemic.
In a letter sent to McConnell and Graham today, signed by 40 national organizations who are members of the Fair Courts Task Force of The Leadership Conference on Civil and Human Rights, the groups called for Senate Republicans to "focus its attention on vulnerable communities" amid the healthcare crisis, rather than lifetime judicial nominations.
"The Senate as a whole must take the necessary and commonsense action of putting the processing of judicial nominations on hold until the devastating impact of the pandemic has been diminished," the letter read.
"The Senate must use its time to address the growing concerns of a nation confronting increasing death and illness, severely high unemployment, rampant food insecurity, insufficient access to health care, and long-term economic uncertainty."
To prioritize judicial confirmations at this time is "reckless and negligent," the group alleged.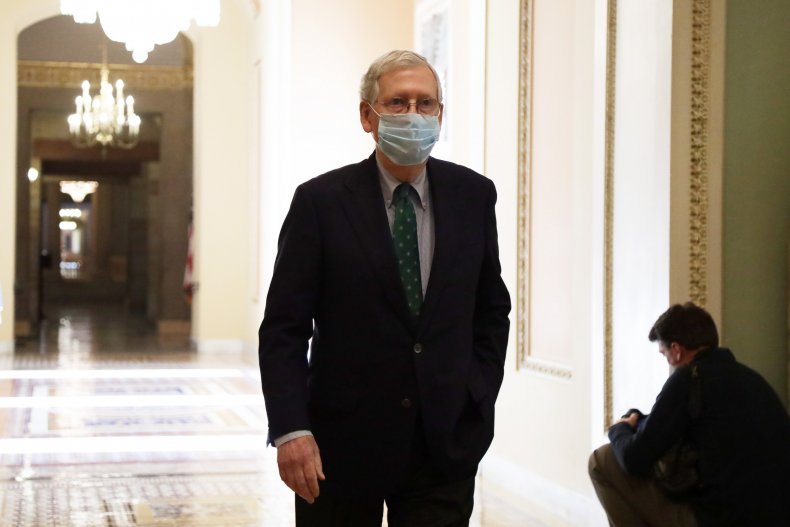 The Leadership Conference on Civil and Human Rights, Human Rights Campaign and People for the American Way are among the letter's 40 signatories. Leadership Conference President Vanita Gupta shared the letter to Twitter, writing: "It is dangerous & irresponsible for the Senate to continue dedicating time to judges. Addressing COVID19 must be the priority."
The move comes after McConnell maintained late last month that Republicans will continue trying to confirm President Donald Trump's judicial nominees despite the pandemic once lawmakers return to Congress. The Senate returned to Capitol Hill today.
"As soon as we get back in session, we'll start confirming judges again. We need to have hearings, and we need to confirm judges," the senator said. "The pandemic will not prevent us from achieving that goal."
Republicans have sped up their process of confirming the president's judicial nominees under Trump. To date, the Senate has confirmed a total of 193 confirmed nominations since Trump was inaugurated in January 2017, which includes 51 appeals court judges and two in the Supreme Court. McConnell has made these nominations a top priority and called judicial nominations the GOP's best path to long-term domestic influence.
According to the Article III Project, the total under Trump marks the second fastest confirmation pace among any American president. In recent years, Senate judicial nominations have become increasingly partisan.
Senate Minority Leader Chuck Schumer criticized McConnell for returning to process nominees rather than focus on coronavirus testing amid the pandemic. "We need to know why we still don't have enough tests," the Democrat said. "Months ago, in early March, here's what President Trump said: 'Anybody who needs a test gets a test.' It was lie then, it remains a lie now."
Newsweek reached out to McConnell's office for comment. This story will be updated with any response.