With 40 Days Until Election, Democrats Have Better Chances of Controlling Senate Than Republicans, Forecasts Project
With just 40 days until the general election on November 3, Democrats appear to have a chance to wrestle control of the Senate from Republicans, according to multiple forecasts.
Currently the Senate is controlled by 53 Republicans, while 45 Democrats and two independents who caucus with their Democratic colleagues remain in the minority. Most analysts believe Democrats will maintain control of the House of Representatives in the upcoming election, and several forecasts suggest they have a decent chance of taking back control of the upper chamber of Congress as well.
The current Senate forecast from The Economist shows Democrats with about a two in three (or 67 percent) chance of controlling the Senate in the upcoming election. Meanwhile, Republicans are projected to have just a one in three (or 33 percent) chance of maintaining control of the legislative body. Democrats' average simulated seat total is about 51 while Republicans would have 49.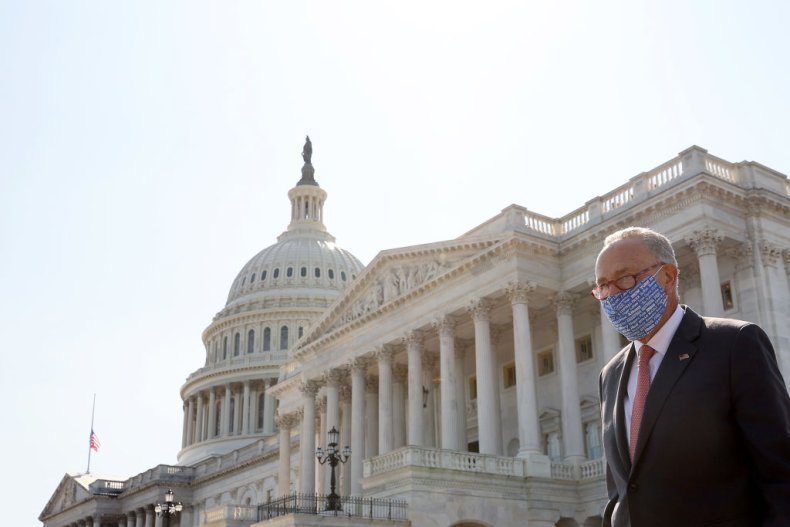 A separate forecast by FiveThirtyEight projects that Democrats are "slightly favored to win the Senate." Out of 100 scenarios, Democrats would take control of the Senate in 62, while Republicans would maintain their dominance in 38 of those scenarios. Similar to The Economist, FiveThirtyEight's forecast also projects Democrats' average simulated seat total coming out to 51 while Republicans would have 49.
The Senate race ratings compiled by Cook Political Report currently project that just one Democratic senator—Senator Doug Jones of Alabama—is in danger of losing his reelection bid. Meanwhile, seven GOP senators are in close contests that are rated as "lean Democrat" or a "toss up." Republican Senators Martha McSally of Arizona and Cory Gardner of Colorado are both trailing their opponents, placing them within the "lean Democrat" rating. And GOP Senators David Perdue of Georgia, Joni Ernst of Iowa, Susan Collins of Maine, Steve Daines of Montana, and Thom Tillis of North Carolina are all in "toss up" races.
Even if Democrats managed to pick up just three seats—splitting the Senate 50 to 50—they could still control the upper chamber if Democratic presidential nominee Joe Biden beats incumbent President Donald Trump. In that scenario, a potential Vice President Kamala Harris, as the president of the Senate, would cast the deciding vote on evenly split legislation. Of course, the reverse would be true if Trump and Vice President Mike Pence win reelection.
Most recent national polls, as well as polling in key battleground states, suggest that Biden is favored to win the upcoming presidential election. As of Thursday, FiveThirtyEight shows Biden with an average lead of 7.4 percentage points in national polls, while RealClearPolitics shows the Democrat ahead by an average of 7.1 percentage points. The only recent national poll to show Trump leading Biden was carried out by conservative Rasmussen Reports from September 9 to 15, giving the incumbent president an advantage of just 1 percentage point.
In key battleground states—which include Arizona, Florida, Michigan, North Carolina, Pennsylvania and Wisconsin—Biden appears to have the advantage in all six. In Michigan and Wisconsin, the average of recent polls compiled by RealClearPolitics shows Trump trailing his Democratic opponent by more than 6 percentage points. In Arizona and Pennsylvania, Biden is ahead by 4 or more percentage points. The race appears to be tighter in Florida and North Carolina, but Biden maintains a narrow advantage.