More than $40 million worth of cocaine was seized in June during a collaborative effort between the U.S. Navy and the U.S. Coast Guard.
The drugs were confiscated by crew members of the U.S.S. Preble, a guided missile destroyer, and members of a Coast Guard law enforcement detachment. After spotting a suspicious low profile, go fast (LPGF) boat in the Eastern Pacific Ocean, the Preble moved in for an interception. Coast Guard members boarded the LPGF. Discovered on board the LPGF was 100 bales of cocaine, amounting to over 4,400 pounds.
"This interdiction and drug seizure was a big win for our Navy and Coast Guard team," said U.S.S. Preble Commanding Officer Commander Leonardo Giovannelli in a June statement. "Not only did we flex our sensors and communications suite, but our combat team was able to work across the interagency and contribute directly to a major line of operation with tangible results."
Newsweek reached out to the U.S. Navy for comment. This story will be updated with any response.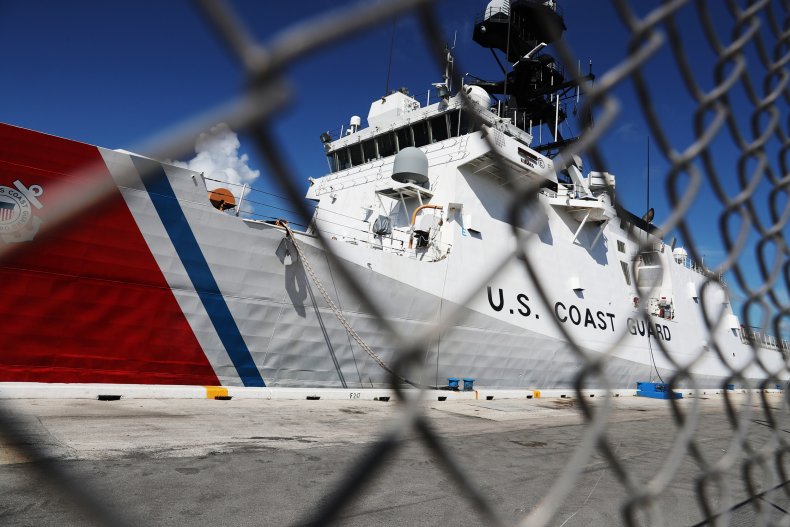 The Preble and Coast Guard worked together as part of the Joint Interagency Task Force South mission, which involved patrolling waters in the Eastern Pacific Ocean and the Caribbean in order to curb drug smuggling.
Efforts by the Coast Guard to capture illegal drugs seem to be working. In May, the Coast Guard cutter James intercepted an LPGF holding 3,100 pounds of cocaine. In Fiscal Year 2017, the U.S. Coast Guard seized more $6.6 billion in illegal drugs according to that year's annual performance report. That dollar value represents, among other narcotics captured, over 246 tons of cocaine. After seizure by authorities, the illegal drugs are incinerated or otherwise destroyed.
Smugglers use low profile vessels, otherwise known as "narco subs," to move product through international waters. Unlike traditional submarines, narco subs are unable to fully submerge. Because of their design, they can be difficult to detect.
While some illegal drugs enter the country by sea, other contraband is smuggled into the country across the border from neighboring country Mexico.
In January, Customs and Border Protection officers discovered an underground tunnel stretching over three-quarters of a mile from Tijuana, Mexico to San Diego. Designed to move drugs into the U.S., the tunnel contained a ventilation system, electric lights and an elevator at the tunnel's entrance.
"As efforts to strengthen security on our Southern Border increase, Mexican drug cartels are forced underground to smuggle their deadly drugs into the United States," said DEA Special Agent in Charge John W. Callery in a January statement. "The sophistication of this tunnel demonstrates the determination and monetary resources of the cartels."